Everything Else
State settles one age discrimination claim against Shelley Zumwalt…
10:20 AM EDT on June 7, 2023
Thanks to a tip via the Ogle Mole Network, we've learned the State has quietly settled one of the lawsuits accusing current Oklahoma Tourism Director Shelley Zumwalt of engaging in age discrimination.
The lawsuit was filed in 2021 by Jo Stainsby – the former Communications Director for the Oklahoma Health Care Authority – and was settled on April 18th.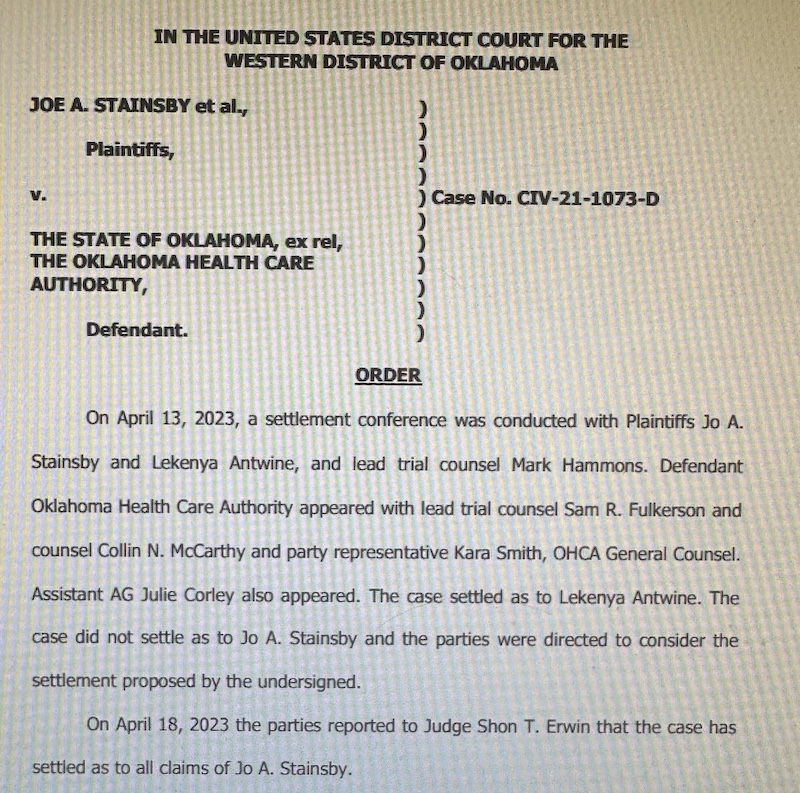 In court filings, Stainsby claimed that Zumwalt – just weeks after being named the donut-distributing Director of the agency – promptly fired her for being old in 2019.
Here are details of the settlement via… uhm… well… no one. 
Yep, even though she's a fast-rising, shining star of the Stitt administration – and leading one of our state's largest and most visible agencies – not one legitimate for-profit or non-profit local media outlet has covered any of the age discrimination claims levied against Zumwalt. 
You know, like the one involving former Employment Security Commission lawyer Claudia Conner. 
Back when Zumwalt led that agency, Conner claims she was fired as general counsel due to her age, gender, and in retaliation for reporting the misbehavior of a vendor linked to Zumwalt's husband.
Conner alleges that during her tenure Zumwalt asked her to fire "the old guards," including one 62-year-old worker. "During her employment, Plaintiff heard Ms. Zumwalt make ageist statements about employees and saw a pattern of targeting older employees for termination," according to Conner's lawsuit.

In particular, Conner said she heard Zumwalt refer to older female employees "as dowdy and frumpy."...

Conner alleges said she was canned shortly after she reported to human resources that a male vendor on several occasions made "inappropriate remarks" to young women and men working at the commission.

That vendor, Conner alleges, was hired by OESC shortly after her firing—and then a few months later became an employee of Zumwalt's husband's firm. "Ms. Zumwalt's husband's firm … has a contract with the OESC," states the complaint.
A few weeks ago, I filed an open records request with the state to get details on the settlement involving Stansby, but haven't heard anything back. I guess that's not a surprise. We are the Rodney Dangerfield of the Oklahoma media scene. I'll make sure to post the details in February 2034 when they finally get back to me. 
In all honesty, the fact that I even had to file an open records request is kind of surprising, because Ms. Zumwalt is apparently all about government transparency!
Earlier this month, she was profiled in the hard-hitting investigative journalism periodical 405 Magazine.
In the piece, Zumwalt – a transparency super fan – gloated about how she made sure local media outlets all had access to open records related to the new state park restaurant vendor.
Zumwalt entered the Oklahoma Tourism and Recreation Department as its latest executive director in April 2022. She made it her goal to bring more transparency to the department.

When asked about how she has been trying to meet this goal, Zumwalt cited a recent example.

"When we were announcing the new restaurant vendor that will be open by Memorial Day weekend, we knew that we would get open records requests asking for other bids and the selection process," she said. "During the press conference, we released online the selection process: all of the bids, the scoring sheets, the evaluation sheets and the final contract with the vendor. We put these things on our website proactively so that anyone could look into the process. We wanted to be 100% transparent... We felt that it was important for the integrity of the process."
Yep, nothing restores my faith in government transparency more than when an agency eagerly provides the media with "open records" that they specifically want the media to have. Obviously, there's nothing else to see there. It's not a PR move or anything. The agency is simply being upfront and honest about everything. No need to ask any more questions.
You can read the entire 405 profile here. My favorite part was this gem…
Despite an arrival spurred by troubled circumstances, Zumwalt is enthusiastic about promoting the state of Oklahoma as a destination. 

"I call my job the state director of fun, which is the best job ever," she said. "I'm interacting with people on a day that they have been looking forward to. They interact with the government by choice, and it changes the way I approach my job."
Yep, she's not the Director of Tourism… she's the State Director of Fun!
If that overly chipper response doesn't make you roll your eyes or throw up in your mouth a little bit, that's okay – you're probably just an older employee at the State Tourism Department who's desperate to keep your job, and don't want to come across as old and frumpy.
Anyway, I guess we'll provide more updates on this stuff in the future as it all becomes available. Stay with The Lost Ogle. We'll keep you advised.
Stay in touch
Sign up for our free newsletter