Politics
OK Tourism Chief Shelley Zumwalt accused of age discrimination in lawsuit…
She allegedly took "out with the old and in with the new" a bit too seriously.
8:51 AM EDT on April 7, 2023
Over the past couple of weeks, in a planned build-up to Wednesday's big announcement that Zooters Falcone's Pizza is coming to Oklahoma State Parks, Stitt and Co. have gone out of their way to promote Shelley Zumwalt – the pretty new face and leader of the Oklahoma Travel and Tourism Department.
Naturally, The Oklahoman and News 9 – two traditional allies of the local ruling establishment – took the bait, providing overly chipper, incredibly positive looks at Zumwalt.
They profiled her meteoric rise up the ladder of Stitt's state government, documenting her time leading the Oklahoma Employment Security Commission through the chaotic throes of the pandemic, and detailing how she's now going to bring buzzwords like "accountability," "transparency," and "trust" to the foggy bottoms of the Oklahoma Tourism Department.
You know, typical state-manufactured propaganda kind of stuff.
For some reason, though, the profiles don't mention a thing about Zumwalt being the center of an age and gender discrimination lawsuit that was recently filed in U.S. District Court for the Western District of Oklahoma.
According to this article on Law.com, Claudia Conner – a long-time state employee who most recently reported to Zumwalt as General Counsel for Employment Security Commission – is suing the state, claiming Zumwalt hired her as a cover for an organized purge of "dowdy and frumpy" older employees within the agency.
Conner also claims Zumwalt then fired her – despite a recent raise and positive review – in retaliation for reporting a vendor to HR. That vendor would later be hired by the agency, only to accept a job with Zumwalt's husband's IT firm – a big state contractor – a month or two later.
Here are some details via Law.com:
The former general counsel at the Oklahoma Employment Security Commission is suing the agency charged with helping people find jobs—for terminating hers last November.

Claudia Conner, who is over 60 years old, alleges in U.S. District Court for the Western District of Oklahoma that she was fired based on age, gender and in retaliation for reporting misbehavior of a vendor linked to the husband of her boss, OESC executive director Shelley Zumwalt.

Conner alleges said she was canned shortly after she reported to human resources that a male vendor on several occasions made "inappropriate remarks" to young women and men working at the commission.

That vendor, Conner alleges, was hired by OESC shortly after her firing—and then a few months later became an employee of Zumwalt's husband's firm. "Ms. Zumwalt's husband's firm … has a contract with the OESC," states the complaint.
Yep. A wunderkind in the Stitt administration who zoomed up the ranks of state government faster than a car hop delivering orders at Sonic is accused of not only age and gender discrimination but vendor cronyism, too.
As Kevin Stitt would say, "Imagine That!"™
Here are some of the specific claims that Conner made:
Conner alleges that during her tenure Zumwalt asked her to fire "the old guards," including one 62-year-old worker. "During her employment, Plaintiff heard Ms. Zumwalt make ageist statements about employees and saw a pattern of targeting older employees for termination," according to Conner's lawsuit.

In particular, Conner said she heard Zumwalt refer to older female employees "as dowdy and frumpy."

At one point, Conner alleges, Zumwalt hired a Black employee and stated that "this new hire would be able to terminate an older African American Employee she wanted rid of."

After that, Conner said it occurred to her that she'd been hired as a cover for firing older employees.
The Law.com article was published on March 21st, so you'd think the informed and on-top-of-things journalists at News 9 and The Oklahoman would have maybe snuck in an obligatory question about the lawsuit, perhaps after Zumwalt gave them a line about all the trust, accountability, and transparency she'll bring to the Tourism Department.
But, of course, they didn't.
Instead, they totally ignored it and focused on more feel-good, anecdotal things, like Zumwalt bringing donuts to people waiting in line for unemployment.
Serving doughnuts wasn't in Shelley Zumwalt's job description when she was tapped to lead Oklahoma's state employment agency in the early days of the pandemic.

She handed out doughnuts in the pre-dawn darkness outside her office because she wanted desperate Oklahomans in lines stretching hundreds of yards to see someone responsible for fixing the mess.

"Even though I knew there was hostility there, I knew that me showing up — in some way they felt like I was accountable for their presence in that situation," Zumwalt said in a recent interview.
Well, if the people in line were the old folks she just laid off, maybe she was accountable.
In addition to ignoring the lawsuit, the journalism stalwarts failed to talk to anyone who may go against the state-issued propaganda grain. Fortunately, we have an Ogle Mole Network for that.
Here's an email I got about how things are going at the Tourism Department. It arrived in our inbox a week before the Law.com article dropped: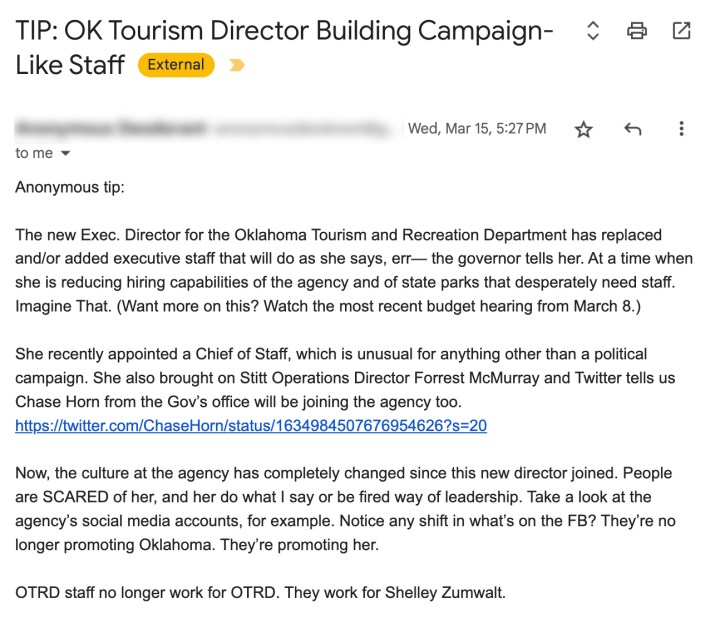 To be clear, I can't vouch for everything in that email.
Who knows, it could have been written by a bitter and angry person who didn't get a donut while waiting in the unemployment line, but it's interesting to see an alternative perspective of what's going down in the Tourism Department that doesn't follow the polished one being paraded around by the Stitt Administration and their media pals.
Anyway, if you work at the tourism office and have any tips or details for us, shoot us an email on the Ogle Mole Tipline.
Well, unless you're part of the "old guard." If that's the case, you should probably get your resume ready.
Stay with The Lost Ogle. We'll keep you advised.
Stay in touch
Sign up for our free newsletter