Everything Else
Paycom CEO addressing employee concerns by hiring new PR Supervisor…
1:16 PM EST on January 23, 2023
Over the past couple of weeks, we've been stupid enough to do what the rest of the local media won't do and cover the mini-employee revolt taking place inside Paycom.
You can catch up here and here, but thanks to Ogle Moles burrowed deep inside the company, we've learned that Paycom is shifting away from a remote work model and – despite not having enough office space for everyone – is forcing employees to either return to the office or find a new job, and to do so cordially and compliantly or risk being canned. 
As we learned via an internal email, Paycom tried to handle the revolt as professionally as possible and promised free snacks and activities to employees who returned to the office.

According to one Mole, those snacks are only available once per week. Additionally, employees are also provided free entry-level psychology pep talks:

Yikes. Based on all the emails I'm getting from current and former Paycom employees, I'd be in the "Hurry up and get my resume ready" portion of the grief cycle!
To Paycom's credit, they're apparently paying attention to the employee complaints that are being leaked to the media (a.k.a. us) and treating them very seriously.
In fact, just last week, they announced they're looking for a new PR Supervisor to help smooth everything over!
I'm going to assume it's not a remote position: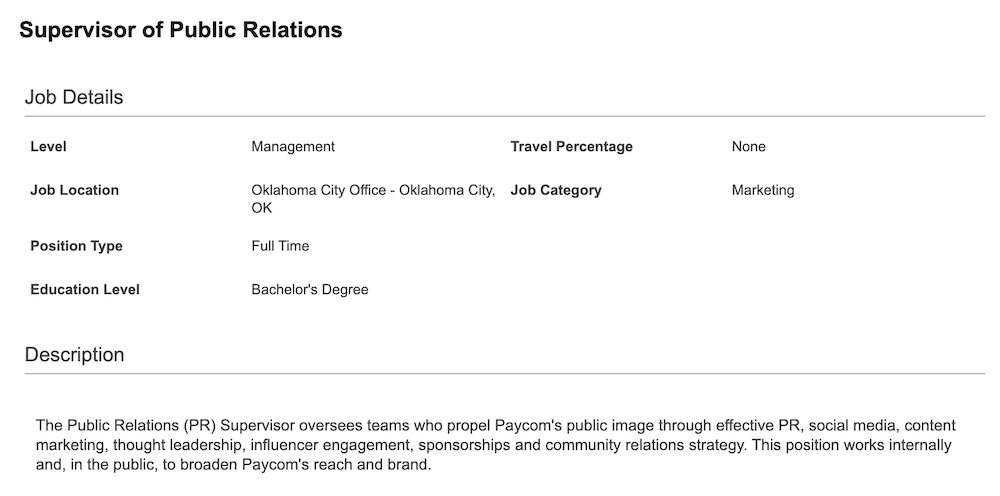 That's great, Swadley's is hiring a staff accountant and Paycom is adding to its PR team. Now if we can just get Braum's to hire a Director of Cleanliness and Customer Service, the Oklahoma business community's ironic hiring spree will be complete! 
Here are some responsibilities: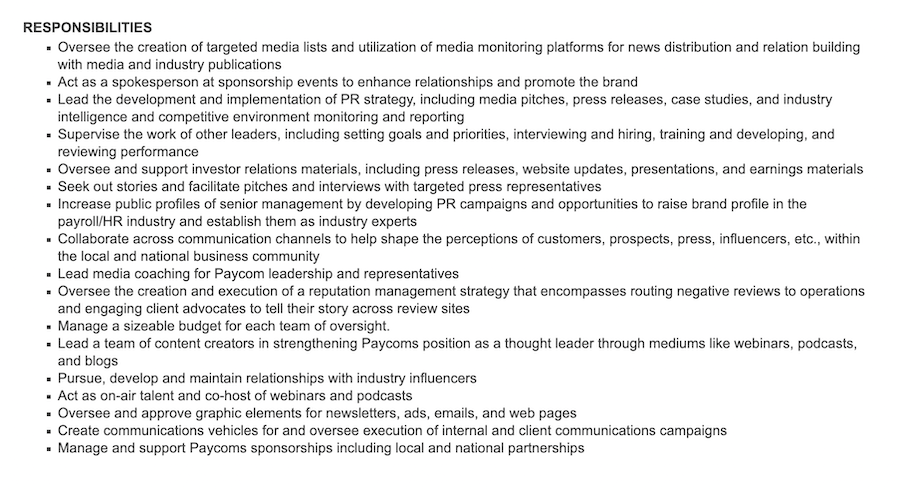 One thing that stood out is the new hire will need to "Oversee the creation and execution of a reputation management strategy that encompasses routing negative reviews to operations and engaging client advocates to tell their story across review sites." Since most employees claim Paycom already does this, that should be an easy one to implement!
As a former PR professional myself, I don't envy the PR flack who will land this job. I'm sure it pays decent and I've always wanted to attend a Paycom Prom, but they're going to have a hard time smoothing things over as long as current and former employees send us emails like this…
At that point, the Mole went into detail about some health troubles they had, and how shitty Paycom treated them as a result. The Mole ended the email with this dispatch about their dealings with Paycom founder and CEO Chad Richison, and how the company's culture gave them PTSD...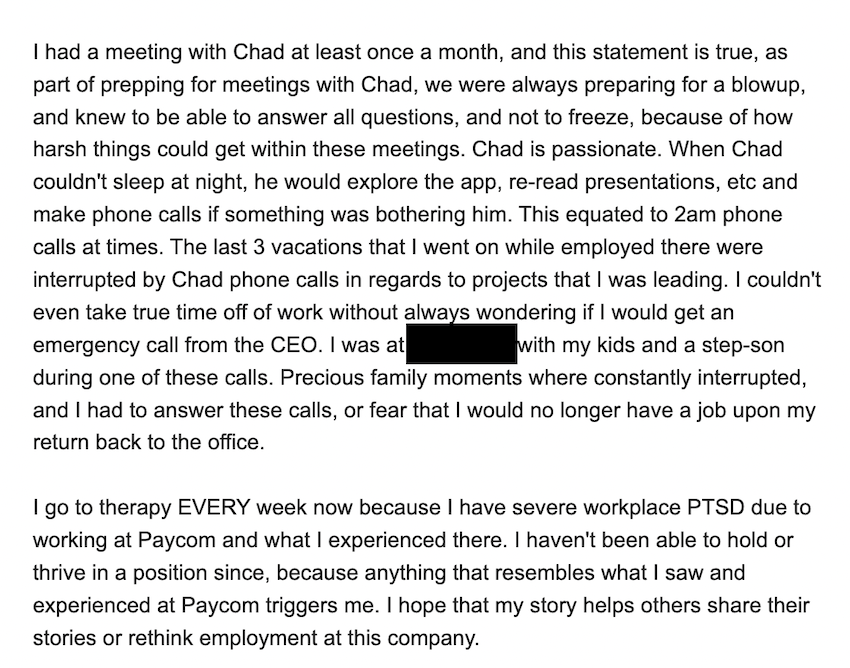 True Story – A long time ago, when Paycom was a small and growing company headquartered in some offices along NW Expressway, Chad Richison angrily confronted one of my friends who dared park one of many empty Paycom-reserved parking spots that were located near the entrance to the building. I guess my buddy was running late to his job at a mortgage company so he parked in one of the empty spots, and when he got out of the car (or returned to it. I don't fully remember.) Chad started yelling at him in the parking lot.
My friend wore the confrontation with a badge of honor and always brought it up when we'd drive by the building, and as I watched Paycom grow over the years, it's a tale that's always stuck with me. It also makes me believe any Paycom Moles who claim that Chad can be a volatile asshole. 
Anyway, once again, if you work or have worked at Paycom – or just got hired and want to send us a press release – contact us on the TLO Tip Line with any scoop or details about the company. 
Stay with The Lost Ogle. We'll keep you advised.
Stay in touch
Sign up for our free newsletter