Everything Else
Paycom Purge: Current and former employees speak out following company's return-to-office demands
12:29 PM EST on January 12, 2023
Last week, we threw together a little article about an employee uprising at Paycom that followed the company's decision to end its work-from-home policy and require all employees to return to their boring office cubicles. 
The policy change, which was announced in mid-December, primarily affected the company's Quality Assurance department and was quickly and harshly criticized by employees on internal message boards. 
In fact, it caused so much stress and despair that Brent Jordan – the Director of Software Quality – sent his staff the following email promising free snacks in an effort to smooth things over:

Yep. Don't worry about increased transportation costs, finding a new daycare for your kids in 30 days, or any other inconveniences you'll have to deal with because the Company suddenly reversed course in its work-from-home policy. Paycom is going to make things right by supplying snacks and activities (ping pong, anyone?) for a few weeks to make up for it. I bet if the employees behave really well, they may even get a pizza party!
At the end of our article, which included screenshots of the company announcement and the 100+ employee complaints. We also asked any current or former Paycom employees to provide us with more details about the news.
Boy, did they deliver.
After our article was published, the Ogle Mole Network lit up with dispatches informing us that Paycom fired about 20+ employees from their QA department right around New Year's, allegedly targeting the ones who were vocally upset by the company's decision to end remote work.
I guess that would explain why the company is now aggressively hiring new QA employees: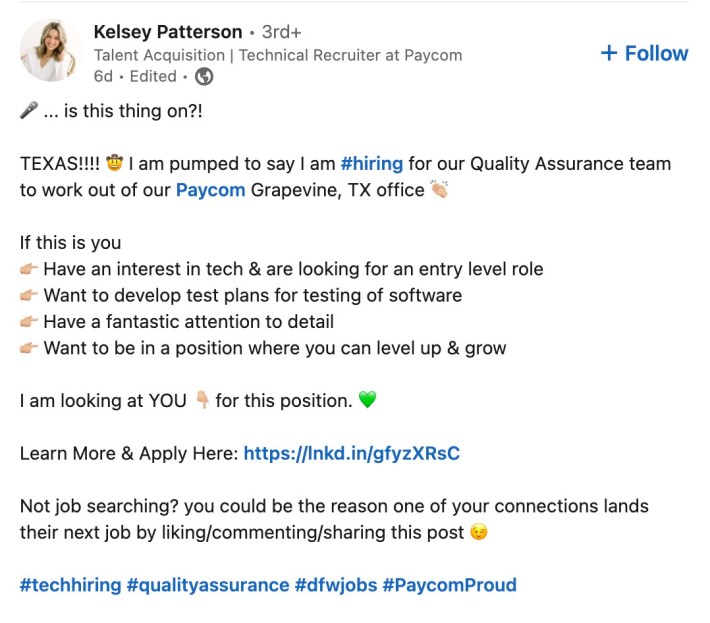 It may be a coincidence, but I bet one reason Paycom is looking to add QA employees in Dallas is that they don't have space for them in Oklahoma City.
Check out this email an Ogle Mole sent me:
An item not mentioned in the article worth reporting, there is not enough space for technology headcount to return to office (RTO) full time. Operations teams are being relocated to the large structure across from the I-40 outlet mall. Paycom refers to the additional space as "the annex".  

Employees were required and not reimbursed for at home work equipment - laptops, monitors, desks, internet, etc. 

Another item of note, an IT Director is offering relocation assistance, not monetarily to aid employees, instead referring employees to his wife's real estate agency, Engel and Volkers - https://edmond.evrealestate.com/ to relocate to the OKC metro. 

As of this week, QA employees and technology leadership expressing negative opinions about RTO are being fired. Retaliatory act. 
In addition to news about the company's QA Department purge, most of Ogle Moles painted a not-so-rosy side of the company that is never mentioned in the local media, portraying the corporation as behind the times, out of touch, and a not-so-fun place to work. 
For example, here's what one former employee who claimed to have a leadership position wrote us. Everything is [sic]:
The software for the product is old. If you're not praising a c-level your not getting moved up, you're getting moved out…

The workers there are good people. They burn through salespeople at a fast rate. They have people put reviews on Glassdoor when they're eligible again to inflate the number. It's the least tech savvy company in tech I've worked for. No CEO should have a $200M potential payout when the stock hits $600 a share. It encourages bad behavior. Combine that with a board of directors that seem to be powerless or inept at governance but make more than 90-95% of the employees well problems are likely ahead for them. 
In many of the dispatches I received, current and former employees suggested that the company "encourages" employees to leave positive GlassDoor reviews. 
For example:
For better (easier to read) content, check out Glassdoor reviews. Many of them have comments from HR directly and all are being gaslit? Gaslighted? 

Couple trends: 

Paycom says they care about us, but refuse to listen to us

Paycom buries bad reviews with good

Paycom incentivizes or sometimes "requires" me to make a positive review 

Toxic work environment 

Etc. 

CEO Chad has a temperrr and has been known to shout at individuals in meetings, throw papers in the air, belittle, fire (of course that's his right but for those who disagree with him) lots of good stuff and juicy stories that we've been forced to bury for fear of being sued cause dude has so much disposable income. 
Here's what another said:
I wanted to give you some more info. Paycom encourages/forces certain employees to inflate ratings on Glassdoor and for their app. They also do not send the survey for OK's Top Workplaces or the one for the USA to all employees. It's sent to employees Paycom knows will rank them highly. In my seven years there, I only received the survey once and that was after completing a leadership course with Paycom. 
One long-time Paycom employee sent a lengthy email airing a litany of grievances, and basically claimed to have fallen out of love with their employer. Here are some snippets:
I truly loved my job. As the years passed, we grew more than I could've imagined. Our fun small company with our one office building, on-site gym, and softball field became 4 (5 in 2024) office buildings, 2 parking garages, and the annex (a building paycom bought recently over by the outlet mall). Paycom is no longer fun. These buildings have become our prison. 

The biggest issue, in my opinion,  is that paycom doesn't know how to handle change. We grew so damn fast and got so many new clients (our CEO is sales-focused and it's always been the #1 priority) and it inevitably became our downfall. This company had all the tools to create and maintain a well-operating payroll company, too...but little by little, this place just fell apart. 

The Coronavirus is what finally broke the system.  At first, paycom handled things very well.  They sent us home with laptops and got us working remote in less than a week. We transitioned almost seamlessly to working from home, doing zoom meetings, and communicating via Teams. I loved it

The other issue this company has is just with retention of employees… We are running out of talent and have exhausted the Oklahoma City market for applicants. If we could go remote, not only would we have thousands of qualified potential candidates,  but we would finally be able to get fully staffed and people might actually enjoy their jobs here again.

Alas, we have a CEO that has literally said, "Businesses that go remote will fail" and nothing we say or do has changed his opinion.  So our days are now spent putting out one fire after another,  getting screamed at by upset clients,  and taking on more work with no extra pay because our coworkers keep quitting.  We get no Christmas bonuses,  our pay is below market, and our cries and pleas for a change have fallen on deaf ears.

I believe Paycom can still recover from this but they have to be willing to change. Period. What they don't seem to accept is that the world post-pandemic is completely different now. Americans are no longer content to give their lives to a company that doesn't have their best interest at heart.  Obviously salary is still important,  but I think I can argue that quality of life is even more precious than monetary gain...and I've seen that with coworkers who took a pay cut to work for another company that allowed them to be at home.

I mentioned earlier that we have another office building over by the outlet mall. That's because they can't fit us all at headquarters.  But instead of allowing departments to go remote, they just buy more commercial property.  And now that they are bringing back our tech department,  more of us are having to relocate to the annex. It makes no sense. 

Ok I guess this has been long enough.I guess I just needed to let out steam lol.
Man, that last one was like reading a sad love story. That being said, I hope they're enjoying all the snacks and activities!
To be fair – and I always like to at least pretend to be fair – I know a lot of people who work at Paycom and they really seem to like it. Despite the complaints above, Paycom is still probably better than a lot of other employers out there, and they are a net positive for our city and state. Plus, their CEO Chad Richison actually had the guts to publically call out Oklahoma Governor Kevin Stitt's idiocy, which is kind of cool.
That being said, Paycom obviously handled this situation poorly and messed up a lot of people's lives. That's not cool.
Also, from an outsider's perspective, it is a bit concerning to see a tech company take such an antiquated approach to things.
In today's world, technology is a bit like father time – it's undefeated – and companies that try to stick with the old way of doing things are usually left behind. 
Anyway, I guess I'll wrap up this post and ask the same thing I did the last time – if you're a current or former Paycom employee, and have more details (good or bad) about the company that you think are worth sharing, hit us up on the TLO Tip Line. Anonymity guaranteed.
Stay with The Lost Ogle. We'll keep you advised.
Stay in touch
Sign up for our free newsletter