Everything Else
7 stories we missed over the holiday break…
11:31 AM EST on January 3, 2023
Welcome back to the grind, Moles! 
I hope you had a great holiday season, and your post-holiday January depression isn't too severe. 
For the most part, Oklahoma played along with my desperate plea to not do anything too dumb or stupid while I was on semi-vacation. 
That being said, some things did occur that would have normally commanded our attention. Check them out below…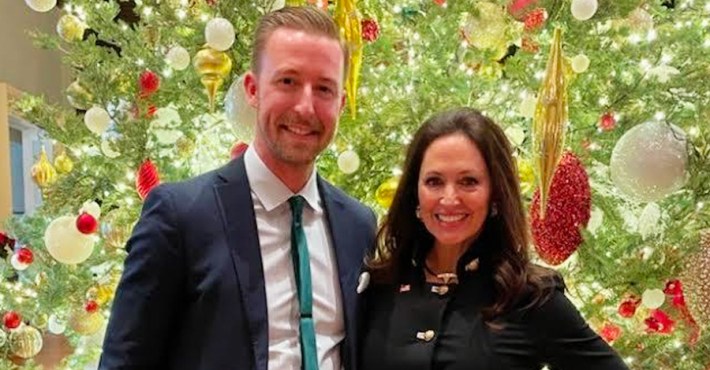 Ryan Walters goes viral with anti-woke, probably racist "woke Santa" tweet
While most Oklahomans were finishing up their last-minute Christmas shopping, Oklahoma State School Superintendent-Elect Ryan Walters decided to troll evil wokesters who apparently live rent-free inside his head…
Yep. No woke (a.k.a. Black) Santas in the Walters household. He likes to go with the traditional Santas who wear silly sunglasses and may or may not be pinching Ms. Walter's ass. 
With Oklahoma being home to a famous Black Santa Claus who's been getting a healthy share of local media attention – and Walters being a right-wing Evangelical politician from southeastern Oklahoma – lots of people figured there was probably a bit of racism (not so) hidden in the message of Walters's tweet. 
You know, people like Bernice King. She's the youngest daughter of a guy named Martin Luther King Jr. – a man whose woke teachings could be banned in Oklahoma classrooms because they violate HB 1775. 
As Walters's tweet took off on Twitter, he desperately tried to save a little face, and get more attention, by claiming the left overreacted to his race-baiting tweet. He then blamed Joe Biden:
Leave it to the Oklahoma people to elect a guy who looks and acts like an assistant manager at Cabella's as our State School Superintendent. He also sent this:
Yeah, and the definition of going "incompetent race-baiting dumbass" is Ryan Walters. 
–
Car crashes through fence at Governor's Private Residence 
Surprisingly, the first lady wasn't behind the wheel! 
–
Lana Del Rey books billboard in Tulsa to troll ex-boyfriend and promote new album
Okay, technically this happened a bit before Christmas, but I didn't hear about it until this past week. 
I guess Lana Del Rey – the melancholy indie rock version of Taylor Swift who's loved and adored by sad ex-girlfriends all across the globe – booked a billboard in Tulsa to promote her new album because her ex-boyfriend lives there. 
To make the story weirder, her ex is a famous cop social media influencer who hosted that stupid cop show Live PD:
That seems like an odd, stereotype-defying pairing. I guess he must have been a fan of depressing music and she must really like shitty TV shows. Hopefully, she hooked up with a Street Outlaw while visiting so her next billboard will be in OKC!
–
Jason Hacket officially leaves KOCO
As we reported last month, he's off to Minnesota. We wish him the best of luck. 
–
Trace Ford ditches Cowboys for Sooners
Hopefully I'm wrong, but I'm not too high on the future of the Brent Venables era. I know he was given a shitty hand, but I've seen just enough disorganization, questionable decision-making, and other signs of in-over-his-headedness to make me think he may have a short reign as the program's head coach. 
That being said, I do give him credit for breaking the hearts of OSU fans! 
Recently, one of OSU's better defenders – Trace Ford – announced he's driving down the road to play for state's only nationally relevant, tradition-rich football program:
OSU fans took the news about as well as you'd expect. Doug Gottlieb – remember him? – even cried about it:
I don't blame Doug for having sour grapes. I've dedicated about a dozen articles or so on this site to trashing Kevin Durant, but there's nothing wrong with transferring to your arch-rival when your arch-rival doesn't even consider you an arch-rival. 
–
David Payne victimized by Southwest Airlines
I don't fly very often, but when I do, I always go out of my way to avoid Southwest Airlines. From their cattle call boarding process to their annoyingly cheery staff, I can't stand to fly the Greyhound of Skies. 
I also can't stand people who complain about delayed and canceled flights on social media. I'd rather hear someone tell me about a poker bad beat or their fantasy football team than listen to them complain about flight delays. 
Knowing that, I'll totally admit I watched the airline's complete holiday meltdown on social media with a bit of smug schadenfreude. Yeah, I felt sorry for people like David Payne who had their holiday plans ruined, but that's what you get for flying on such an annoying airline and then complaining about it on social media…
Although David flew on Southwest and bitched about it on Facebook, I'm always a sucker for a nice Seinfeld reference so all is forgiven. 
–
Kevin State makes aspirational New Year's Resolution
I have a better New Year's Resolution for Kevin – find a new marketing shtick! You've been doing the top 10 stuff for almost 6 years now. You've admitted it's nothing more than aspirational BS. Go with something like – "You only have four more years of me." You know, a message that most Oklahomans can get behind.
–
Stay with The Lost Ogle. We'll keep you advised.
Stay in touch
Sign up for our free newsletter