Everything Else
TLO Christmas Gift Guide: Old Paris Flea Market
For those who can't afford the other Paris.
8:31 AM EST on December 22, 2022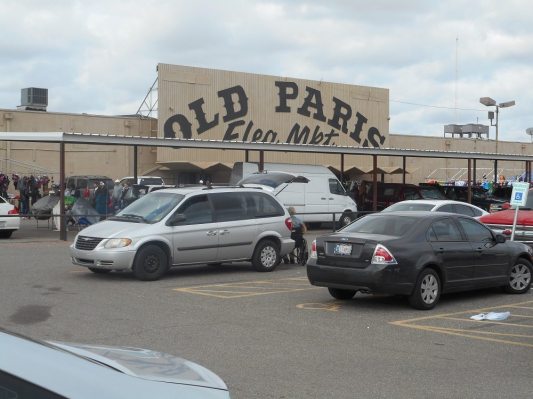 Editor's Note: This TLO classic from Louis Fowler was originally published in December 2016. We can't vouch for the availability of some of the products mentioned.
Every year we subject ourselves to the same consumer torments and tortures, braving the overflow of humanity-flooded capitalist prisons like Penn Square Mall, Wal-Mart, or whatever hip downtown pop-up du jour gets passed around on social media, all in search of overpriced Christmas gifts that, sadly, will be forgotten about some December 26. Why bother?
If you want to truly get them gifts they'll never forget—and even if they do, hey, you only spent a couple of bucks—I can't recommend Old Paris Flea Market, 1111 S. Eastern Ave., enough.
From possibly illegal self-defense gear to expertly crafted porcelain bongs in the shape of a wizard's skull, every year I have gotten most of my holiday shopping done in about twenty minutes, and usually all out of the back of some dude's flatbed in the parking lot.
So hide your valuables and lock your car, don't step in that open diaper, grab some elote and let's do some Christmas shopping, the Old Paris way!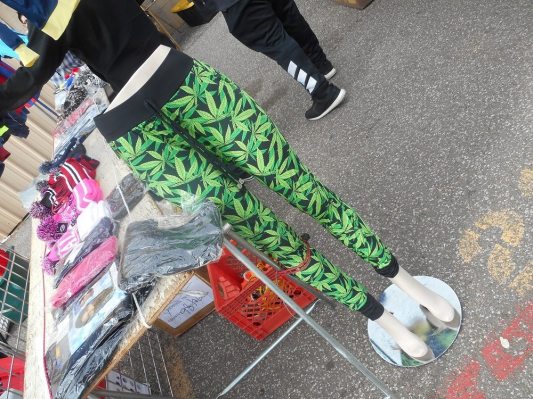 Bud Huggers
Puff, puff, sass! Old Paris is most definitely your one-stop shop for all cannabis-related clothing, from leather jackets sprouting a big fat sativa bud to these ever-so-comfortable leggings ($12.99), perfect for yoga class to gettin' high off your ass. Wear 'em if you got 'em!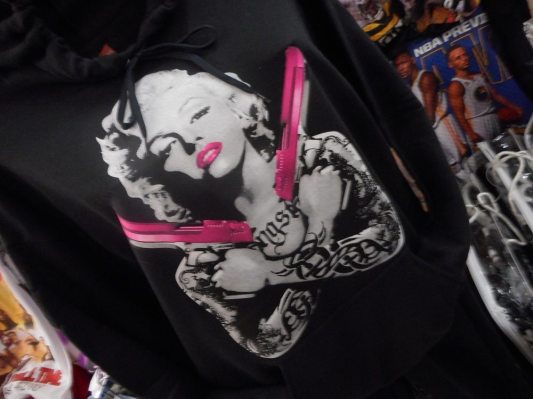 Gangster Glam
Thankfully available in both children ($5.99) and adult sizes ($7.99), this straight-up gangster re-imagining of classic Hollywood icon Marilyn Monroe—complete with fully-loaded glocks, natch—is the perfect gift for the classic movie buff in your life who just got out of Lexington for third degree manslaughter.
-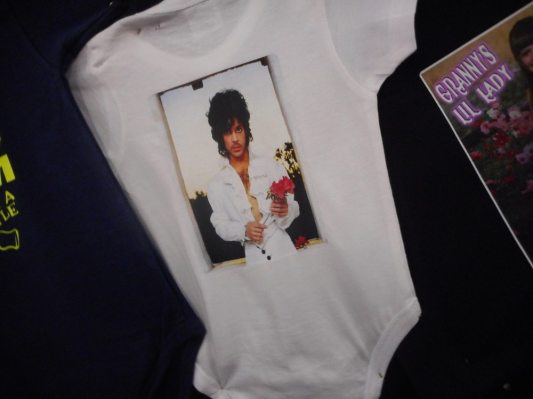 If I Was Ur Baby
Perhaps the sultriest baby onesie ($9.99) of all time, this erotically charged piece of newborn clothing features an image of the late, great Prince staring deeply into your eyes and, quite possibly, soul, before placing you down in a porcelain claw bathtub filled with milk and rose petals, teasing you with inherent sexual pleasures that might utilize positions and techniques that will be foreign and, ultimately, intimidating to you.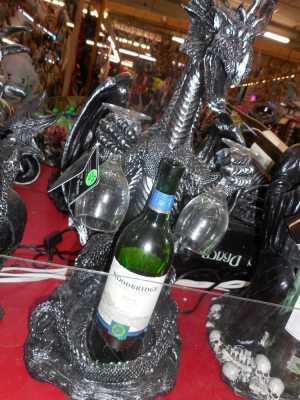 Drinking Lord of the Thrones
Winter is coming—winter cosplay meet-ups, that is!—so be the lord of your polyamorous solstice Hufflepuff-themed wing-ding with this fantastical one-stop wine homemade mead valet ($69.00), forged from the finest polyresin in the obese fires of Mordor and old Valyria herself.
-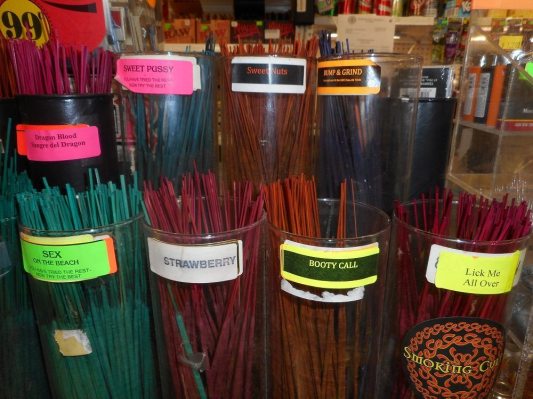 Senses Working Overtime
Have you ever had a late-night booty call and, the next morning, wish the person was gone but the scent of booty still lingered about the house? Well, neither have I, but whether it's the smell of "Sweet Nuts" or the aroma of "Bump and Grind," the erotic incense business is hotter than ever—and affordable at a price of 5 sticks for $1.00. It's the perfect stocking stuffer for whoever's stocking you've been stuffing, sexually at least.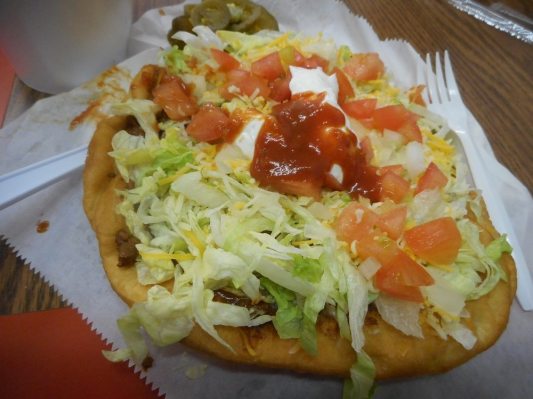 Indian Taco Break
If there is one thing that Old Paris Flea Market will always have over the head of your typical shopping malls or department stores, it's their wonderfully reliable snack bar, offering fresh made Indian Tacos that ain't bad at all. Fluffy frybread topped with spicy beans and ground beef, copious amounts of lettuce, tomatoes and cheese, all for $7.99, it's the perfect shopping break carbo-load.
-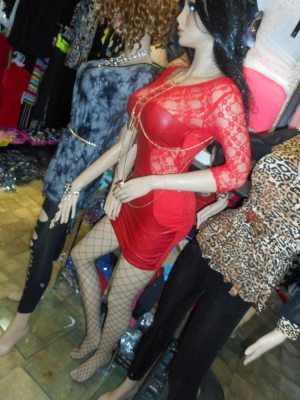 Lou and the Real Girl
Not to go all Meshach Taylor on you, but isn't this the sexiest dummy you've ever seen? Sitting there, eating my Indian Taco, I couldn't help but make a Christmas wish that it would come to life in a comedic Mannequin-like situation, wherein she's a former Low Rider model named Amore who has been cursed by an evil bruja and only my true love for her can break the spell.
I am so lonely, guys.
-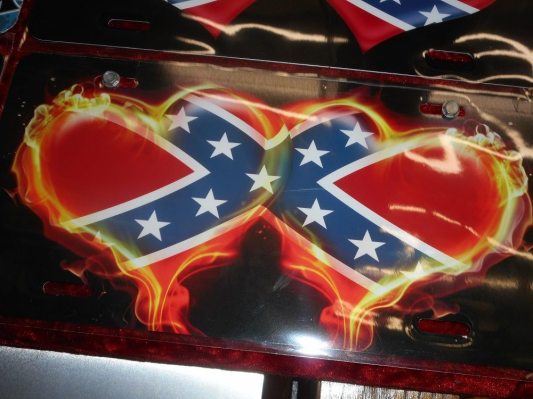 The South is Gonna Love Again
When two rednecks love each very much and they want to show the world how much they hate minorities, nothing symbolizes that romantic partnership better than this burnin' rebel hearts license plate ($12.95) custom made for the front of any truck or Durant auto-body shop waiting-room wall.
-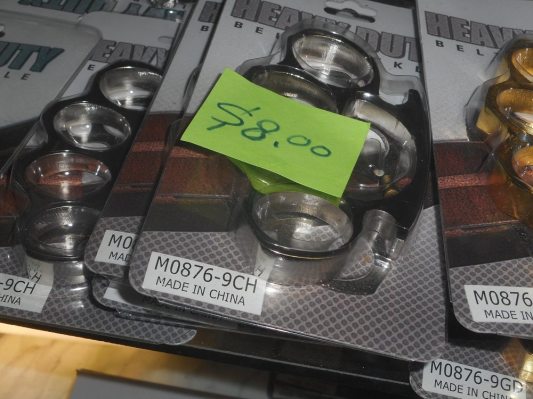 Kiss My Brass
If there's one thing that every flea market I've ever been to always has, it's that one elderly Asian dude that sells switchblades and nunchaku and crossbows and real Wolverine claws and, thankfully, Old Paris is no different. Completely underappreciated, brass knuckles ($8.00) always make the perfect gift for any punk suckas who been asking to have some teeth knocked out they mouth.
-
 Führer Christmas
Have you ever wondered where area white supremacists alt-right enthusiasts are able to score fresh Nazi  swag? I mean, it's not like they sell it at Target or anything…yet. Leave to the vendor with the SS flag waving proudly from his truck in the Old Paris parking lot to help do his part in keeping America great by selling brand new made in China Nazi flags, which, scarily enough, he was almost sold out of. Sieg Heil, Santa.
-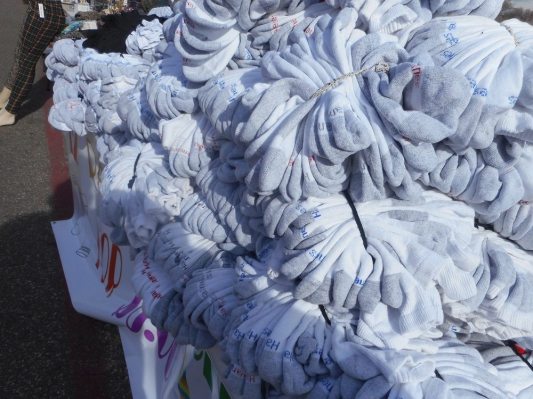 Sock It to Me
Remember when you were a kid and you got socks for Christmas and you were all disappointed because, well, they were socks? Now, as an adult, I wish to God somebody would buy all my socks for me. Have you been to Wal-Mart lately? Hanes socks are six pairs for $12.00. However, when I saw this one parking lot vendor selling 12 pairs of Hanes socks for $5.00, I was all like "Let me have 24 pairs my good, sir!" Christmas truly came early for me this year, because I finally have socks without holes in them. Now if only I could afford a car and a biopsy for these tumors I'd be all set…oh well, God bless us, everyone!
-
Who wants to go Christmas dinner shopping with me at Whittaker's next week? Follow Louis on Twitter at @LouisFowler.
Stay in touch
Sign up for our free newsletter