events
Gold Mine: The Digging for Precious Ore at the KATT Record Show
10:41 AM EST on December 12, 2022
It was a day like today, 25 years ago.
Sometime around high school, I went to a lonely record fair at the Holiday Inn on NW 39th. It was tucked inside a tight box of an auditorium, with only a handful of stalls and booths—most of which were displaying seedy selections of erotic comics.
To be fair, it was a kind of a letdown.
I bought a few compact discs and a huge poster of Henry Rollins, but ever since that day, I have not been to an actual record fair. I've stopped by big yard sales, grand thrifts-shops, and the occasional sidewalk closeouts, but since then, record sales just haven't been one on my Doppler.
That changed on Saturday.
Just as some of my stroke symptoms conveniently subsided, Oklahoma City was treated to the KATT Record Show this past weekend at the Diamond Ballroom, 8001 S. Eastern Ave.
As I crawled though the muck of the Diamond's swampy frontage and paid an $8 admission, I was entranced by the whole set-up.
Amassing the metro's unwashed masses in one spot, it was a real convention, with real convictions, featuring a who's who of local audiophiles who all carry the detestable habit of coveting the ONE RECORD.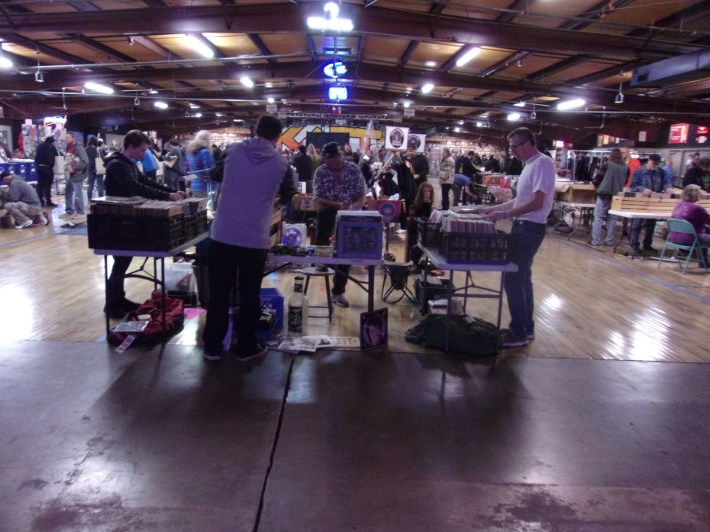 I set a few rules for my excursion: no new releases and, especially, no Beatles merchandise.
Naturally, number two was thrown out of the window once I stopped by a table of $10 art prints. I had to get one of a 1966 performance.
Now it's no more Beatles, okay?
Yeah right.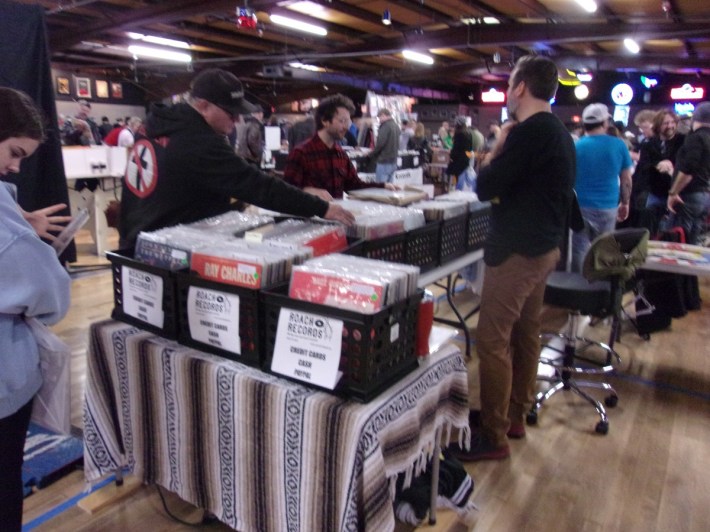 Taking it all in, I went to the mean center of buzzing activity. Almost immediately, a few TLO readers gave me a few "thumbs up" on the progress I've made following my stroke. It was unbelievably affirming. Then, from the corner of my eye, I spotted my old friends – Guestroom Records.
I spent a few dollars at Guest Room the day before—like I said: I have a problem—but scanning their rare platters, I was in-all when I found the duo of Cure maxi-singles – Quadpus and The Walk. It was about only a few dollars for that friction of somber muses.
In the next stall was a place called Dave and Linda's Music Emporium.
With many music-fans trying to get a piece of prime retail, I hardly had time to sheepishly browse when I came the David Bowie's theme to "Cat People (Putting Out Fire)." Another maxi-single, it was a dream purchase, at lease for me.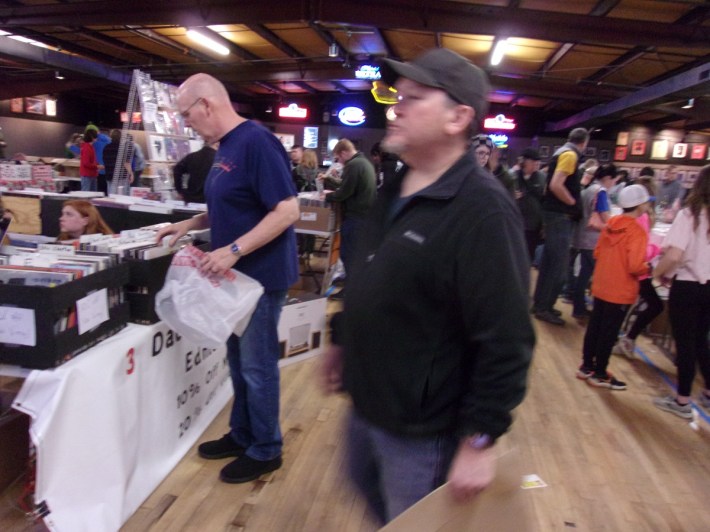 Although there were no performers on the Diamond's stage, I had a cool beverage to keep me in line. But looking at their wall of fame, I spotted plenty of former stars on the revue's wall, touting the amazing variety of music the venue has showcased over the decades. I really hope to live and see a show there sometime.
Throwing my plastic cup in the trash, only a few feet away, a found a nameless stall that was the only place to have a large section of Latino music. There I found a recording of Ruben Blades y Seis del Solar. It was fine enough for me and my $5.
Snagging my timepiece to find it half-past one, I decided on one last look…and there I found it.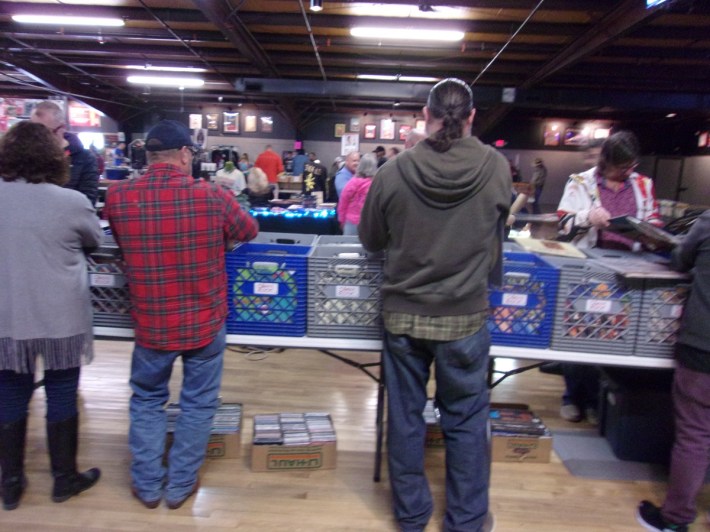 Among the untethered rows of Kiss bootlegs, I spotted a couple of primo Beatles bootlegs.
One of them was No. 3: Abbey Road, a German pressing of unreleased recordings. Of course, I wanted more of the final sessions of the Fab Four…and $25.00 was a steal. I took the record to the dealer. He explained the price was wrong and it was actually $40.
For a moment, that took me back to that mid-nineties record fair, reminding me about little tricks some vendors try to trap you for a few dollars more. But, after a little dealing and a whole mess of dealing—probably my disemboweled speech patterns, for the most part—I got the record for the original asking price.
Taking this win, I decided to cash in my chips and leave the show. I stomped in the overflowing puddles, making my way back to the car.
-
Follow Louis on Twitter at @LouisFowler and Instagram at @louisfowler78
Stay in touch
Sign up for our free newsletter