Politics
Governor Stitt unveils latest public school saboteur!
2:12 PM EST on November 16, 2022
With Oklahoma officially being claimed for God, and now under at least four more years of hardcore right-wing Evangelical rule, Governor Kevin Stitt, Education Bro Ryan Walters, the Oklahoma Senate, the OCPA, The State Chamber of Commerce, and the Young Presidents Organization are all intensifying their efforts to privatize Oklahoma public education and strip it for spare parts.  
Or as they like to call it – "Innovating."
To help Stitt in these noble efforts to use right-wing culture wars as a ruse to take funding away from public education and put it in the pockets of church-affiliated private schools, for-profit online charter school schemes, home-school moms with essential oil side hustles, etc., the Governor has recently appointed bearded huckster Brandon Tatum as his Chief of Staff.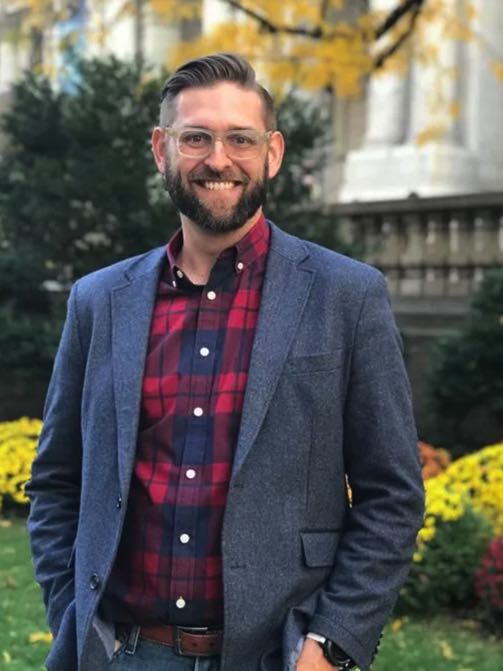 Tatum got a friendly profile in The Oklahoman, and I guess we should give Stitt and Co. credit – He seems like the right guy for the job! 
Brandon Tatum, a university executive with experience tackling workforce development problems, was named last week by Gov. Kevin Stitt as his new chief of staff, an indication the governor plans to renew his focus on education in his second term, specifically in looking for ways to connect schools with the business community. 
"He is a fella who is really good at understanding problems and obstacles, and then kind of fashions solutions to those things," said John deSteiguer, president of Oklahoma Christian University, where Tatum was an executive vice president.
deSteiguer described Tatum as a creative problem solver and innovator, characteristics the governor often highlights when hiring staff. 
Yes, as his hires have shown over the years, Stitt only hires the most innovative and creative grifters available when adding to his staff.
From Gino DeMarco to Jerry Winchester to Matt Stacy, he only surrounds himself with the best and brightest people who will later resign in disgrace!
Tatum did not respond to a request for an interview and the governor's office said they would not make him available for any media interviews.
But in a statement announcing Tatum's hiring last week, the governor called his experience in higher education an asset. 
"Brandon is an overachiever who brings the right temperament and personality to lead our team," Stitt said.
Once again, I have to agree. Tatum definitely brings the right style of temperament and personality for the job!
For example, it was under Tatum's watch that Oklahoma Christian fired popular graphic arts professor Michael O'Keefe after 40+ years of service for allowing a gay man to speak to one of his classes. 
In fact, back when that fiasco was happening, Tatum was identified by student and alumni groups as one of the men people trying to change OC's culture to be one that's less inclusive of LGBTQ students.
Here's a screenshot I acquire via the Ogle Mole Network from a FB group that was circulating this past spring: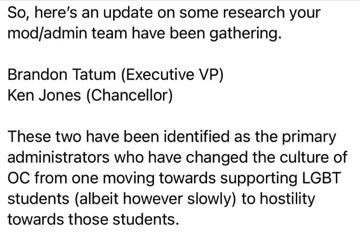 Yep, it looks like Stitt has found a solid cultural warrior to distract the Derplahoman masses while they attempt to siphon away rural public school funding!
I can already see Ryan Walters and Tatum going full Culture War Commando and raiding school libraries looking for dirty words or images in books, and replacing all confiscated copies with Tatum's children's book – The Adventures of Grit. 
In addition to being an accomplished culture warfighter and children's book author, Tatum also has quite an impressive resume working in the Christian private school sector.
Over the years, he's served on a variety of boards and groups that I'm sure would love to see valuable public school education funding fall into their offering box. 
Here are details from his OC bio:
Dr. Brandon Tatum has spent his career working to innovate in both higher education and K-12. As Executive Vice President and Chief Strategy Officer, he brings to OC a visionary and concentrated effort to align OC strategies that guide the university forward. Brandon's doctoral degree is from Abilene Christian University in Organizational Leadership with an emphasis in Higher Education. He recently served on Governor Stitt's education committee focused on personalized learning and innovation and is the Governor's appointee on the Statewide Virtual Charter Board. Previously, he served in various roles in Christian education including teacher, coach, President of Oklahoma Christian Academy and Executive Director of the National Christian School Association.
And here's Tatum's bio from his now-defunct personal website that's still located on the Internet Wayback machine:
Brandon Tatum is the president of Oklahoma Christian Academy, a Pre-K to 12th grade school located in Edmond, Oklahoma. Brandon has spent over a decade in education and has worked with hundreds of students and families throughout his career at both the collegiate and grade school levels. Brandon is pursuing his doctoral degree in organizational leadership from Abilene Christian University, and he plans to complete his dissertation in 2018.
He serves on several national, state, and local boards including the National Christian School Association Board of Trustees, National Christian School Association Board of Commissioners, Texas Christian School Association Board of Trustees, and the Oklahoma Christian University Institutional Review Board.
In fact, Tatum is such an expert on Christian private school education that he was a regular speaker on the private school events and conferences circuit!

That's kind of weird. With Stitt allegedly wanting to make Oklahoma a Top 10 State for public education, you'd think he'd surround himself with people who have actual experience working in public education.
You have to wonder – why did he choose a Chief of Staff who only has a background in private school stuff???
Hehe. Just kidding. 
We know it's because Stitt and Co. want to sabotage public education from the inside, and use money intended for Oklahoma public school students to grease and line the pockets of their friends, business partners, and other allies in the for-profit, private, and shady online charter school sectors. With Tatum on board, it looks like they found a loyal ally to help with those efforts! 
Then again, maybe I'm just being too logical. Perhaps Tatum will defend and help public education, and I'm totally wrong for assuming he's yet another one of Stitt's grifters.
Or maybe not.
Stay with The Lost Ogle. We'll keep you advised.
Stay in touch
Sign up for our free newsletter