Food
TLO Food Review: The Owl Shoppe
5:14 AM EDT on October 11, 2022
When you think of vegetarian soups and salads and such, I doubt you'd give a lot of thought to Shawnee—heck, I wouldn't think of Oklahoma in general—but the Owl Shoppe, 6 E. Main St., is a splendid outlier in this rural computation.
Located in the heart of the city's downtown, the Owl Shoppe is found in an elderly building that's seen its fair share of rural decay and hard times.
Once an old relic that held a soda fountain, penny candies, and other stereotypical memories, it's been brought back to life and refurbished, flipped into (I think) Shawnee's most-vegetarian place to grub.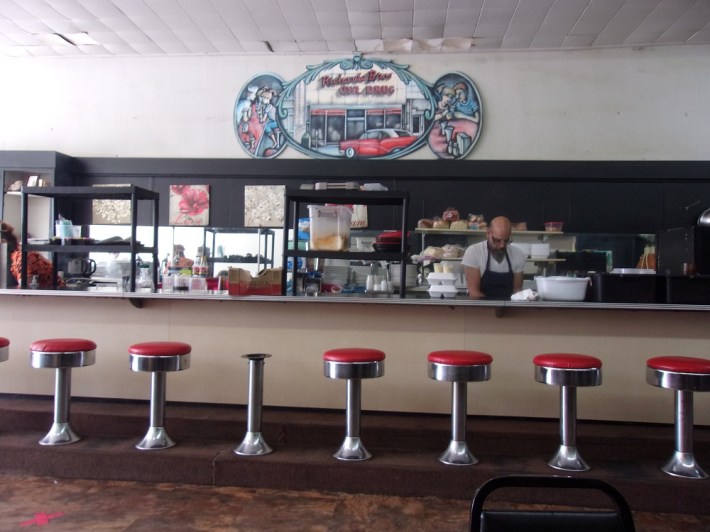 Sure, the diner is in rough shape, with time dragging its heels through the dining room, but it gives the eatery a rustic feel and character that's lost in most trendy vegetarian-style restaurants. Plus, when you see the main dishes are not only nutritious but delicious, there is definitely something here.
For my visit last week, I took my mom out for a lunch date.
Although the menu is not exactly vegetarian, it is mostly vegetarian, and in Oklahoma that counts as vege-centric. We then placed our orders, starting with the Chips/Salsa/Guac/Hummus ($8.99) appetizer.
At a glance, it seemed like a pretty standard appetizer—until I realized the flavors I got: the fresh salsa was after my heart and the smooth guacamole was about everything, but the artfully crafted hummus was beyond amazing. With the large, spicy pita chips—slivers, actually—it could have been a meal, and a good one at that.
For the main lunch course, my mother went with one of their Wellness Bowls – the Mediterranean Delight ($11.99) which, true to its name, was a delight! With mixed greens, cucumbers, onions, tomatoes, olives, chickpeas, artichoke hearts, pepperoncini peppers, feta, quinoa, hummus, and chimichurri, this had a whole garden to it.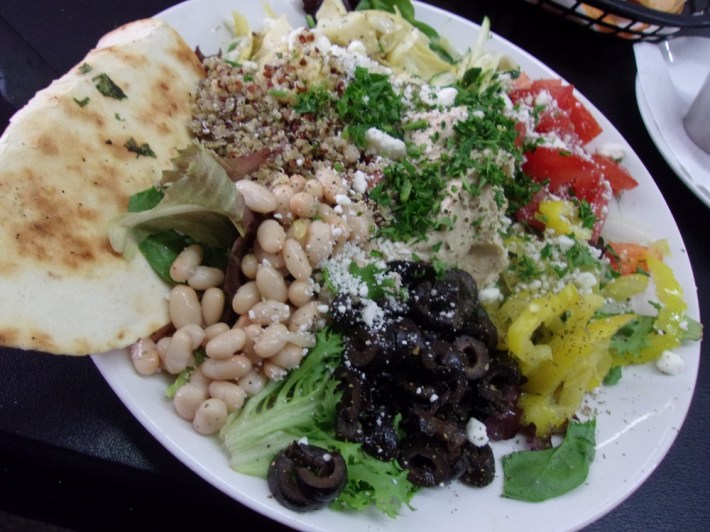 With a couple of slices of pita bread, it was a whole other world. Containing the flavors of ancient Greece and its inhabitants, the zesty tomatoes, hardy artichoke hearts, and indomitable pepperoncini peppers gave a garden-fresh taste that proves it doesn't come from a bottle.
I went with the sprightly Strawberry Spinach Salad ($9.99) and the Robin's Egg Delight ($10.99) sandwich.
Tucking into the Strawberry Spinach Salad were spinach, cucumbers, onions, roasted pecans, feat, and, even better, fresh strawberries and a raspberry vinaigrette.
On the other side of my plate was the Robin's Egg Delight, which included a fried egg, spinach, tomatoes, onions, avocado, as well a sweet potato mash and a little bit of a chimichurri, laid out on toasted whole grain bread.
Starting with the Strawberry Spinach Salad, the wonderful combination of the sweet berries and leafy spinach worked wonders with the cucumbers and smoky pecans, with the fruity taste and the solid vegetation giving a few pointers to the mainstay.
On that same token, the Robin's Egg was truly remarkable – a huge endeavor of necessary flavor, and a handy lunchtime meal that has the staying power in the disguise of a vaunted dinner guest.
With every bite, I knew that the Owl Shoppe was a special place, and proof that Oklahoma can deliver healthy, vegetarian dishes in surprising places.
Cómpralo ya!
_
Follow Louis on Twitter at @LouisFowler and Instagram at @louisfowler78.
Stay in touch
Sign up for our free newsletter