Everything Else
Beavers Bend, Beer, and Bigfoot: A Weekend in Hochatown
10:02 AM EDT on March 23, 2022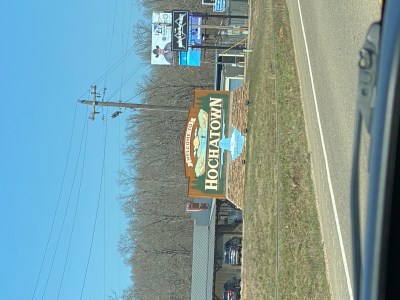 As long as I am still paying off my student loans, I believe I am entitled to a spring break.
That's why last week, my sweetie, sister, niece, and I all convoyed down to the southeast side of the state to Hochatown, Oklahoma for a family getaway with my parents.
"Hocha-what?"
Located a few miles north of Broken Bow, Hochatown is a small, unincorporated town that brushes up against the Ouachita National Forest and Beavers Bend State Park. It's known for its collection of cabin rentals, cute and kitschy tourist attractions, and…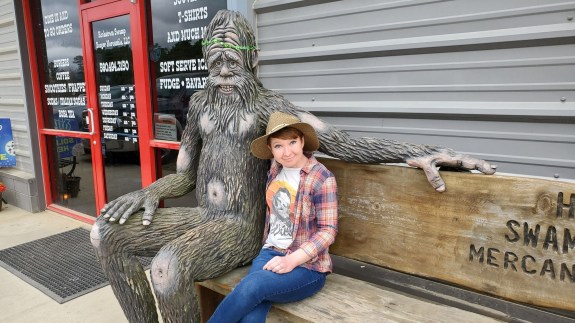 Bigfoot.
–
After a wild and crazy first night of playing Uno by a 5-year-old's rules and staying up until 9:30, we awoke bright and early for a sunrise hike before exploring the Hochatown shop fronts.
The first store to catch our eye was the Hochatown Swamp Booger Mercantile, and it wasn't because of the store name or flirtatious bigfoot welcoming passersby with open arms. Rather, it's because we honestly weren't expecting to find a boba tea joint located so close to a bait shop.
Inside we also found an eclectic collection of cryptid décor and the most patriotic sasquatch I'd ever seen.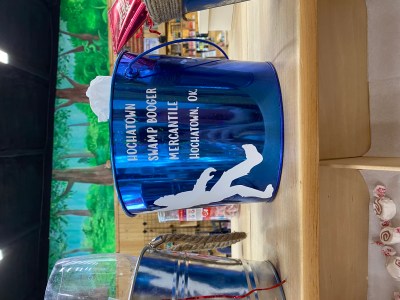 –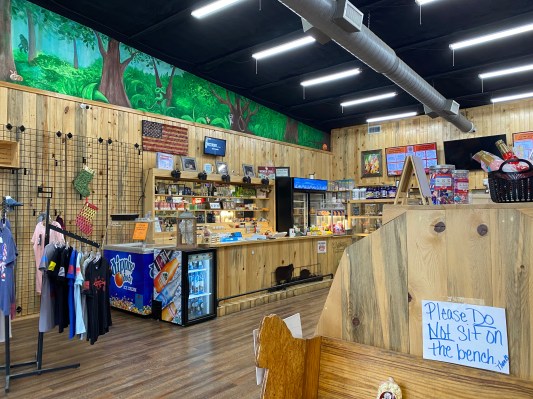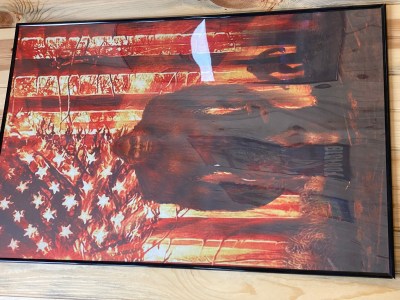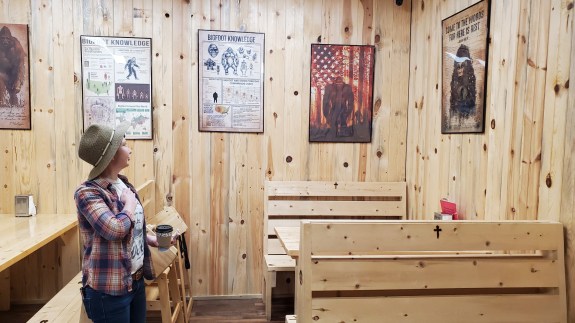 I pledge allegiance to the bigfoot.
We dropped a cool $21 on a honeydew boba tea, cup of coffee, and enough penny candy to keep my niece up way past nap time before making our way up the 259 for more adventure.
We checked out the Hochatown Saloon gift shop, Cornbread Trading Company, and Happy Trees gifts. When lunchtime rolled around, an order of pizza was made at the Mountain Fork Brewing Company. Since the sugar high was wearing off for my niece, Aunt Hay Hay and Uncle Delt volunteered to wait at the bar for the to-go order so my sister could put her down for a rest.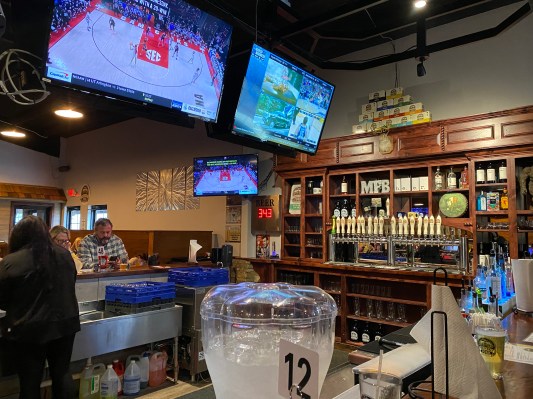 It was so selfless of us to wait around.
Seated next to us at the bar was a guy named Ledger, who introduced himself as Hochatown's only, and thus I assume best, lawyer. Along with apparently being Hochatown's go-to guy for real estate titles, contracts, and public intoxication charges, he is known (by us at least) as Mountain Forks go-to guy for beer recommendations. He recommended the Sneaky Snake IPA, which was already one of our favorite brews. We also sampled a pour of the 46 State Brown and the Global Distraction Wheat Wine and created our own 6-pack of to-go cans to, you know, enjoy responsibly in our jammies throughout the weekend.
The next day, we let the 5-year-old lead us on a short hike to a nearby waterfall and then ventured to the Hochatown Maze.
$20 a head may seem like a steep price to wander around some fence panels for an hour or so, but in the end it seemed well-worth the cost (thanks, mom). The goal is to collect stamps at each of the 5 towers and 8 bonus hotspots throughout the maze. But apparently the real challenge was finding your way to the exit, because 20 minutes after completing our card we opted to choose our own adventure and exit through one of the emergency gates.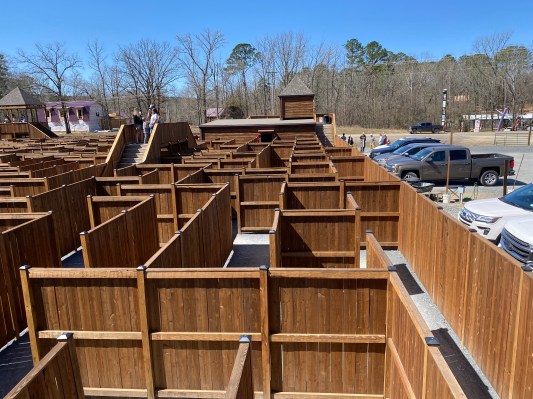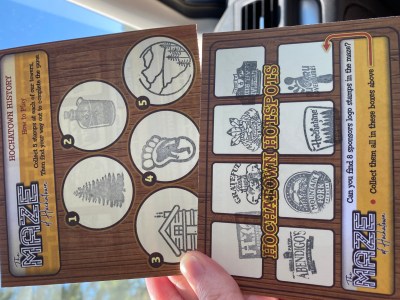 That afternoon, I ran into some old acquaintances…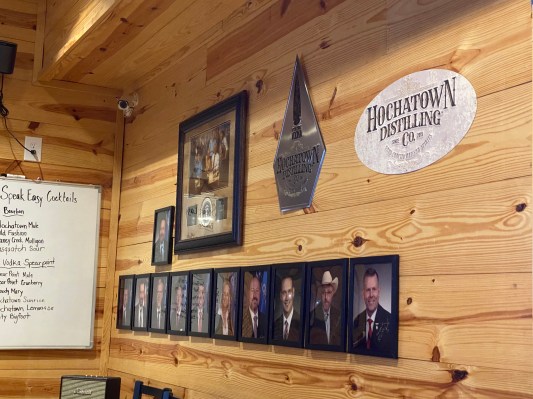 Hochatown Distillery is known for its whiskey and wall of Oklahoma lawmaker autographs, including one of the guys who wanted to make it legal to hunt the town's mascot.
For $15, we joined Rod on the 2:00 PM distillery tour. Even though we felt like a couple of lushes know-it-alls after learning about the process at a distillery tour in Guthrie the previous weekend, we listened to our tour guide explain how to distill booze as he led us through a tour of the facility before leading our tastebuds through a tour of quarter-ounce pours of Hochatown's liquid bronze.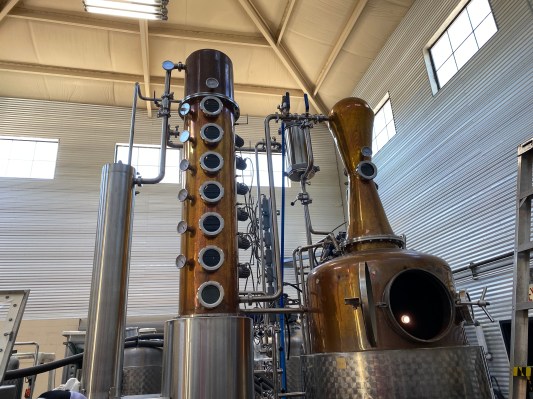 My family spent the evening bowling at Gutter Chaos and dropping a collective $100 on arcade credits that earned enough tickets for my niece to cash in on probably $17-worth of squishy toys and glittery trinkets at the prize booth before ending the night at Grateful Head Pizza. The only disappointing part of the meal was hearing neither Casey Jones or Box of Rain ONCE during our entire visit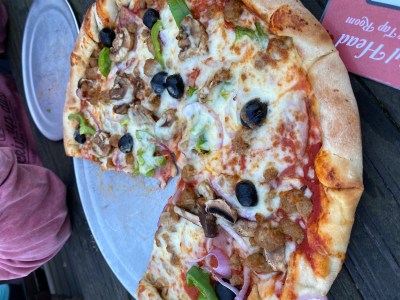 As mentioned, my sweetie and I also took opportunities to go on some amazing hikes around Beavers Bend. Our first hike was along the Spillway Loop (4 miles). We quickly learned that a Beavers Bend "moderate" difficulty trail makes the most strenuous trails in OKC look like walks in the park. Initially, we thought this trail sign was turned sideways a joke.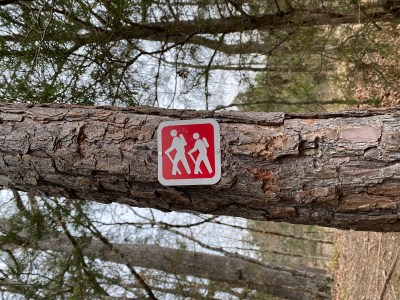 Narrator: "It was not a joke."
But after utilizing all four limbs to make it along a rocky hillside, we were rewarded with views such as these.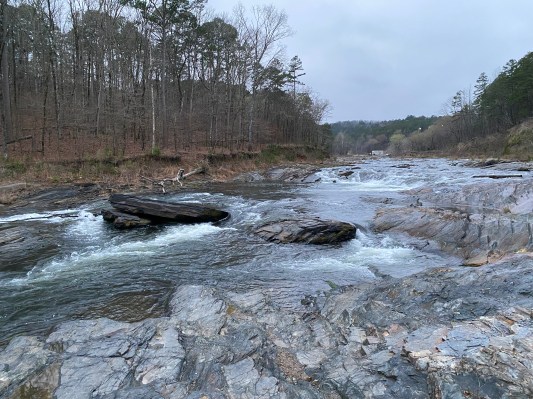 -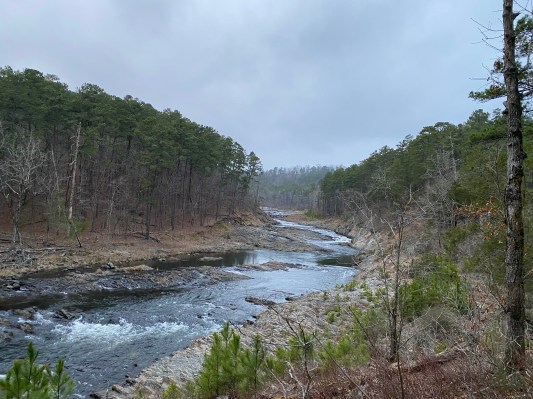 -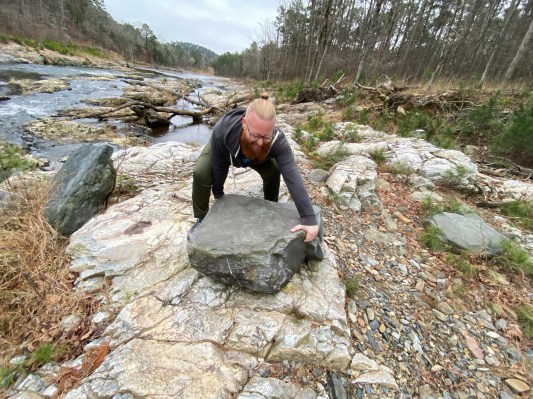 When your niece says she wants you to bring her back a big rock.
The next day, our hubris lost somewhere in Stephens Gap, we opted for a shorter, albeit more elevated hike along the Lookout Mountain Trail (2 miles). Thankfully, this excursion only required bipedal mobility and an hour in our day. Along with granting us a beautiful sight as the sun began to peak over the hilltops, the trail also offered informational stops about the Beavers family and how to recognize poison ivy.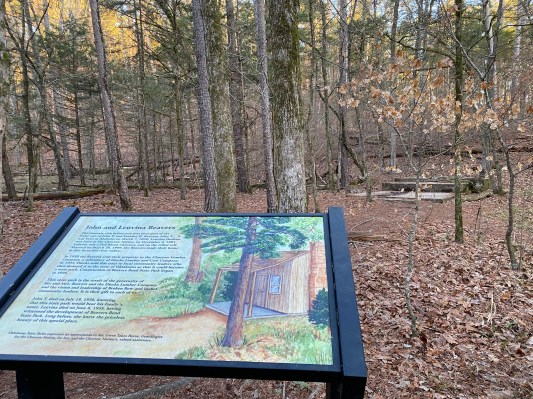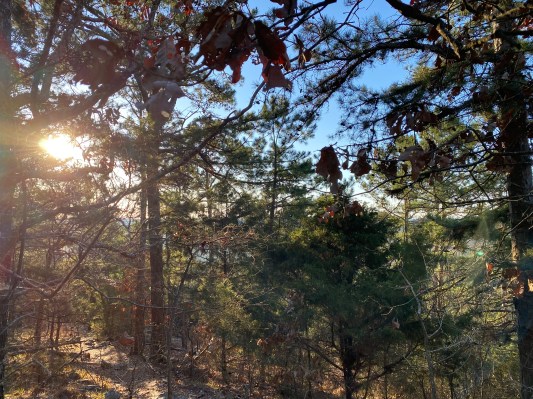 Later that day, my niece led us along the North Cedar Creek Waterfall trail (.8 miles). With an elevation gain of 36 feet, this short trek took us across muddy puddles, trickling creeks, and rocky paths. However, the trail was so easy a 5-year-old could navigate it.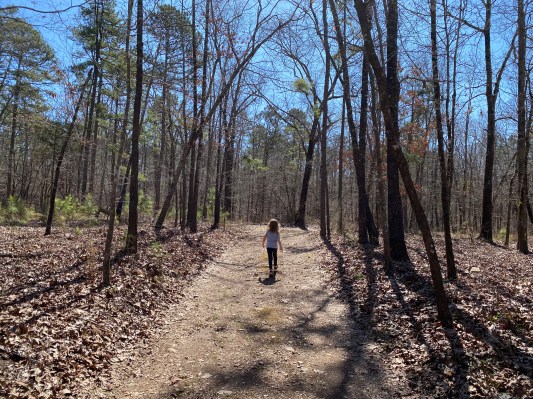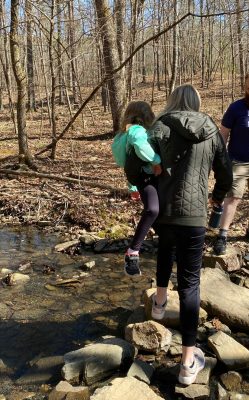 With the help of mom strength, at least.
It was a full three days in Hochatown, America and my calves are still recovering. We came back with 4/6ths of a pack of beer, dozens of beautiful pictures, and wonderful memories. Sometimes in order to "get away from it all," you don't even need to leave the state of Oklahoma.
-
For information on getting your very own state park day pass, visit TravelOK. Then follow Hayley on twitter @squirrellygeek and become a contributing member of TLO here.
In my spare time, I officiate secular weddings, read about dead people, and search for the American Dream.
Read More:
Stay in touch
Sign up for our free newsletter