After careful consideration, and consulting the highest reaches and darkest corners of the Ogle Mole Network, The Lost Ogle Editorial Board is terrified to endorse Crazy Carol Herner for mayor of Oklahoma City.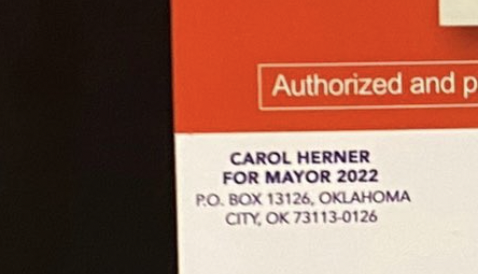 We're making this endorsement, quite frankly, because it's best for our business interests. No offense to David Holt – we'll never forgive him for his mayoral mic drop – or the other candidates, but they can't match this Rose Creek Karen when it comes to generating polarizing pageview content.
Seriously, people love to hate this woman, and she makes it sooooo easy. At her first State of the City address, she'll probably call for an OKC Muslim ban and to round up all the homeless folks and put them on a march to California. How's that for a headline?
So there you have it, from a strictly business standpoint, we're going to follow the same advice we offer to poor rural conservatives and actually vote in our best interests. As the Oil Overlords have taught us, that's the way to make money and get shit done.
With that "business" stuff out of the way, I would personally like to encourage you to:
A) Vote today
B) Vote for anyone not named Carol Hefner
Frank Urbanic is one option. As a lifelong Oklahoman, I have a lot of right-wing-leaning family and friends. Frank kind of reminds me of them. I probably disagree with him on just about every political and divisive wedge issue, especially regarding how to handle a public health crisis, but if you ran into him at a wet t-shirt contest at Redneck Yacht Club, you'd probably get along well with Frank if you avoided political discussion. Then again, I'm also an awful judge of character, so who knows.
Jimmy Lawson is another option. I've never met him, but some people I know really like him. He was involved in the movement to get Julius Jones off death row. He teaches at Rose State and works for the Oklahoma Workers' Compensation Commission. He hasn't raised a lot of money, but did score a $500 campaign contribution from Kim Kardashian. That has to count for something. Anyway, I don't know a lot about Jimmy, but based on what I saw in the debate, I think he'd be a fine representative of our city on the national stage, and provide a new and different voice we could need. As Russell Westbrook would say, Why Not?
And, of course, there's David Holt. He's a pair of Gap jeans – the safe boring, tolerable, middle-of-the-road xennial option. He's nice and polite and ambitious and has a lot of campaign money and, I assume, is probably going to win.
You have to admit, David's pretty popular in some local cliques and, as we've documented, loves to show everyone on social media all the cool and fun things he gets to do as mayor. He's well-liked by the mainstream media and has the backing of all the unions. He also has about 2,000 individual endorsements. We know this because he did the most David Holt thing ever and emailed their names to everyone.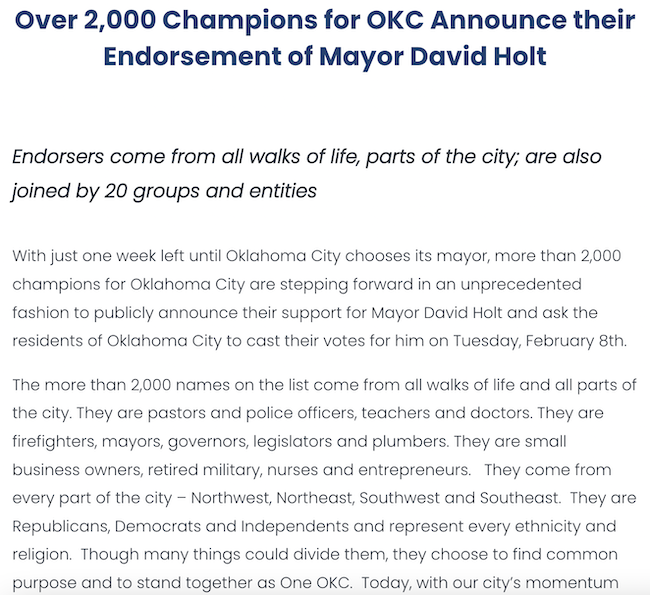 Holy Trophy Culture! If you support David Holt, you're an official champion of OKC. From here on out, I'm calling everyone I know on that list, "Champ." In fact, I almost want to change our business endorsement to Holt so we can be named a champion, too.
Although he's the mainstream choice and heavy betting favorite, Holt has his fair share of detractors. The anti-maskers/vaxxers and right-wing Trump people, naturally, can't stand him. Fortunately for him, most of these people live in the suburbs.
Fittingly, the same things that piss off the Derplahoman crowd are also some of Holt's most redeeming qualities – he embraces diversity, he was an early critic of Donald Trump, and he treated the pandemic about as seriously as a mayor in Oklahoma could. He encouraged mask use and vaccines, and in these polarizing times, he can come off as a sane voice of reason.
But there are some legit complaints about Holt. He's more of a mayor for the ruling class than the common man and his legislative track record as a state lawmaker – like his grandstanding idea to kick drug addicts off welfare or help the payday loan industry – look worse and worse each woke year that passes. He mishandled the Julius Jones thing and has pushed his employer's business interests, but then again, as Carol Hefner has taught us, there are definitely worse options out there.
Once again, if you live in Oklahoma City, get out and vote today. Stay with The Lost Ogle. We'll keep you advised.
Stay in touch
Sign up for our free newsletter