Food
TLO Restaurant Review: Ole Red (in Tishomingo)
5:19 AM EST on January 11, 2022
Down Tishomingo way sits Ole Red, 214 W. Main Street, the official eatery of the town's country boy pride and joy, Blake Shelton. Named after his old dog, I think it's the only reason I went. Just name your place after a pup and I will be there with the furriest of bells on.
Located smack dab in the middle of town, we parked in front of some small furniture store and walked across the street, the large face of that sad-eyed mutt staring at us the whole time like the canine version of Jesus. Blessed be.
As I walked up to the place, I was surprised by how small it all seemed. The restaurant is very much set up like a Cracker Barrell, complete with a Blake-heavy gift shop that, I'm sure, left no underwear unsoaked. In addition to that, his well-oiled good looks cover almost every inch of the place, guiding the way to some, I'm guessing, country eats.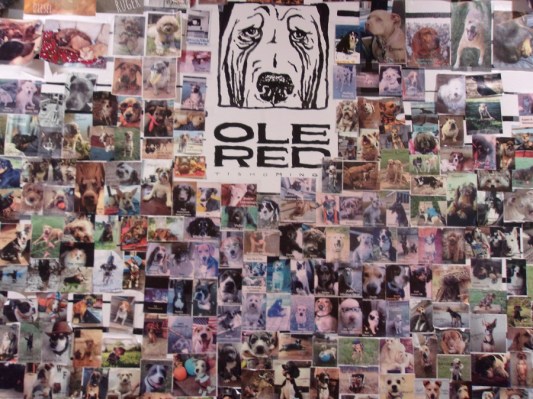 Past a wall of pet portraits—that, if I had known, I would have brought one of my pup Sean—and down a ramp into the dining area, there was a bar and a small stage where a young woman played a litany of covers by modern country artists. I wonder if that's in their contract...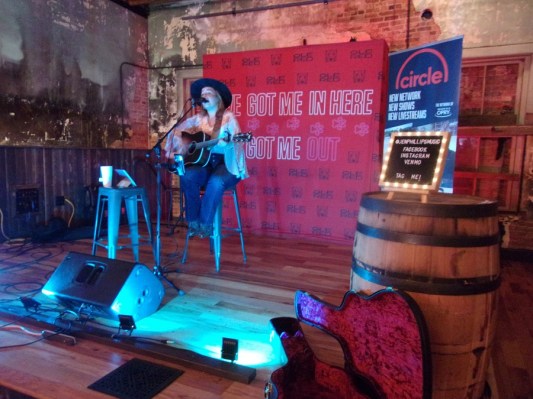 This is a seemingly strange restaurant for a small town like Tishomingo, but it works. Like a far more down-home variation of the cosmopolitan to-do that is Toby Keith's I Love This Bar and Grill, the waitstaff had no uniforms. Instead they were gussied up in tight t-shirts and even tighter jeans—and I'm talking about the men. Gasp and swoon, I've got the vapors!
Our waiter came up to the table and, with a good ol' boy twang, asked if we'd like some sweet tea or an alcoholic drink. I immediately ordered the B.S. Bloody Mary ($19.00), a tumultuous mixed drink/appetizer that, thankfully, comes with a collector's glass that will sit in the cupboard, never to be used again.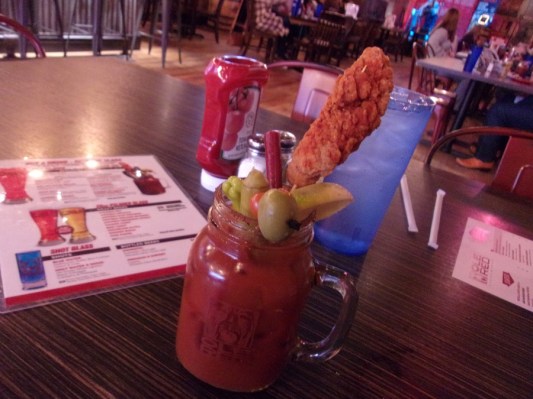 Inside that glass, however, is a mix of Smithworks Vodka, Zing-Zang (whatever that is) and a few other bartender touches that make it a powerfully ribald concoction. But what has made the B.S. such a big deal is the sheer number of ridiculous foodstuffs that hang about outside this rim of the glass, including various spicy vegetables, a Slim Jim and a fried chicken strip.
As ridiculous as it all sounds, once that spicy areola of powder burning around the glass coats your virgin lips, the unquestionable taste will undoubtedly make you stop, look and listen, especially once you take all the unnecessary accouterments off. In the end, while it might not be $19.00 good, it's still a pretty enjoyable drink.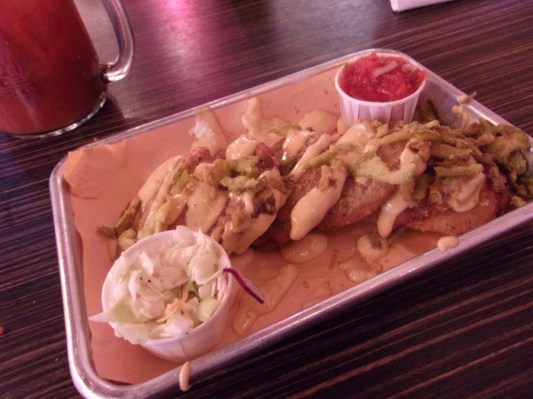 After a few minutes, our ball-capped waiter brought us our appetizer—and one of my personal favorite things about living in Oklahoma—the Fried Green Tomatoes ($13.00). Covered in a thick coating of what I hope is cornmeal, it is then topped with plenty of fried jalapenos and sided with some vinegar slaw, fire-roasted salsa and spicy ranch.
As heavy as all stuff that is—and man, is it heavy—it works, coming together to form a defiant variation of the fried green tomato, making them far denser than they really have any right to be. That being said, it also makes them dangerously delicious. After about two of them, I was almost ready to call it a full meal and head on home. Almost.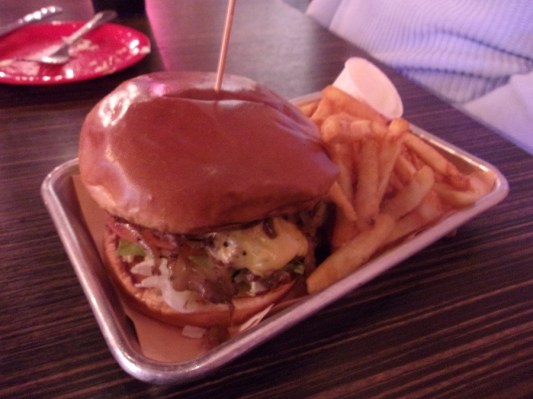 Taking time out from the dinner to sip my Bloody Mary a little more, my friend's order was just laid out before her, the quintessential Oklahoma Onion Burger ($12.00). I will admit that, with my recent obsession with this state's claim to hamburger fame, I might have persuaded her to order it. She loved it while I, on the other hand, found it to be merely alright. Maybe I'm burnt out on burgers.
Decidedly packed with, of course, ground meat, it also had American cheese, pickles, lettuce, tomatoes and "beer onions," whatever those are. I'd like to accuse Shelton of inventing them for the menu, but that's when the typical folic-acid craving assholes will pop in to make everyone aware of just how much they know about this state's long history of onions.
But at least she was happy with it.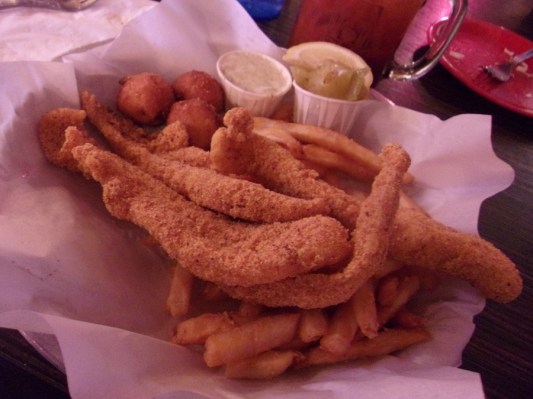 As she was merrily chomping down on that, I was dealing with the Cornmeal-Fried Catfish ($15.00), a mighty bounty of the popular kitty-based treat, forever fried in lemon-pepper cornmeal and served with three rounds of hush puppies, plenty of pickled green tomatoes and, as expected, even more fries.
I'm not sure what I was hoping for, but it also was a merely alright meal. Nothing bad with it, but nothing good either to really make it all that memorable. The fish was fine, the fries were okay and the hush puppies did what they were supposed to. The real treat, believe it or not, were the slivers of pickled peppers that I kept dragging out with my fork and sliding into my mouth like a fool.
Swallowing the last gulp of my Bloody Mary, I got to admit that, even though I'd probably never come back to it, Blake's got himself a nice enough place here, probably employing many townspeople and, at the very least, providing them all with high-quality alcoholic beverages inspired by his music. What more could you want from an ego-based eatery?
So the next time you're in Tishomingo—if you ever are—at least stop by for a swig or two of that Bloody Mary, maybe some fried green tomatoes if you got the time. Cómpralo ya!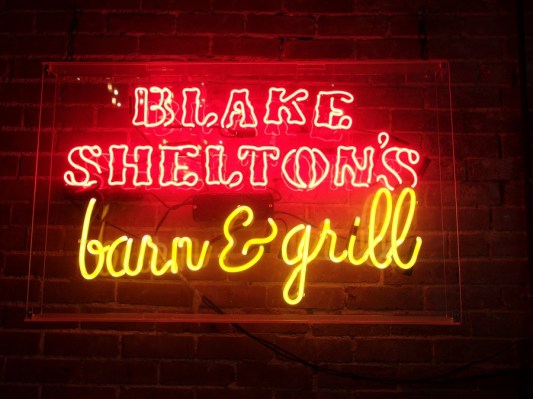 _
Follow Louis on Twitter at @LouisFowler and Instagram at @louisfowler78.
Stay in touch
Sign up for our free newsletter