Food
TLO Restaurant Review: Junior's
4:23 AM EST on December 21, 2021
I have my post-retirement life finally figured out: a dark and lonely table somewhere in the back of Junior's, 2601 Northwest Expressway, with just me, an 8 oz. filet mignon, a Shirley Temple, and the ability to caustically flirt with the young waitresses, unafraid of them laughing at me and my pathetic attempts to coerce them into my dreams.
What inspired that apparently attainable goal was the decidedly high-caliber holiday dinner I had there last week, bought and paid for by TLO head honcho Patrick as a holiday gift to his scant team of loyal writers for their year of hard-ish work. And, as you can imagine, I absolutely took advantage of it.
Sadly, I arrived thirty minutes early and had to sit there in the nearly empty restaurant, waiting for the others to show, sipping on a glass of water, the fear that someone was going to come up to the table and ask for some sort of proof that I should be there getting tenuously too close for comfort, especially after I asked for my second refill.
Thankfully, Patrick arrived soon, slicked out with a suit jacket, followed by Hayley not too long after. The TLO Holiday Dinner was about to begin!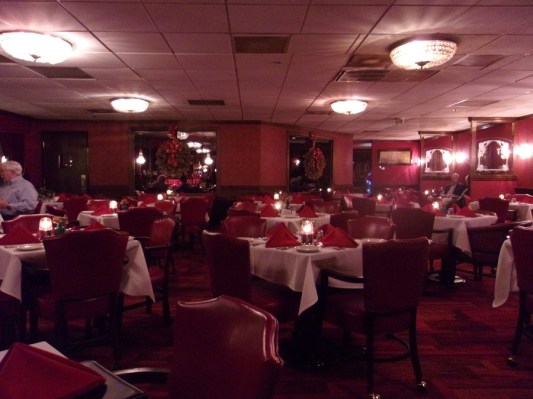 As they immediately ordered adult drinks, I figured that I would order what Patrick had—an Old Fashioned—but as a virgin. Everyone at the table, including the server, laughed at my alcoholic faux-pas, wherein I played it off as a joke too, weakly laughing to hide the embarrassing pain I felt deep inside.
And while alcohol might have actually helped ease that emotional strain, nevertheless, I ordered a Shirley Temple and, say what you want, but this liquidic tribute to the highly idolized child star of the 1930s might be my new favorite drink! All aboard the good ship lollipop and I'm your captain!
After a few minutes of loudly guffawing about the catty personal issues you'd expect the writers of the Lost Ogle to gossip about, as we ordered our food, we were told they were all out of crab. That was okay, I figured, because I came for steak; I figured we all did. But, when Hayley ordered a salad with nearly nothing on it, we learned she was a strict vegan…yikes!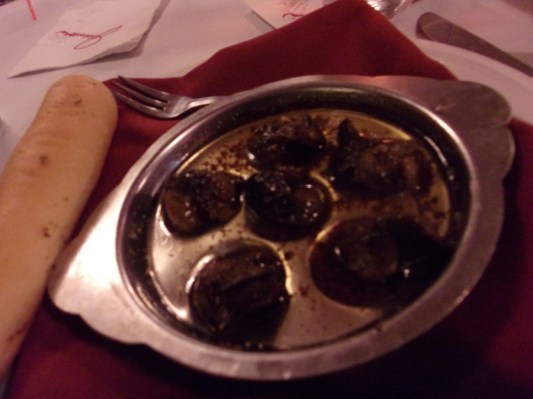 Regardless, I started with an appetizer that I had always wanted to try, the Escargot ($9.00). Quickly delivered to the table, I was the only one that partook; having been told that they have an "earthy" taste, smothered to death in a skillet of rich butter, I thought they had more of a fatty taste, one that, six snails in, I couldn't get enough of.
"Another round of escargot!" I wanted to shout to our lovely server, but temporary decorum had taken hold and absolutely forbid it.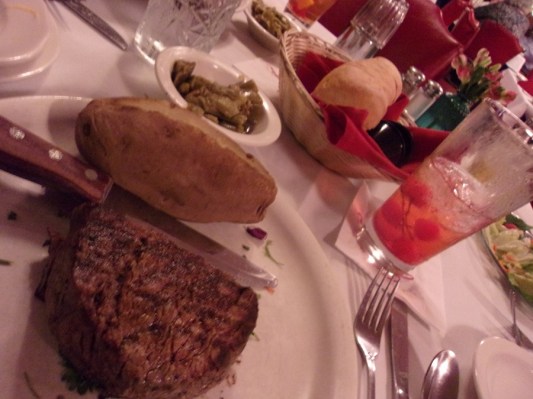 That was alright though, because my prime cut of expensive meat had finally made it to the table: the house specialty, an 8 oz. Filet Mignon ($48.00) with a baked potato and green beans. And, as expected, ordered very rare, the steak was top-notch; each bite was tender, almost as smooth as the escargot, with a similar taste.
While the baked potato was fine—from the worst buffets to the best steakhouses, potatoes are always just "fine"—it was the expertly made green beans that were the undisputed champ of dinner, a jolly green giant of flattened beans with bits of bacon and other accouterments that made it worth the price that, thankfully, I wasn't paying.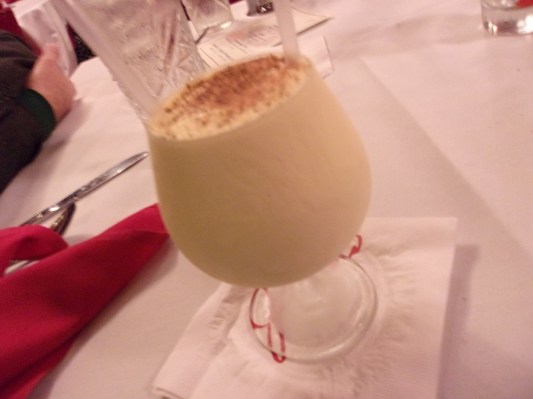 As the motley crew of TLO staffers sat there just a while longer talking, I sampled a small bit of Junior's Famous Brandy Ice ($7.00), a bit of alcoholic cream that, while highly delicious, was also incredibly rich, so much so I only had a few large spoonfuls before I pushed it far away from both me and any future health problems I might have.
Overall, it had been a good year at the Lost Ogle, and, even more so, a great dinner at Junior's, at least for me. Sorry, Hayley…I'll make sure we go vegetarian vegan next year. Cómpralo ya!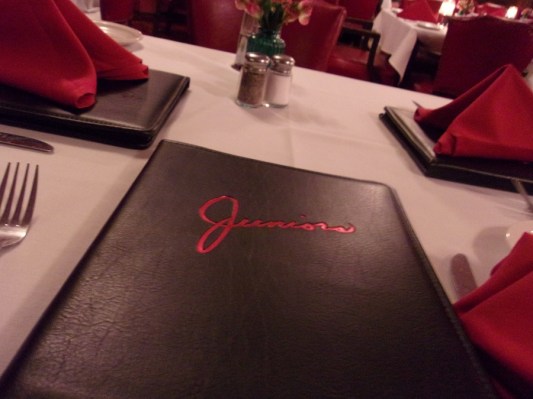 _
Follow Louis on Twitter at @LouisFowler and Instagram at @louisfowler78.
Stay in touch
Sign up for our free newsletter