events
Spaghetti Monster: From Closed Haunted House to Open Pasta House in Bricktown
5:16 AM EDT on October 28, 2021
It was a dark and stormy night…or at least it was going to be very soon.
I had just gotten out of the Lyft down the street from the spectral Bricktown Haunted Warehouse, the original focus of this tale of gastral woe, and was greeted by an excruciatingly long line, one that went for blocks down the street as far as the evil eye could see.
Thinking this was for the local spook-show, under my lonely breath I muffled a silent obscenity to the steady winds.
As I begrudgingly made it to the end of the line, I noticed a couple of women in green vests working crowd control. I asked them if this was the line for the haunted house and they puzzlingly looked at each other; one of them laughed and said that the funhouse was right there—she pointed off to the left—and these kids, dressed in black stockings and stinking of weed, were in line for some rock show at the Criterion.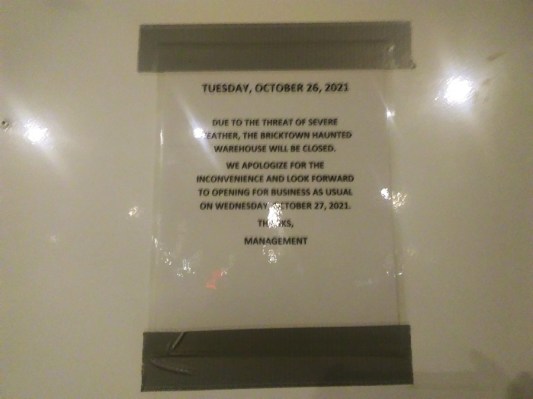 With far more of a spring in my heel, jack, I went around the corner to the ticket booth of the Haunted Warehouse only to find ghoulish signage that informed me that, due to severe weather, they would be closed tonight, leaving the ghosts and ghouls solemnly trapped for the evening. I fell to my knees and cried into my hands, knowing that, for this night, there would be no greasepaint-heavy scares for me.
Rejected, dejected, and now, hungry, I stood up, dusted off my pants and walked forward, past the alley behind the dark minor league ballpark, where slovenly drunkards smoked cigarettes hidden far out of the public eye. As I turned the corner, however, there stood a new restaurant – the Old Spaghetti Factory, 1 South Mickey Mantle Dr.
Like many Oklahoman Cityans, I have memories of the late Spaghetti Warehouse—not fond memories, but memories nonetheless. Ironically enough, that old warehouse was a knock-off of this new factory; its opening received a heavy dose of local media attention with even Mayor David Holt, always looking for a marinara-stained pat on the back, proudly boasted of their arrival on his social media accounts which, at the time, seemed strange to me.
But, now, it loomed before me.
I entered into the restaurant, the overly cheerful hosts in black clothing, like a gleeful mortician's assistants, seemed happy to help me in whatever way possible. Electing to eat in the bar upstairs, as I took the flight of stairs up, I noticed there was an old trolly car, one that looked very much like the vaunted one that sat in the middle of the Spaghetti Warehouse. I guess they're really trying to arouse those long-forgotten memories.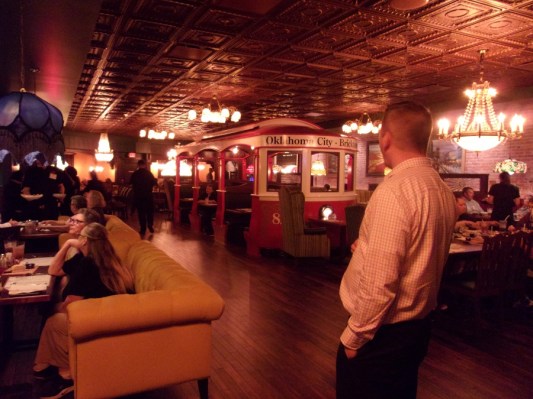 Reaching the spacious upstairs, I grabbed a seat at the bar, one that seemed to be manned by at least four people, one apparently from Florida. As I looked over the menu, an older man with a booming voice—he did not work there but, apparently, is just a fan of the restaurant—began talking to me; if you ever want to know about the minutiae of the Old Spaghetti Factory, please stop by and see him.
The Factory has a Complete Three-Course Meal on the menu, which I justly ordered, a sad dinner for only one; it started off with a customary loaf of hot bread and a bowl of minestrone soup, both of which were fine. As I waited for my main, however, I ordered a raspberry Italian Cream Soda, mostly for the keepsake glass; it too was merely fine.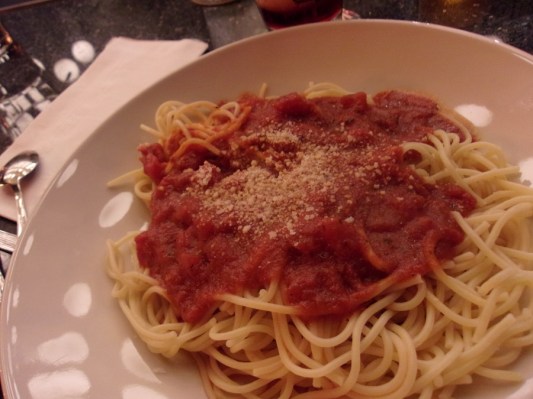 My main meal, a "pasta classic" that was simply called Marinara Sauce, featured fresh onions, carrots, tomatoes, and garlic sautéed in olive oil and various seasonings, then placed on a bed of durum semolina spaghetti; I suppose it was fine like everything else, but it made me truly yearn for my mother's take on the classic noodle growing up, which was just ramen and ketchup.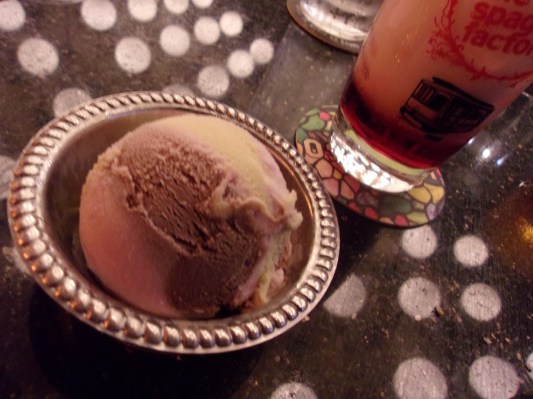 I had about half of the spaghetti and even less of their "signature" spumoni ice cream for dessert. Pushing them away and paying the check, I decided I was done and headed back out into the dark nighttime world of Bricktown proper to wait for the devilish storm to sweep me away, or at least a Lyft to take me home.
_
Follow Louis on Twitter at @LouisFowler and Instagram at @louisfowler78.
Stay in touch
Sign up for our free newsletter