Music
Safe as Milk: Pussycattin' Around at Josey Records in Tulsa
8:53 AM EDT on September 13, 2021
If you're as caught up in my life as I like to think you are, you can probably surmise by now that I love record shops that are supposed to be record shops, especially when I travel out of Oklahoma City. It's always nice to find a home away from home, especially one that carries a few surprises here and there that makes it truly worth writing about.
Even though my visit to Starship last year, despite finding a couple of much-needed albums, was mostly a skunkweed-scented bust, I still would not give up on Tulsa's record scene and, thank God, because I've finally found a music outlet that seems to fit T-town well enough, Josey Records, 1020 S. Rockford St.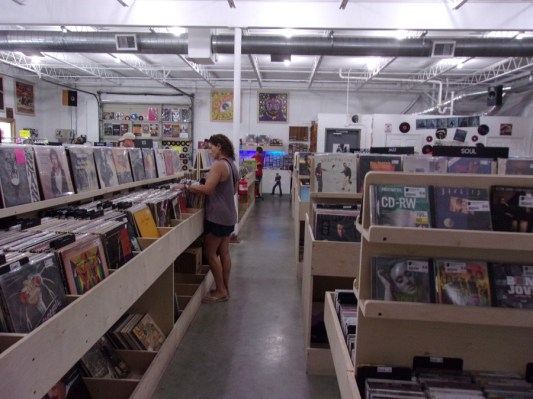 Even though they've got a few stores in Dallas, Lubbock and Kansas City, Josey's still as indie as indie can be, having a little storefront on the most alternative street in Tulsa, next to Buck Atom's Cosmic Curios, a brisket-based food truck and a few life-size dinosaurs roaming around in the potted plants next-door.
I hoped that, even for a little while, that I could fit in with their crowd.
About the same size as Guestroom's Oklahoma City outlet, the bins of new records are, to be honest, admittedly small. Of course, as I said that, I find a Record Store Day release that I had been looking for for months, especially when Oklahoma City couldn't get them in for purchase: a copy of U2's "Fire" anniversary reissue.
Brand new, still in it's special protective sleeve, I quickly grabbed it and held it close to my heart like a vinyl-obsessed Daniel Plainview, afraid that it could be purloined at any moment.
But, truthfully, no one cared about me or my purchases, as they had their own want lists deep in their mind, searching for, if not new, a highly discounted used copy. As fingertips loudly moved through the tops of records with lightning speed, I solemnly walked by a selection of new rhythm and blues, finding a copy of another Record Store Day special that I thought was long gone, Morris Day and the Time's self-titled debut.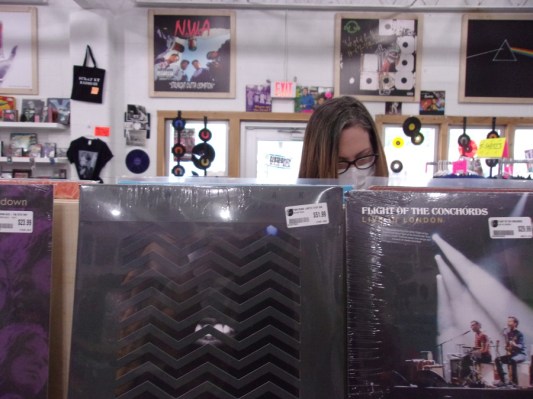 Behind me, a group of girls giggled over some boy-band they judged to be lame, while in front of me, a well-meaning woman tried to convince her doltish boyfriend of the merits of Echo and the Bunnymen, falling on mostly deaf, dumb and doltish ears. Been there, done that, sister, I thought to my lonesome.
Taking a stroll to the right-side wall where there were plenty of rare records, as well as numerous used 45 singles, only those with a somewhat keen eye and plenty of time to burn would take the time to search. Having both, I scanned the area, afraid to touch many of the more valuable pieces for fear of a vertical collapse.
Of course, towards the end, I found a single of Roy Orbison's "She a Mystery to Me." Written by Bono and the Edge, I held it close to my malformed heart, not allowing anyone else to see my treasures as I took my hard-won goods to the counter for a final purchase.
Being a holiday weekend, new records were 10% off and used records were 20%. Having a mixture of both, I saved somewhere around eight bucks, my gnarled fingers tightly clutching my bag of goods as I left the store, grabbing a couple of posters on the way out, but Lord knows what I would do with them. Maybe I might give them away.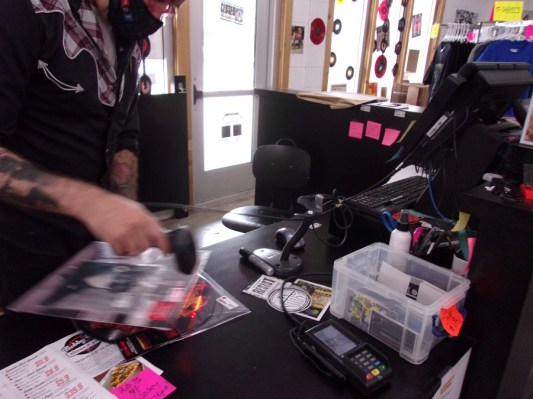 Josey Records, despite a smaller than usual selection of new records, admittedly earns top points for having the new records I couldn't find anywhere else in the Oklahoma City area and for that, it was hard not to love them. I bid adieu to this new Tulsa favorite, with a promise to return again, sometime in the future.
Unless, of course, I find a better record store somewhere around town.
_
Follow Louis on Twitter at @LouisFowler and Instagram at @louisfowler78.
Stay in touch
Sign up for our free newsletter