Everything Else
Kevin Stitt puts $4.5-million mansion on the market…
1:53 PM EDT on September 8, 2021
It looks like Kevin Stitt wants to cash in on the booming housing market!
Thanks to a tip via the Ogle Mole Network, we've learned that Oklahoma Governor Kevin Stitt recently put his mansion on the market!
It can be yours today for a cool $4,540,000!
Built in 2011, the 7-bedroom, 6-bath estate sets on a 112-acre lot near HWY 75 in the Jenks-area, and has 8,197 SF of living space. It also comes equipped with horse stables, a gigantic workshop, and a "luxury" swimming pool.
Let's take a look at some photos and information about the property that I found online.
Here's how the Stitt family realtor describes it on Zillow:
Have It All! Executive style custom built 8,000+ sqft home on 112ac located in the Jenks school district. Gated entrance brings you to the circle drive of this beautiful home. High-end appliances, 6 burner double oven, coffee bar, 4 fireplaces, Kinetico water system, all rooms have their own bath, 4 Goodman AC units, theater room w/ wet bar, 4 car garage. New paint inside & out & new carpet. Located just off Hwy 75, minutes from shopping & downtown. Luxury pool, 12 stall horse barn and a 60x80 shop!
Wow. That sounds fancy! I can't wait to see which Chinese black market marijuana grower scoops it up and sets up shop!
To the relief of motorists in the area, the Stitt family apparently hasn't lived in the mansion since 2019. I believe they currently live in the wealthy Edmond exurbs because the decrepit Oklahoma Governor's mansion was too shabby for them.
Although the home is listed for $4.5-million, the Tulsa County assessor appraised the property at a measly $1,047,200. That seems a bit low, but there are two listings (here's the other) for the address on the assessor's website. Maybe that explains the discrepancy? Either way, as ex-Chesapeake CEO Doug Lawler reminded us, it's not hard for rich and powerful people to get their property values lowered.
Naturally, the Zillow listing includes a lot of photos of Stitt manor. It really does look like the perfect place for a privileged, wealthy, white Christian family who are out-of-touch with the issues and concerns facing regular people to call home.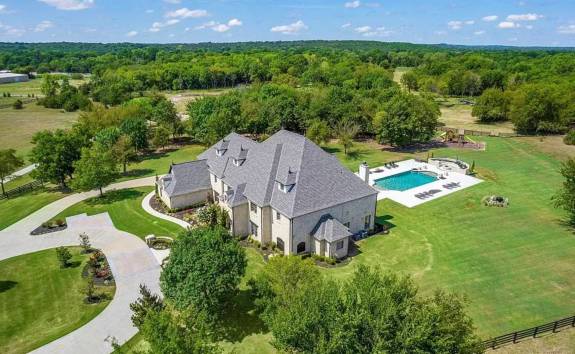 I'm not going to lie, I wouldn't mind owning a house like that if I was a wealthy former mortgage banker who's banned from doing business in Georgia.
Here's the gorgeous living room: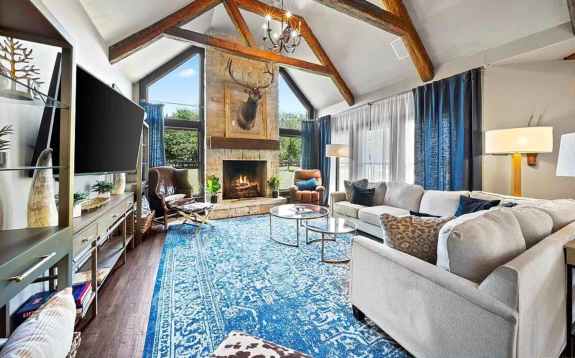 That's wonderful. The rustic frame around the decapitated head of an elk really adds a touch of white trash elegance.
The kitchen is an entertainer's dream: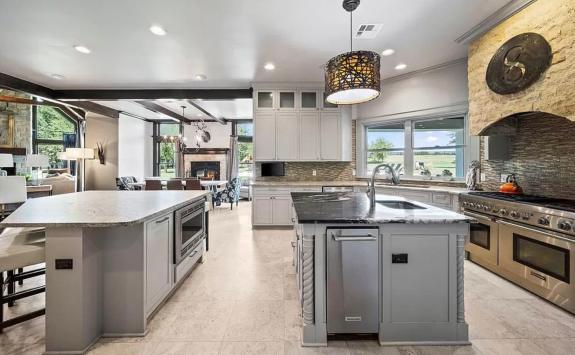 Seriously, just think of all the meat that's been packed and seasoned on those countertops! #meetweek
Here's the executive office where all of Stitt's important business decisions have been made: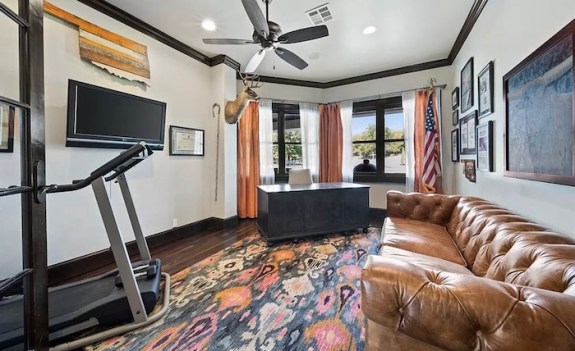 Like any nice mansion, the place has a theatre room with fancy seating to watch a dirty movie or sports: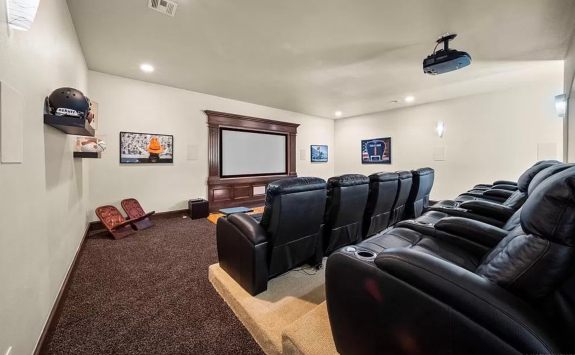 With Kevin Stitt being an Oklahoma State fan, I wonder how many holes in the wall they had to patch before listing the house?
Now let's check out the place where all the magic happens – the master bedroom. Well, at least I think it's the master bedroom. They have 7 of them in the house: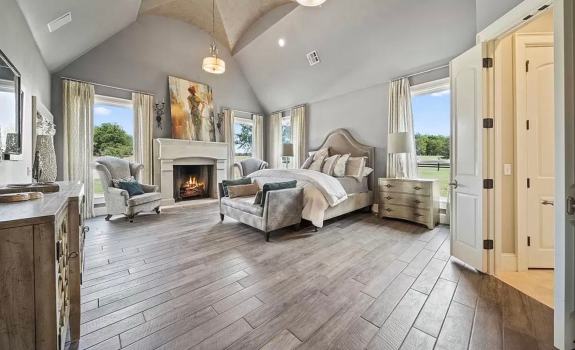 For a good square family like the Stitts, isn't that painting on the mantle a bit risque? Is this the Stitt household or the Playboy Mansion!
On the topic of the Playboy mansion, Stitt's pool doesn't have a grotto for Mary Fallin to renew her vows: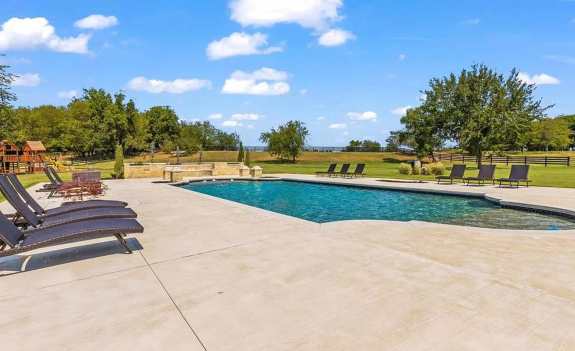 For a "luxurious" pool, I was expecting something better. There's no shade or fancy landscaping, and it doesn't even have a slide or diving board! It looks almost as boring as an above-ground pool. Almost.
The home has multiple giant crosses on-site. That's good news if your feel like praying or performing some sort of strange animal sacrifice by a fire pit: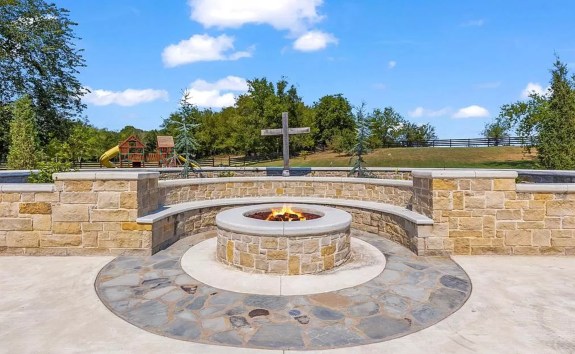 Seriously, I wonder how many late-night rituals have taken place around that thing?
Anyway, you can see more pictures of the house over on Zillow! We wish Kevin Stitt the best of luck selling it, and hopefully, he now stops getting spam texts from people offering to buy it!
Stay with The Lost Ogle. We'll keep you advised!
If you're still reading this, we'd like to thank you for your patronage and support.
Stay in touch
Sign up for our free newsletter