OKC Media
Rez Recaps: Reservation Dogs Ep. 1 / Ep. 2
5:15 AM EDT on August 11, 2021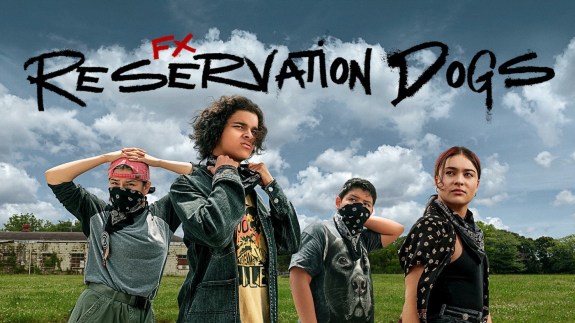 America always seems to lust after Indigenous people when they're at their lowest, for dramatic purposes, of course. Very rarely are their comical sides ever shown—probably because it actually humanizes us too much—which makes Reservation Dogs not only a groundbreaking series, but one of the truest shows ever presented on television.
With a title that is both a play on Quentin Tarantino's debut feature and the famed broken-down dogs that live on said land, created by Oklahoma filmmaker Sterlin Harjo and New Zealand filmmaker Taika Waititi, it features not only the lives of four Indigenous teenagers struggling to leave the rez after the death of their friend, but the cast of comical characters that surrounds them.
The show premiered this past Monday with two episodes—or at least it did on Hulu. Every week, I will recap the show for those that don't have the FX Network or Hulu or file-share services, giving the basics and not spoiling anything too much for anyone until they hit DVD, at least. Skoden!
_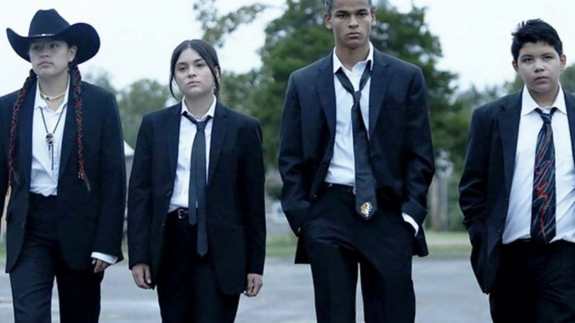 Episode 1: "F*ckin' Rez Dogs"
The Plot: In this pilot episode, after stealing a truck from an area potato chip distributor, we meet our four heroes: Elora Danan Postoak (Devery Jacobs), Bear Smallhill (D'Pharaoh Woon-A-Tai), Cheese (Lane Factor) and Willie Jack (Paulina Alexis). As the town's small-time criminal contingency, they decide to fight for what is right-ish as a wannabe gang moves in, one that might be more dangerous than they expected.
The Review: Managing to mix riotous humor with undeniable pathos, the four teens that are the focus of Reservation Dogs have had a forced maturity hoisted on them, due mostly to their environment and the life they've had to become accustomed to, something that any Native will understand.
But it's the humor of the show that makes it all work so well, both from the teenagers and the surrounding town. Whether it's from a pop-culture standpoint or a simple life point-of-view, it's a true to life story that is made all the better with an on-point soundtrack, starting unexpectedly with Iggy and the Stooges' "I Wanna Be Your Dog."
One of the strongest pilots in a long time, bonus points for involving constant cameos from Indigenous rappers Lil' Mike and Funny Bone, as a sort-of Greek chorus, and Zahn McClarnon as the supernatural-believing Officer Big, giving the piece a real heart that helps, not hurts, the show. And don't forget that glorious shout-out to one of my favorites – gas station catfish!
Best Line: "I'm just saying it doesn't scream "bad-ass" when you have to fucking buckle-up before jacking a car!" - Elora
Funniest Moment: In a parody of every gangsta film cliché of the early 90s, as the Dogs walk home, a rival gang cruises by slowly, launching a torrent of paintballs in the teens' direction, causing an overly dramatic homage to those patented drive-by scenes.
Oklahoma Soundtrack Pick: Samantha Crain – "Joey"
_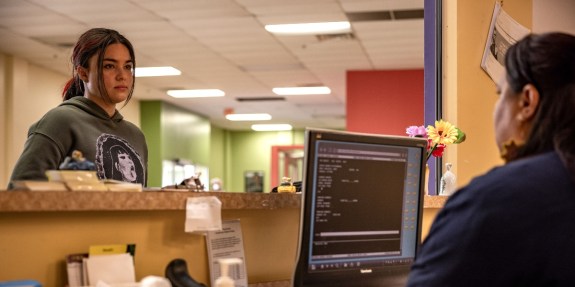 Episode 2: "NDN Clinic"
The Plot: After a beating from the rival gang, Bear has another vision from a Native inadvertently killed fighting Custer and has to go to the Indian Clinic for a busted nose. With his friends selling meat pies outside the clinic, one by one they make their way in for various ailments.
The Review: The Indian Clinic. Though they partially saved my life when I had a stroke—and still do—that doesn't mean that Indian Health Services aren't ripe for satire, probably something only Natives would truly know and understand. From the constant paperwork to the incredulous wait-times to the open wounds that surround you, it is one of the best moments of comedy on television, especially made for and by Indigenous people.
Comedian Bobby Lee makes a scene-stealing appearance as IHS main-man Dr. Kang and Richard Ray Whitman—who I recently just saw at a screening of Neither Wolf Nor Dog—is Old Man Fixico, a guy selling homemade medicine in front of the clinic next to the meat-pie youth.
Best Line: "Well, you be surprised how many crimes are committed at IHS on Mondays." – Officer Big
Funniest Moment: Really any scene with Dr. Kang, especially as he tries to relate his own hunting experiences to Bear's mom, who works at IHS.
Oklahoma Soundtrack Pick: Lee Hazlewood – "If It's Monday Morning"
_
Follow Louis on Twitter at @LouisFowler and Instagram at @louisfowler78.
Stay in touch
Sign up for our free newsletter