Everything Else
Edmond residents freak out at City Council meeting over Pride Month declaration…
1:37 PM EDT on June 17, 2021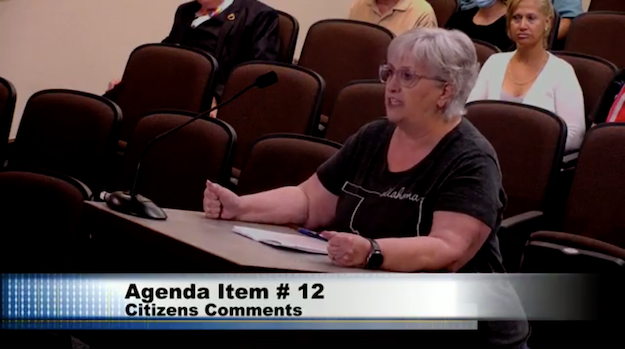 Sometimes it feels like there's not a lot of hope for the world.
For example, at this past week's Edmond City Council Meeting, Edmond mayor Darrell Davis – the first black mayor in the former's sundown town's history – issued a proclamation recognizing June as Pride month in the "welcoming community" of Edmond.
In today's day and age, when it feels like every government, corporation and hipster church accepts and celebrates Pride Month, a gesture like that kind of feels like ordinary, innocuous business.
But not in a place like Edmond.
The fact that a mayor would dare honor or pay tribute to a group of people who have been openly discriminated against throughout our nation's history ruffled the feathers of some of the intolerant assholes in Edmond who apparently get angry whenever they see a rainbow.
They flocked to the City Council meeting like a pack of Sally Kerns to protest the proclamation, even going so far as to heckle and interrupt the obviously flustered mayor as he read and presented the proclamation to John Stephens, President of Edmond Pride.
Here's the video:
z
Following the proclamation, the City Council meeting resumed to its boring normal. The mayor recognized Men's Health Month (no controversy there), conducted city business, voted on expenditures, etc.
Then came the public comments portion of the meeting and... well... meet Cheryl Williams.
Cheryl's the Karen who interrupted the mayor as he issued the Pride Month declaration. She marched up to the podium like a fresh prime rib had just been brought to the buffet.
After sharing her name and home address, she decided to speak her warped "deeply offended" mind, and in the process, reveal to us that she doesn't understand how democracy works.
Check out this madness:
Following Cheryl's rant, Rhonda Peterson walked up to the podium...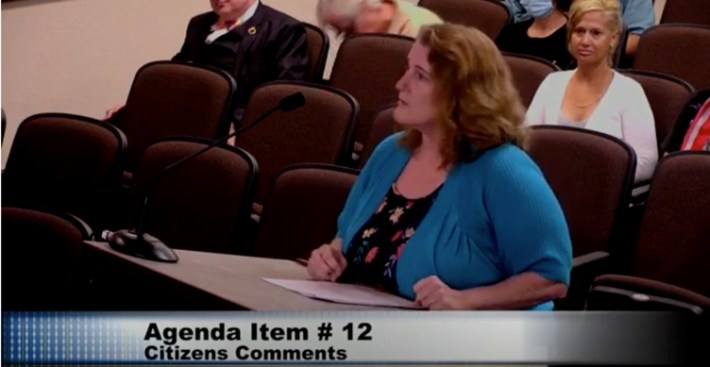 In her speech, which is embedded below, Rhonda – who claims she's a loving person while she opposed a declaration honoring the embattled gay community – complained that the mayor's proclamation was simply too divisive, especially since no gay or trans people live on her block in Edmond.
You can view it below:
So she complained that the proclamation was too divisive, and then came to the meeting to support the people that are trying to make a Pride Month proclamation a divisive issue? That makes perfect hypocritical sense!
After Rhonda spoke, some woman who excels at missing the point nervously walked to the podium. I think she said her name was "Bonnie Iver."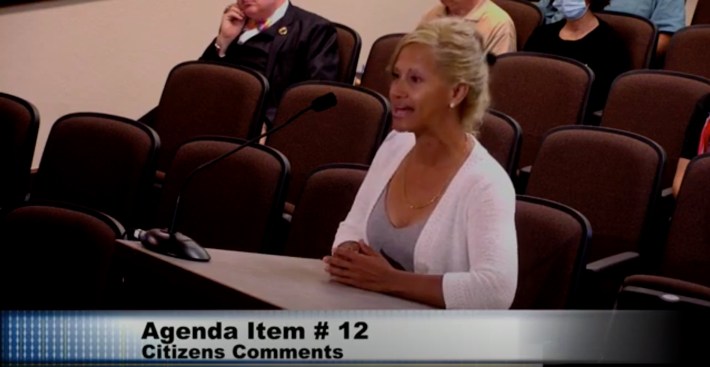 Bonnie Iver's main gripe was Pride month only recognized individuals on the LGBTQI+ spectrum, and that all of Edmond's fine groups and demographics, especially heterosexual women, should get their own Pride month. If they don't, she warned, then her rights are for some reason violated, too.
Well, at least I think that what she was trying to say. I have to admit, trying to decipher the logic and reasoning that goes on inside some of those fried brains is quite a challenge.
Following Bonnie Iver's nervous rant, some dude complained about the city using public property for a veterans museum. He was followed by a MAGA woman named Leslie Mayhan.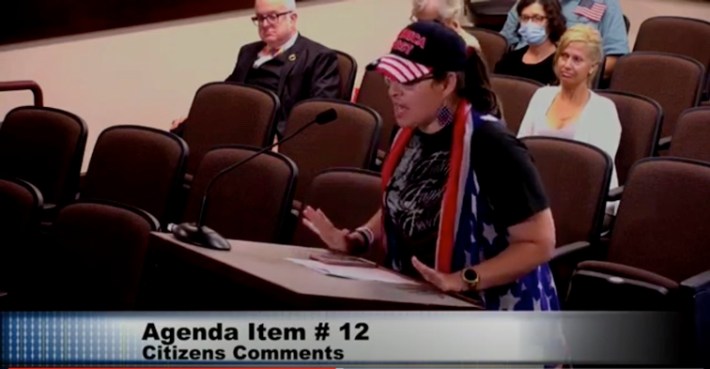 Leslie ignored the Pride Month divisions to go on a deranged rant about "illegals." I honestly can't tell if she's a real MAGAmaniac who just smoked a bath bomb, or an actress doing an award-winning monologue that goes deep into the mind of the bizarre and frightening right-wing psychosis that's warped the minds of so many people in this country.
"https://youtube.com/watch?v=PvOY1zEE14I?start=913
Following that spectacle, this guy walked to the podium. He wore his nicest American flag to the meeting.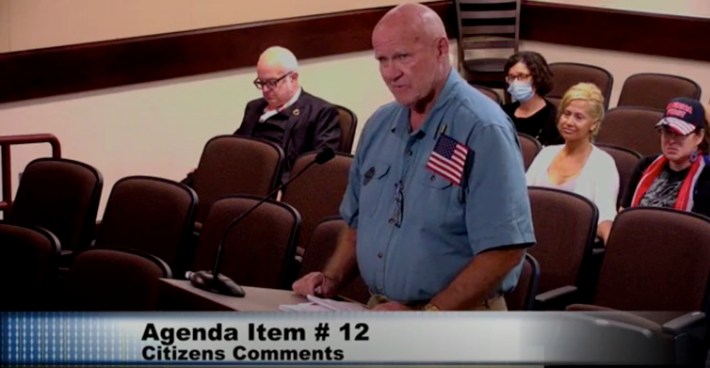 He claimed he didn't understand the rationale in issuing a "senseless" proclamation that simple honors how "some people get off," apparently not understanding that we wouldn't need such proclamations if there weren't people like him so consumed with how some people "get off."
Although watching all these backward-thinking, behind-the-times, probably unstable folks take such a strong stance on being on the wrong side of history is a bit depressing, there is some hope.
Former Edmond mayor Randel Shadid defended Mayor Davis and the proclamation and called out the complainers:
And after the public comments portion of the City Council meeting ended, Edmond Councilwoman Christin Mugg used the opportunity to explain to the people who are opposed to the Pride Month Declaration why they are the reason we still need Pride Month Declarations.
So, I guess there is some hope for world... and possibly even Edmond... after all.
Anyway, I guess it's time to wrap up this little article. Stay with The Lost Ogle. We'll keep you advised.
Stay in touch
Sign up for our free newsletter