Food
The Free (To Me) Sandwiches of Sandoitchi
4:27 AM EDT on June 10, 2021
I very rarely, if ever, get invited to the opening of a restaurant, let alone a pop-up food experience. Yet, somehow, I was sent an invitation to come out and try Sandoitchi, a semi-new sandwich concept that, apparently, is only available on Sundays. Normally I'd say no, but, seriously, how can you screw up a sandwich?
The shop was set up in an abandoned restaurant in the Plaza District, one that I think I reviewed a couple of years ago when it was a ramen joint. I showed up with my dog in tow—it was only a few blocks from my house, natch—and waited the scant few minutes as they got their specialized sandwiches ready to take home and sample, placing them neatly in small boxes and paper bags.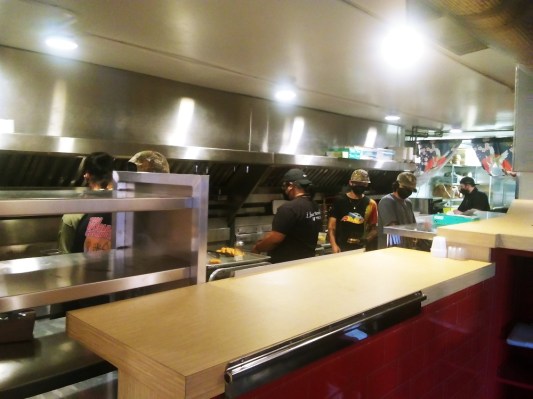 As I met and shook hands with both the public relations people and the varied cooks on the line, it was explained to me that Sandoitchi was—if I can remember this right—a Texas-based business that was branching out to Oklahoma City, offering their fast-selling sandwiches on an extremely limited basis, I guess to get a feel for the place and its sandwich needs.
They handed me my bag, with four of their most popular sandwiches inside. Served on the thick white bread that is typically used for, as I recall, Texas toast, they ranged most rapidly on the scale of my own personal tastes. For example, there are two chicken (or possibly pork) specialties: a plain one and a hot one. Here are the pics: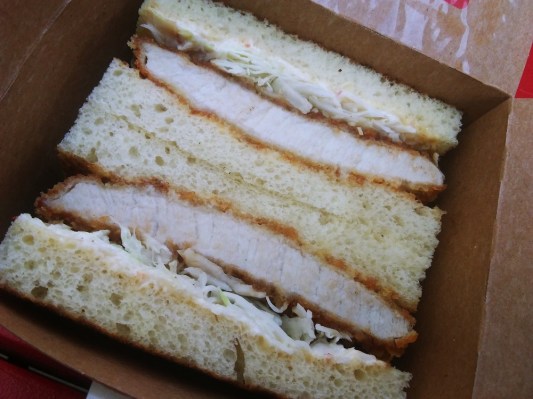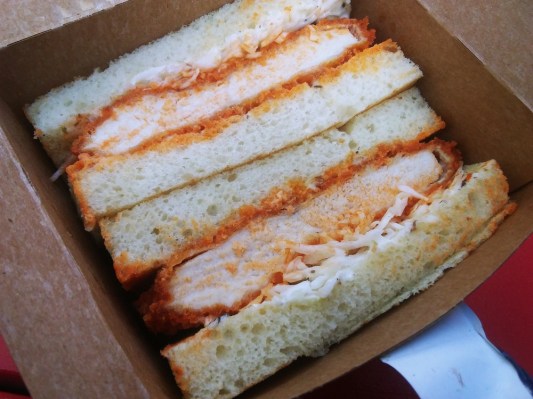 A seriously dense cut of chicken with shreds of flavor all through there, the meat is so thick that it's best eaten slowly, especially when it comes to the hot variety. Dialing up the heat to, at the very least, ten, the red-hot sauce is, for me, what makes it worth a reorder or two, the tempestuous liquid bleeding up through the bread, taunting me as I reach for a glass of water to cool me down.
It's the sandwich that I had hoped for and, most definitely, received.
That being said—if I may be completely boring for one moment—one of my favorite sandwiches of all time is egg salad and I got to say that their take on it is actually quite perfect. Consisting of mostly hardboiled egg and none of the caustic mayonnaise drip associated with those sandwiches, the tightly packed taste does it real good; none of it went to waste and, if I were to order one without Biblically knowing them, it would without question be this one.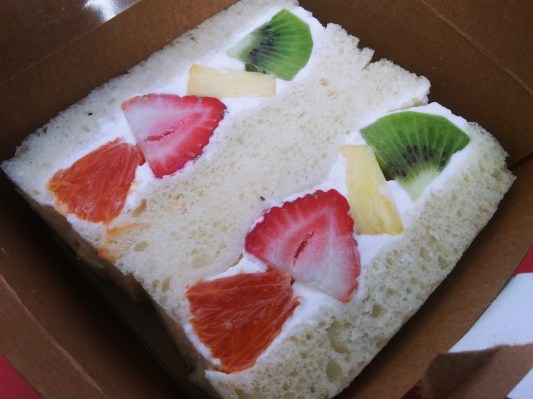 Now that I've gotten the good out of the way, if I may talk about the one that I really didn't care for, it was the odd fruit sandwich. While I understand that this is probably just me, the strawberries, pineapple, and kiwi, mixed up in with a non-sexy whip cream situation then placed in-between two slices of thick bread, was just an ordeal to put down my throat, one that I'd prefer not to relive.
If I'm being completely honest, I just ended up taking the fruit out and munching on them that way, licking clean the large dollops of cream off my hand, while my dog ate (and, apparently, loved) the very sweetened bread.
And while I might not order that dessert sandwich anytime soon, I would be more than happy to put in a request and reorder the spicy chicken sandwich and (especially) the egg sandwich again and again, that is until Sandoitchi packs up and leaves town, off to tempt the next city with their somewhat inventive take on the sandwich.
_
Follow Louis on Twitter at @LouisFowler and Instagram at @louisfowler78.
Stay in touch
Sign up for our free newsletter