Food
Bánh Mì, Bánh You: Dinner at Rivière Modern Bánh Mì
6:58 AM EDT on May 27, 2021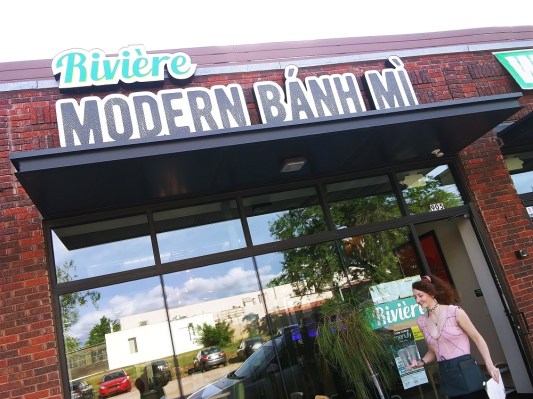 A good friend of mine called me up last week and, after having a particularly hard day, asked if we could go get one of her absolute favorites for dinner, bánh mì sandwiches. Of course, I said.
That night, however, I learned one of the harshest lessons about living in Oklahoma City: that most of the local Vietnamese sandwich places worth their salt--especially the ones situated on Classen--closed sometime around 7pm…everyone, that is, except for Rivière Modern Bánh Mì, 905 N. Hudson.
Located somewhere in Midtown, I originally wanted to cancel, if only to avoid the cruel stares and awkward glances of the stylishly young that know I don't belong there with my horrific age and caustic body. But, with my friend in need of immediate Vietnamese sandwich love and very soon, I manned up and we headed out there.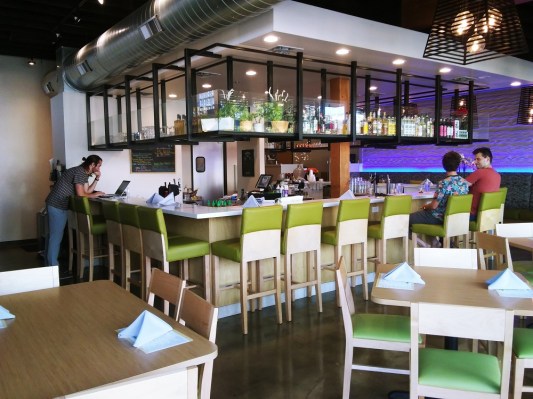 And, after sampling a selection of their otherworldly wares, I have to say I'm glad I did.
Co-owned by the family behind the always remarkable Jimmy's Egg breakfast diners, the style of Rivière is very much nouveau dining, with very little around the place to let questioning patrons know they're about to dine on non-traditional Vietnamese food. Instead, they saved that all for the menu, with every bite paying tribute to their hungry blood.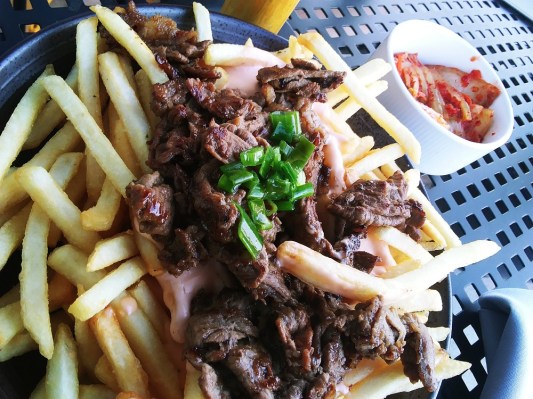 The appetizer we selected was a smooth mixture of old and new, the Gangnam Style Fries ($11.00) with a side-bowl of homemade kimchi. Though named after a particularly stupid song, these fries were anything but; fresh out of the fryer, the thin tubers were topped with well-made bulgogi, beer cheese fondue and scallions, all forming a sidepiece that I hope to have again and soon.
As my friend and I selfishly enjoyed our appetizer, we started to feel magically full from the plentiful amount, another sensual squirt of sriracha all over the plate. But can you blame us though? The beer cheese added a subtle zing not had, by me at least, on fries in the longest time; I had to push most of the bulgogi aside, however, because of our next plate of goods.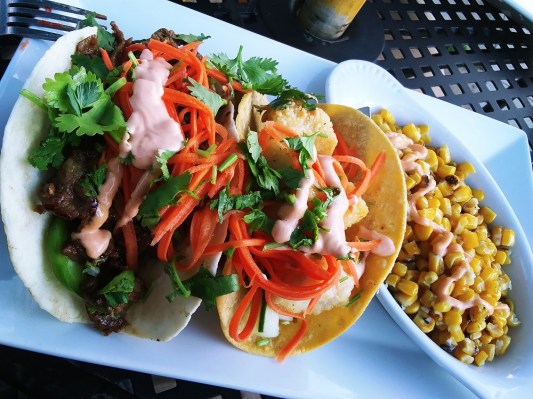 If there is one thing I truly love—and, to be fair, mildly abhor—it is taco fusions of any kind; in this welcomed case, here it's the Bánh Mì Tacos. Though they have varying tacos at varying prices across the board, this evening I sampled the Bulgogi Taco and the Tofu Taco (both $4.00). The bulgogi was on a flour tortilla with pickled carrots, jalapenos, cucumber, cilantro and sriracha mayo, while the tofu had much of the same, but with a corn tortilla.
While I'm sure some might disagree with me—and let them—both tacos were true discoveries of absolute flavor, with the bulgogi—basically translated from "fire meat"—was the clear winner, with each cut of the marinated beef on a seemingly homemade four tortilla satiating me far further than it even had to.
But don't get me wrong, the tofu was just as good, especially if you're vegetarian or are just tired of meat. I've been there. We've all been there.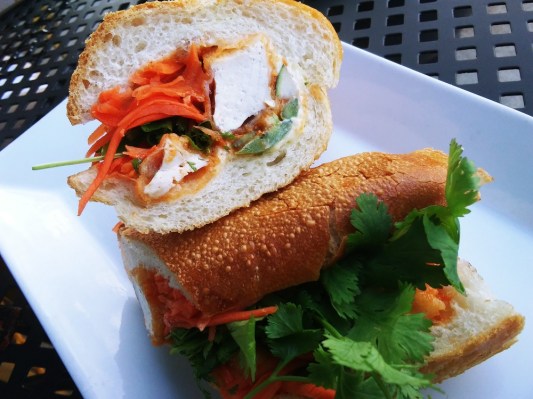 On the cursed verge of filling up, I pushed away the taco remnants for our actual bánh mì sandwiches; my friend had the wholly applicable Bánh Fire ($9.00)—the typical taste of chicken substituted with crispy tofu—and tempered with sriracha buffalo sauce, pickled carrots, jalapeno, cucumber and cilantro.
As sweat dripped down both our cursed foreheads, it was plaintively obvious that this new variation of the famed sandwich provided the necessary heat needed to bless this Hellishly-warm bánh mì with Satan's pinkie. I was able to, thank God, take it down a varied notch with the true oddity on the menu—something I've never heard of before—the Bánh Mì Burger ($8.00) with Vietnamese Street Corn ($4.00).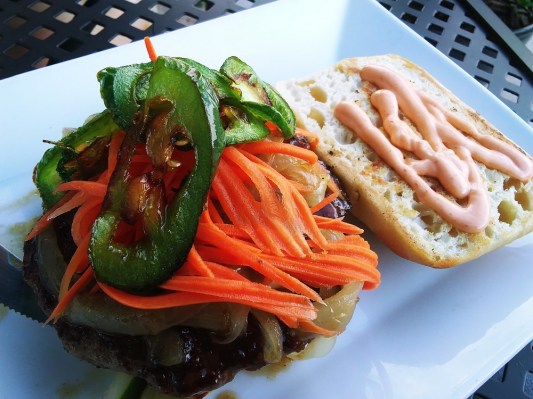 A Korean BBQ glazed patty with grilled onions and jalapenos, pickled carrots, cucumber, cilantro and sriracha mayo on a ciabatta bun, this was the binge-worthy burger of my fatty dreams and engorged nightmares, every bite releasing meaty juices that streamed down my chin and neck, a familiar grin on my systematically delicious face.
_
Follow Louis on Twitter at @LouisFowler and Instagram at @louisfowler78.
Stay in touch
Sign up for our free newsletter