Everything Else
Kevin Stitt takes fight against tribal nations to the roads…
12:22 PM EDT on May 4, 2021
After being defeated on just about every front, Oklahoma Governor Kevin Stitt is now taking his fight against our state's tribal nations to the roads...literally.
Over the past month or so, word has come out that a big construction project on SH9 and I-35 that's being co-funded by the state and Chickasaw Nation may be postponed because, well, Kevin Stitt is a petty, passive-aggressive turd who for some reason has a hardcore agenda/vendetta against Oklahoma's tribes.
Here are the details via The Oklahoman_:
A road project to remedy choke points on State Highway 9 near I-35 and the Riverwind Casino has become embroiled in tensions between Gov. Kevin Stitt and Native American tribes and may be delayed, despite years of planning and an apparent agreement between the transportation department and the Chickasaw Nation.

Tim Gatz, executive director of the Oklahoma Transportation Department, said Monday that the project will be reevaluated and a broader solution sought for the congested area in fast-growing McClain County.

Gatz, who was appointed by Stitt and serves as the governor's transportation secretary, told the transportation commission that he was also instituting a new protocol for road projects undertaken with tribal partners. He said it was "prudent under the current uncertain conditions" to seek advice from Stitt's office when considering agreements with tribes.
As we know, Stitt is heavily inspired and influenced by Donald Trump, so it's weird to see him go full Chris Christie here. Could this be another sign that ole' Stitter is looking for a scandal to boost his potential presidential run in 2024??? I guess we'll have to wait and see.
Just like the millions and millions of motorists who have been stuck in traffic due to I-35 road construction over the past 50 years, the Chickasaw's are naturally upset by the potential delay. They're claiming the Governor is playing petty political games, and have tapped one of the few politicos in this state who may even be less likeable than Stitt to go to bat for them:
One question at the meeting on Monday was whether the transportation department was reevaluating the casino interchange project because of the McGirt ruling or because Stitt doesn't approve of it and other state-tribal agreements to fix roads.

Transportation commissioner T.W. Shannon, a member of the Chickasaw Nation, said Gatz said publicly in March that the project was being reevaluated because of the McGirt ruling but was now saying it was because the governor questioned the efficacy of the road project.

"I'm hearing you say that Gov. Stitt has basically ordered a wholesale change of how ODOT interacts with tribes on transportation projects," Shannon told Gatz. "And that's very concerning to me because, up until this point, the process has worked very, very well for the benefit of all 4 million Oklahomans."
Seriously, can't the Chickasaws find a better person to represent their interests in all this? You know, basically anyone other than T.W. Shannon? I want to cheer for them in this thing, but it makes your cause less sympathetic when the guy calling out the Governor is a Trumpublican tool who was sharing Q-ANON hashtags leading up the election: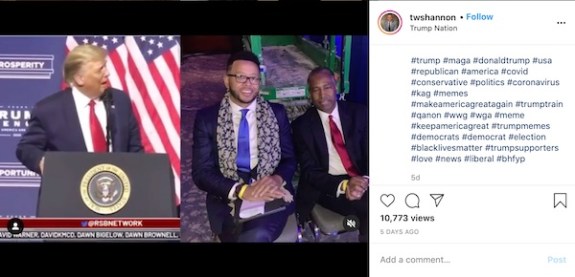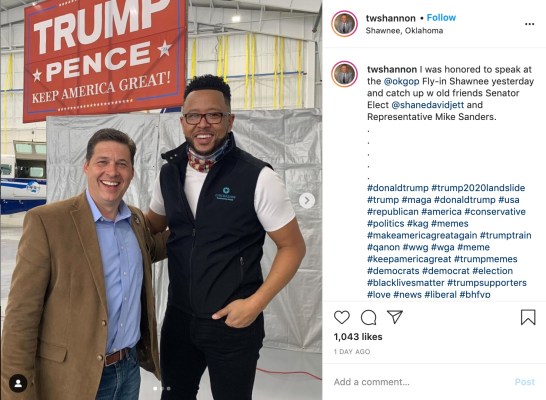 In all fairness to the tribe, Shannon was technically appointed to the position by House Speaker McCall. He's kind of become a political mercenary for the speaker.
He's also the same totally objective, fair-minded, steward of the public trust who the Oklahoma House designated to be the chamber's "public liaison" for their 2020 gerrymandering efforts. You know, in case you wonder why your house district is shaped like a middle finger to democracy.
Here are some more details via a Bourbon Hoberock article with The Tulsa World:
Shannon, appointed to the panel by House Speaker Charles McCall, R-Atoka, questioned why Gatz was consulting with Stitt's office when the Oklahoma Transportation Commission has the power to determine road projects in the state's 8-year-plan. The interchange in question is in the 8-year-plan.

Gatz said he wasn't asking permission from Stitt's office, but felt it necessary to seek insight.

Shannon said considering Stitt's history with the tribes, "that office might be the last place to seek advice."
And considering Shannon's history with reality, his office would be the second last place.
The Governor's Chief Propagandist shared this statement about the project:
"Gov. Stitt strongly believes that the needed improvements to the I-35 interchange with Highway 9 West should be made in a way that benefits all 4 million Oklahomans," said Carly Atchison, a Stitt spokeswoman. "The Governor will always fight to ensure the taxpayer dollars are invested in projects that serve the people of Oklahoma and not pet projects for special interests."
Yep, the Governor will always fight to ensure that taxpayer dollars are invested in projects that serve the people of Oklahoma and not pet projects for special interests. You know, responsible investments like Hydroxichloriquine.
Anyway, I guess we'll continue to follow this story and let you know of any updates. Regardless of how it ends, the only thing we know for sure is there will still be construction on I-35
Stay in touch
Sign up for our free newsletter