Music
Starship Trooper: Beaming Down to Tulsa's Starship Music
8:41 AM EST on November 12, 2020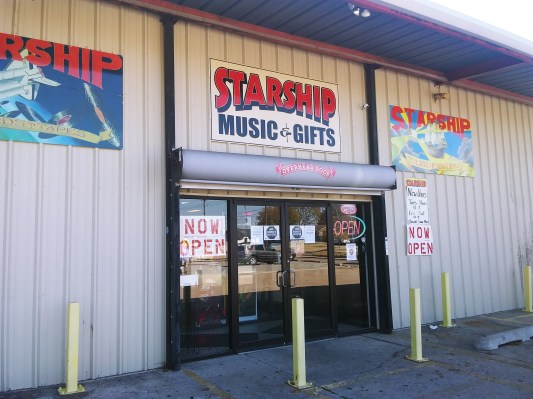 Over the past few years, I've come to expect a little bit more from my record stores.
I guess you could say I've become a sound snob in my old age, wanting an exhaustive emporium of newly manufactured and wholly overpriced vinyl in the music shops of my choice and, really, only that. That's not to say that the legendary Starship Music, 1241 S. Lewis Ave. in Tulsa, is a terrible place—not in the slightest!—but it's just not the store for a thirty-three and a third jerk like me.
After many short-winded discussions where my ladyfriend impossibly built the place up in my over-reaching head, we finally made it to T-Town last weekend. She remembered Starship's glory days from her time living nearby in Muskogee, when it was situated in a couple of connected houses, their pod-bay doors opening up a full enterprise of her purest rock and roll dreams.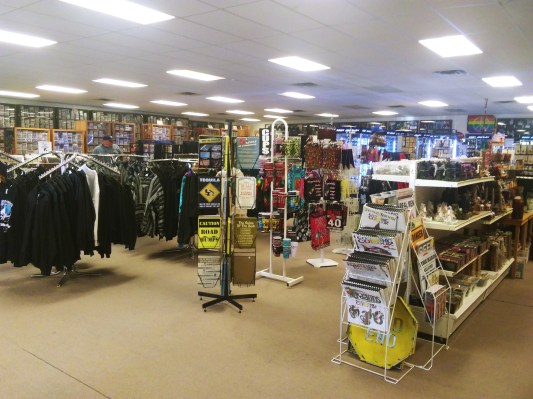 After moving a couple of years ago, its current home is a large metal building in a dank area of Tulsa. Finally opened after being closed months due to the Covid crisis, I admittedly was excited to reach this much-lauded audio destination. Car parked, I could feel the rubberband lazer of my heart as I rushed in.
But, if I'm being honest, that rolling stone temperament was soon stiffly quelled as, at first, I thought I had accidentally walked into a particularly low-rent branch of Spencer's Gifts.  Filled with all types of pot merchandise, sex games and vinyl posters of a gangsta Marilyn Monroe, as I began my walk-through, the ancient scent of patchouli oil illuminated me like a living black-light.
That's okay though, as I actually do like that smell.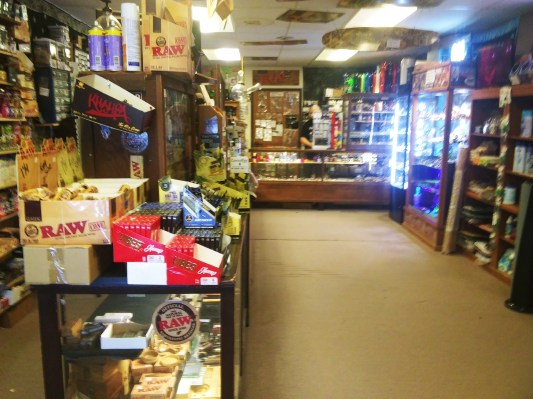 Aimlessly loafing around, the amount of head-shop collectibles—as well the attached side-hustle that operated as a cannabis outlet and a sex-toy showroom—was a strong strain, perhaps even stronger than the music. As various tunes puff puff passed at a moderate volume overhead, I quickly admired the psychedelic posters and punk-rock tees, still trying to seek out the section that handled the records.
Circle jerking around to the other side of the Starship, I finally found those albums in the form of multiple locked cases of compact discs, stacked in a way that, for me, were far too tiresome to sort through and read the titles. But that's okay; I didn't want CDs, I wanted records.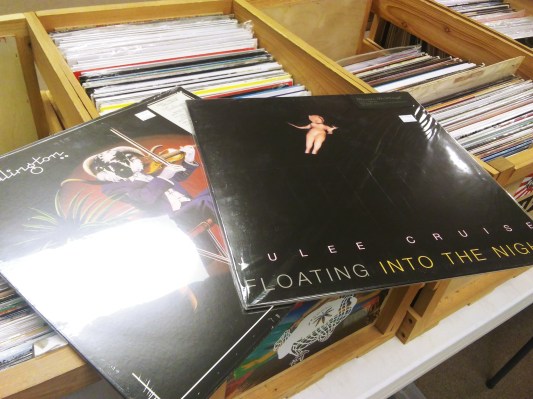 Thankfully, like a tractor beam from above, I found the medium-sized rows of factory fresh albums. After about thirty or so minutes of thumbing through the stacks, looking for my wish-list items, I found two rarities that I've been seeking out and quietly hunting for quite a while: Paul McCartney's Thrillington and Julee Cruise's Floating Into the Night.
Happily clutching them in my sleeve-rolled forearms, I looked around for a few more minutes, spreading out over the supposed discount bins. Maybe for Tulsa the tunes were ultimately discounted, but a store like Guestroom in Oklahoma City has truly spoiled me like an impetuous concubine, trapped in a galaxy of low-priced orange-stickers.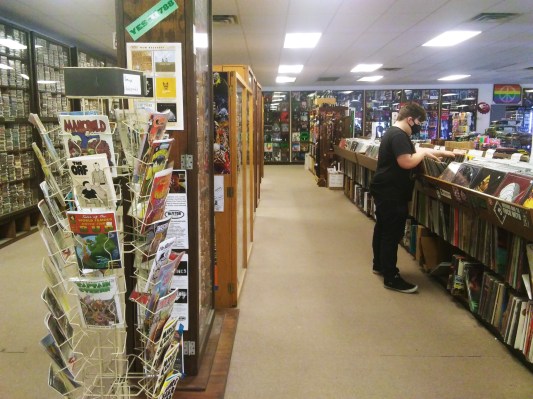 That being said, I was taken aback by their small collection of underground comix and a few assorted zines, both of which transported me to a time when I really could have appreciated a place like this, usually a mini-mall operation that, at best, could last a year before heading on back to the flea market. Should I feel bad about a place like Starship not moving me like it should have?
At least my ladyfriend would be happy, having found a lovely pair of novelty socks featuring consummate showman Freddie Mercury intonating a boisterous anthem, in a glass case near the Slayer belt buckles and Iron Maiden wallets and so on. I bought them for her as an early Christmas present.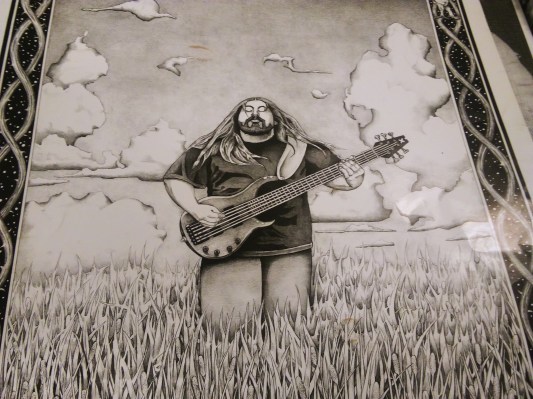 Paying for our modern loves and wax platters, on the way out of the store I spied a flat selection of posters in a bin. Flipping through them, I came across one that looked remarkably like me, an otherworldly doppelganger that, instead of picking up the analog pen picked up the electric guitar.
I'm kicking myself for not purchasing it now.
_
Follow Louis on Twitter at @LouisFowler and Instagram at @louisfowler78.
 Support TLO (and, by proxy, Louis Fowler) by becoming an Ogle Mole…sign up here today!
Stay in touch
Sign up for our free newsletter