Food
Caffeine Quest 2: Return to the Lesser Known Coffee Houses of OKC and Beyond (Part Two)
5:08 AM EDT on October 26, 2020
When we last left our caffeinated heroes…
Many moons go—actually sometime last month—my former neighbor Amy asked me to recommend a few area coffee-shops other than Starbucks. Like a stale pot of brew fresh yesterday, with a burnt taste in my mouth I realized I knew very little about any of them and, like her, desperately needed to obtain this knowledge, especially since the famed corporate coffee-stop near my house was shut down at the time due to Covid.
When she suggested this so-called Caffeine Quest—our monthly sojourn out into the wilds of Oklahoma's independent roasted beans and bean roasting independents—we made a weak pact to sample the somewhat lesser-known establishments that carry a robust cult atmosphere to them, the well-earned character that no Seattle-based java house will ever fully capture.
And, like last month, we've picked three of the area's better coffee values—one for me, one for her and one recommended by the readers, albeit in a somewhat forceful way—and, on a rainy Sunday morning, continued our boisterous trek to try every chill café that we possibly can, our nerves of steel consistently jangling on a mad caffeine rush.
_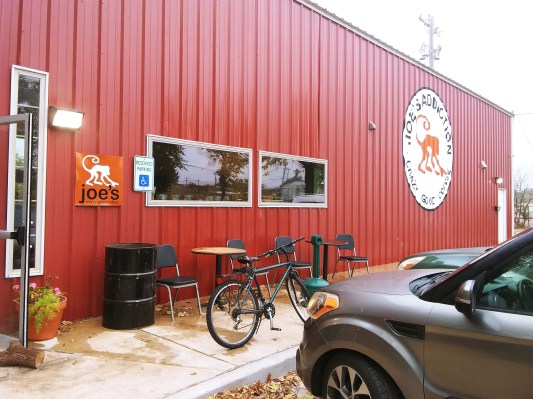 Joe's Addiction (1725 SE 59th in Valley Brook)
Driving past the open nudie bars and waiting police cars along the Valley Brook strip, the aptly-named Joe's Addiction resides in a large metal building hidden from the road by a small grove of trees. Seemingly destitute men hang out smoking in the front while inside a sermon about Gandhi is being given to the small crowd: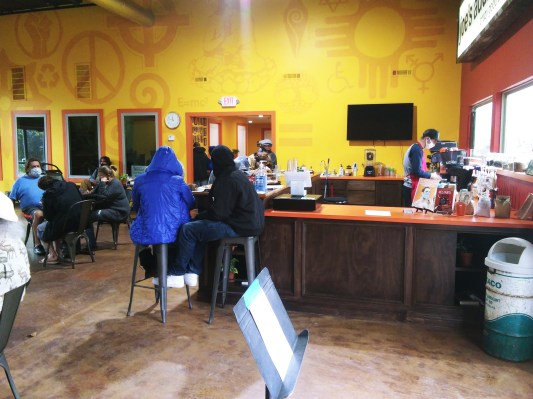 As we soon learn, not only does the coffee-shop have church services on Sunday, but it's also on a "pay what you can afford" scale. I ordered the brutally-true Death by Espresso, a shotgun blast of pure wake-up that, with each harsh sip, made me feel one step closer to the bony bosom of the Grim Reaper.
Meanwhile, Amy had the remarkably flavorful Vanilla Latte, a foamy dream that was a less lethal drink to be greeted by in the morning. When I reached for my wallet, Amy truthfully mused "How can they afford to stay open?" as I paid $7.50, a price I believed to be mostly fair. I'm not sure if I should have paid more.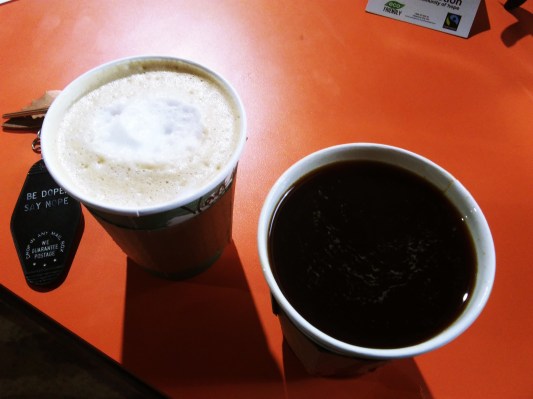 _
Gray Owl Coffee (223 E. Gray St. in Norman)
Long ago, when I wrote for the local alt-weekly rag, my first Oklahoma-based article put to the pulpy paper was a lamentable piece about coffee-shop culture. One of the houses I dutifully followed in the ensuing years is the bohemian-like Gray Owl Coffee, a joint where the cool Norman vibes fed into our dark and dank Oklahoma City personas, to long-lasting effect.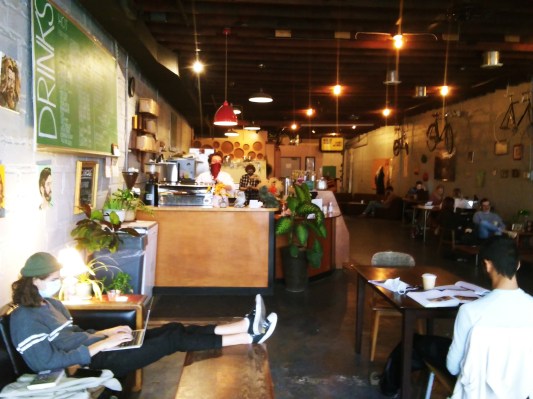 I ordered a small Chai Latte ($3.50) for myself and Amy requested an Iced Chai Tea ($4.25), both wanting something a little sweeter and, really, what better place; both of our Chais were wonderfully rich in both the specialty tea and hearty spices, a strong chorus of cinnamon notes tickling our noses as we talked about her in-the-works podcast and the other rousing issues in her life.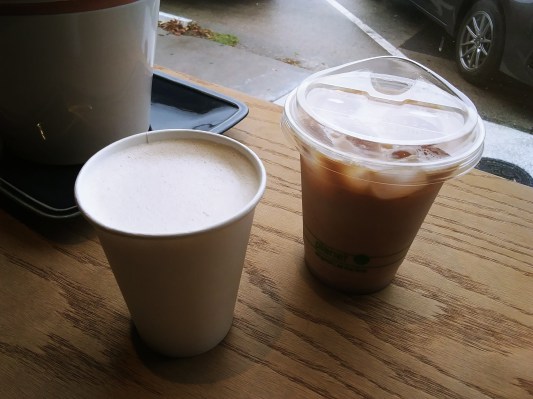 As hunger overtook us and corrupted our spirits, we split what I think might have been a vegan bagel. Whatever it was, it was one of the finest halves of boiled breadstuffs I've enjoyed in a long time, the type of hearty treat that men write lengthy tomes over. (Bagel Quest?)
_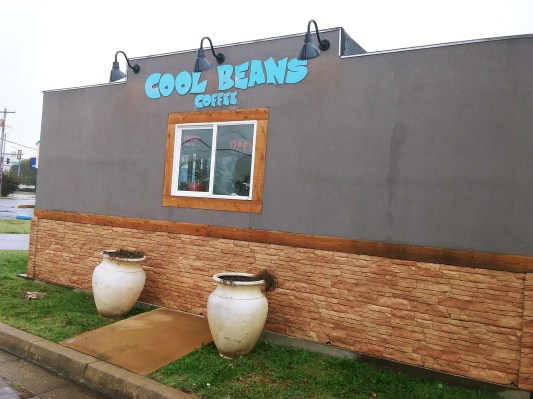 Cool Beans Coffee (1230 Alameda St. in Norman)
I'm not really sure how Cool Beans—a thoroughly unlikable phrase in my lexicon—was added to the list, but I have my cool suspicions.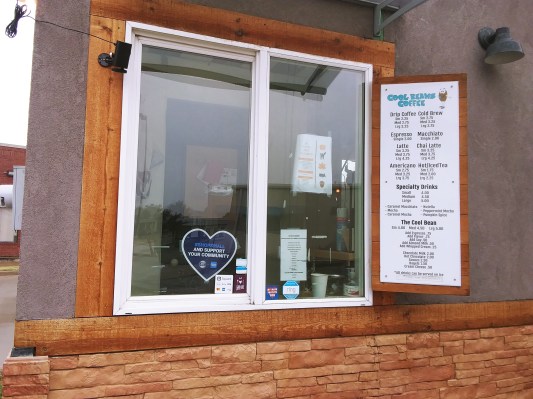 Regardless, as we drove up to the caboose-sized drive-through, we were both taken aback by the sheer affordability of the coffee selections; I reckoned we could get a Small Cold Brew ($2.75) and a hot Peppermint Sage Tea ($2.00) for around five bucks, just barely clearing it with tax, the smell of the tea reminding me to brush my teeth when I got home.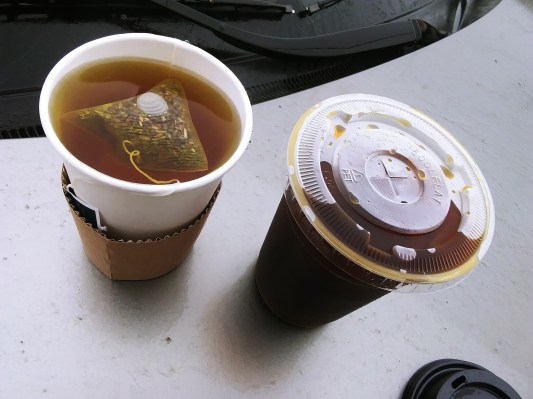 As we drank our mobile beverages in the car on the way back to Oklahoma City, Amy remarked that if she were "nice enough" she'd buy Cool Beans for her co-workers every time she went there. While I couldn't necessarily concur, as I drank my cold brew—basically iced coffee, as far as I could tell—I was economically happy to have spent about three bucks on it and no more.
To be continued…
_
Follow Louis on Twitter at @LouisFowler and Instagram at @louisfowler78.
 Support TLO (and, by proxy, Louis Fowler) by becoming an Ogle Mole…sign up here today!
Stay in touch
Sign up for our free newsletter