Food
TLO Restaurant Review: Green Chile Kitchen
5:08 AM EDT on October 6, 2020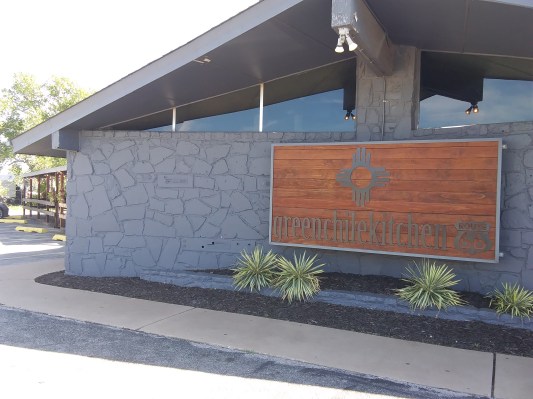 Before I moved back to Oklahoma City about eight or so years ago, I had been living in Colorado for around a decade. And while I missed the true Tex-Mex eats that I was born in and raised on, I was carnally satiated by the then-unknown to me craft of New Mexican cooking, with its sensual emphasis on the glory-bound green chile.
Though I have had random bowls of green chile since moving back, to be honest, they've been at best alright, never coming close to deep helpings I've had ladled out for me in places like Santa Fe, Pueblo or even Denver. I don't know whether it's the sheer artistry or inherent love that's missing from the spicy processes of local cooks, but I had given up on finding a decent green chile here.
And then a restaurant like the Green Chile Kitchen, 12 East Main St., comes into my full life and, more importantly, my empty stomach.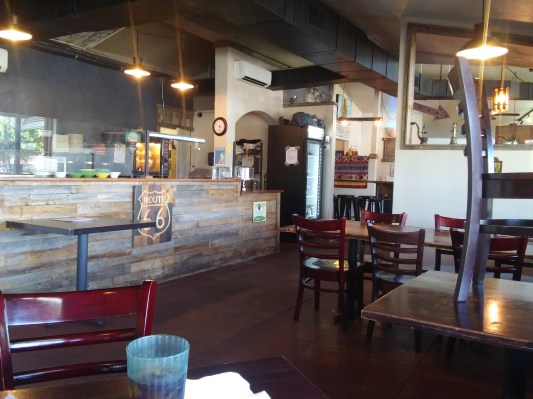 Located in the suburban outpost of Yukon, the unassuming restaurant sits on Route 66 near the old flour mill that gives the town's skyline some character. As my ladyfriend and I walked in last week, we were greeted by a rather large portrait of the Virgin Mary, a nice tribute to the rustic churches of New Mexico. I made the sign of the cross.
We were shown to our seats and given menus to look over, apparently the only people in the eatery this afternoon. As the host filled our glasses with water, I asked her about the place and she told me that it was started by a local boy who went to Colorado for college and fell in love with the unique foodstuffs out there, bringing it back to the Metro outskirts for the Okie masses.
I sure know that feeling, I thought to myself.
As we were brought a set up of fresh chips and fresher salsa, the host also provided us a series of signature sauces in small cups to sample, some with chile and some with queso but each one devout in their remarkable flavors. Still, as starters, I ordered the New Mexican Street Corn ($6.00) for the table and, just because I absolutely had to, a cup of Traditional Green Chile Stew ($6.00) for me.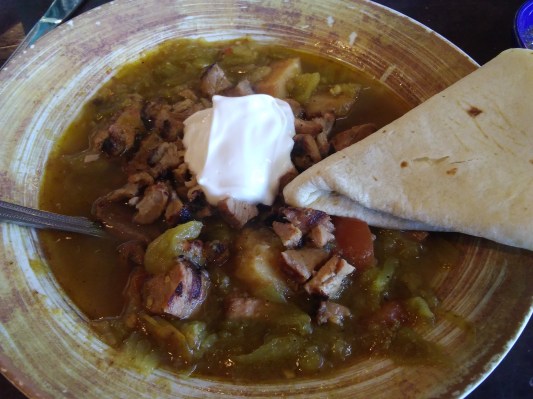 Flame-roasted with a bit of butter, red chile, Cotija cheese and lime lacquering the darkened maize, the New Mexican Street Corn was the true essence of traditional elote that was a treat to eat, but it was the Green Chile Stew that was a long-awaited taste, one that opened the floodgates of bittersweet memories that came rushing back to my forked tongue, the praise-worthy flavor of the fresh green chiles and rich chunks of pork leaving an honest look of holy pleasure on my face.
After using the homemade flour tortilla to sop up the stew's remnants in my bowl—have I mentioned that everything is homemade here?—I easily could have thrown some coin on the table and left satisfied, my culinary goals ultimately fulfilled, but we hadn't even had our entrées yet, me with the Savory Stuffed Sopapillas ($14.00) and her ordering the enigmatic Carne Adovada ($14.00).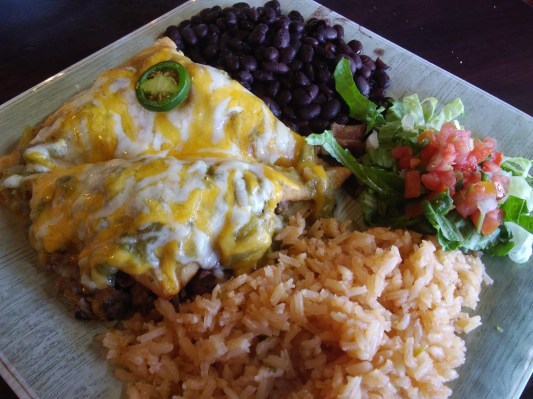 Growing up, my brother and I never liked our sopapillas served traditional with sugar and honey, instead dipping a plain one in queso or whatever salsas were available. After years of being told how wrong I was—mostly by white people, natch—the Green Chile Kitchen allows me to enjoy them they way I've always wanted to, stuffing a pair of the puffed pastries with steak and pork, respectively, and plenty of chiles, then topping them liberally with cheese.
Un dulce sueño se hizo realidad hoy.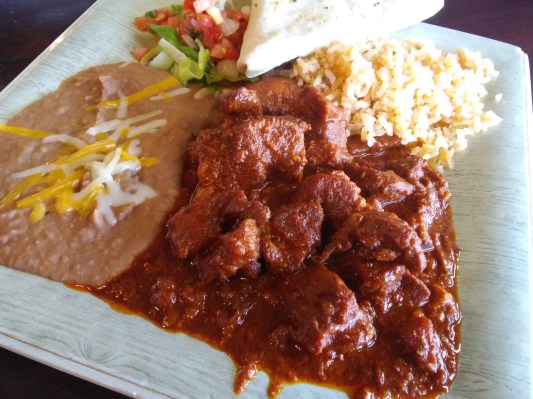 But even the erectile excitement of the Stuffed Sopapillas could not prepare either of us for the unrated thrills of the fast and furious Carne Adovada. Almost like a rebellious plate of mole, the pork is slow roasted in red chile and various spices creating a tender dish of newfound sensations, the sweet and the heat making proper bedfellows.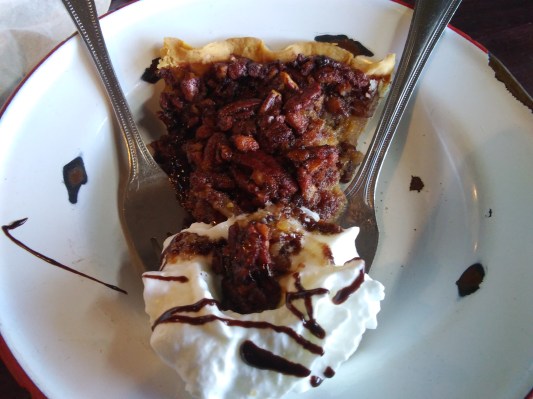 Though we were mutually gratified with our meals, the host suggested we try a slice of the Mexican Chocolate Pecan Pie ($6.00), which I couldn't say no to. When we were done, I walked over to the painting of the Blessed Virgin, fell to my knees and, with tears in my eyes, thanked her for allowing me to live at least one more day, if only so I could try the Green Chile Kitchen. Cómpralo ya!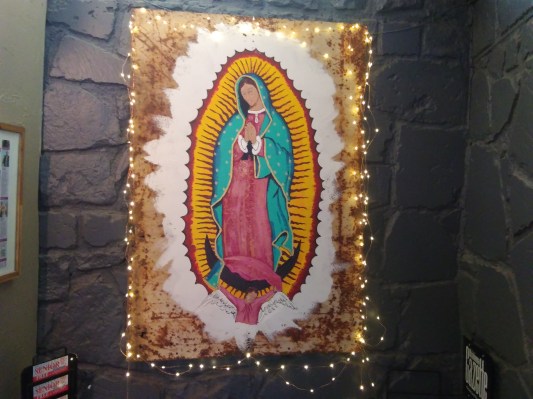 _
Follow Louis on Twitter at @LouisFowler and Instagram at @louisfowler78.
Support TLO (and, by proxy, Louis Fowler) by becoming an Ogle Mole…sign up here today!
Stay in touch
Sign up for our free newsletter