Everything Else
Alex Housden takes job as Texas PIO. Resigns the next day.
12:02 PM EDT on September 4, 2020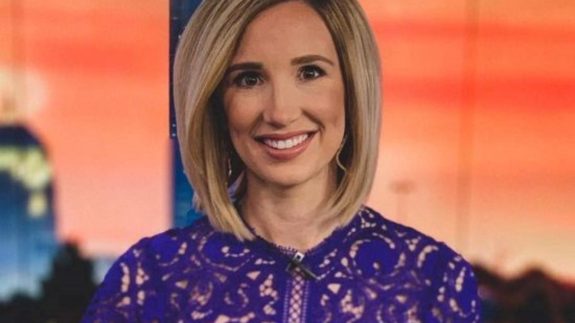 Since the pandemic kicked off in March, one of the most common questions we get in the Ogle Mole in-box is "What happened to Alex Housden at Channel 5?"
If you remember correctly, Alex caused controversy in August 0f 2019 when she made the off-the-cuff remark that a baby gorilla at the OKC zoo kind of looked like her Black co-anchor, Jason Hackett. The clip made the rounds on the social media outrage circuit, and the next day Alex gave a tearful on-air apology to Jason that we think he accepted.
Surprisingly, KOCO didn't fire Alex or terminate her contract after the incident, and she awkwardly remained employed at the local ABC affiliate until March. Then, as the pandemic rolled into full gear, she quietly disappeared from the OKC airwaves, leading to all those "What happened to Alex Housden at Channel 5?" questions.
Well, I guess we now have an answer – Alex apparently moved back to her home-area of central Texas, started going by her married last name, took a job as a PIO for Bell County, and then resigned a few days later. Here's more:
Via The Temple Daily Telegram:

Bell County's first public information officer hired

The Bell County Commissioners Court welcomed the county government's first public information officer on Monday.

Commissioners said they are looking forward to working with Alex Reich — and cited her lengthy experience working in news media. Reich most recently worked as a news anchor for KOCO-TV in Oklahoma City, and also served as an evening anchor for ABC affiliate KTEN-TV in Sherman.

"She's obviously well qualified with her background in media. As far as all of the folks that we had apply for the (position), she was one of the better — if not the most — technically qualified people to put in that job," Commissioner Bobby Whitson said. "She's a highly positive, upbeat and enjoyable person to be around. Kind of a no-brainer."

Bell County Judge David Blackburn echoed Whitson's comments.

"The county has lots of departments, lots of services and lots of entities, so trying to better coordinate our public information is a high priority. We're looking to Alex helping us with that," Blackburn said. "Her background in journalism and broadcast media in particular was a strong suit ... as well as her ability to manage social media platforms. I think both those things from my standpoint made her a very strong candidate."
Yep, her background in broadcast media is a strong suit. Unless, of course, she's making off the cuff comments following a feel-good news segment about zoo animals. Then it's kind of weakness. They had to know about that, right?
But during her first day on the job, a story resurfaced about her previous employment at KOCO-TV, where she was known on-air as Alex Housden.

Last year, Reich compared how her black co-anchor, Jason Hackett, took selfie photos similar to a baby gorilla — an act she quickly apologized for on air the next day. Reich told the Telegram how important context was often left out when discussions regarding her comments first circulated...

"They weren't (familiar with that context), and it was the darkest moment of my life for sure," Reich said. "That's why none of the commissioners knew about it. It doesn't define me. I care very deeply for people. I'm not a racist, I don't judge, and I just want to show kindness and love. It was just kind of heartbreaking today to hear that get brought up again."
Wait. She didn't tell them about the incident before she took the job!!!
Since she wanted to be hired, I guess you can't totally blame her. I buy Alex's apology and don't think she was trying to be hurtful or mean with her comment. I chalk it up to stupidity more than anything, but that's still a hard thing to explain in a job interview for a PIO gig:
"So, tell us about your time at Channel 5 in Oklahoma City?"
"It was great! I loved working there, made a bunch of friends, and outside of the time I made the stupid comment that my Black co-worker looked like a baby gorilla, I really enjoyed my time there."
Here's more:
Blackburn said he has spoken with Reich since being made aware of the story.

"She indicated that the incident did occur, and believes that the comments were taken out of context," he said.

"She apologized the next day on air and regrets making those comments. I think she has moved on from those comments. She recognized that they were not appropriate and taken inappropriately, and apologized for doing so."

Blackburn said the county will continue to review the matter.

"I have communicated all of this to the commissioners and we will review the matter further," he said. Blackburn said
Did Alex really think nobody would connect the dots here? I say this as a guy who has written and said a bunch of stupid and controversial shit over the years – Don't run away from your past.
We have this thing called the Internet now that makes that borderline impossible. Acknowledge and own up to your mistakes, and if you're really good, try to spin them so that you look like the victim! Sure, it may make it harder to open doors and get a nice, good-paying job, but when that finally happens, you won't have to spend every day watching over your shoulder, worrying that your past is catching up with you.
Alex has learned that the hard way:
Bell County public information officer resigns

Bell County Judge Blackburn has accepted the resignation of Alex Reich as the Bell County public information officer, according to a news release from Blackburn.

Reich, who started the job on Monday, was the county's first public information officer. The resignation is effective immediately.

"Last night Judge Blackburn emailed us and said that ... (Reich) did send her letter of resignation," Commissioner Russell Schneider told the Telegram. "Her letter was sent to the judge on Sept. 1 at like 8:40 a.m."
That sucks for Alex, but it's the risk you take when you're not honest with your new employers.
Anyway, at least for now, I think we've answered: "What happened to Alex Housden at Channel 5?" If you have any other questions that you want us to try to answer, send us a news tip here.
Stay with The Lost Ogle. We'll keep you advised.
Stay in touch
Sign up for our free newsletter