Everything Else
Stitt seems to think Oklahomans can choose whether or not they get COVID-19…
9:17 AM EDT on June 19, 2020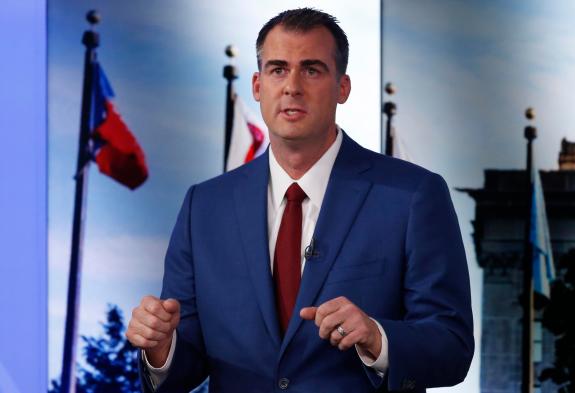 Ya know, if you don't take reproductive rights into consideration, we actually have a lot of freedoms in Oklahoma. We have the freedom to carry semi-automatic weapons in many public places. We have the freedom to secure a medical marijuana card. And we have the freedom to order a side of gravy at approximately 83% of our fast food chains. But what's even more amazing is that according to our esteemed governor, we apparently even have the freedom to not get COVID-19!
Via KOCO…
Gov. Kevin Stitt said people are free to stay home and not attend President Donald Trump's rally this weekend in Tulsa if they still have concerns about the health risks of attending a large, public gathering.
"We're a free society, and you're free to stay home," Stitt said during a news conference Wednesday. "I want people to protect their family. If they don't want to go to the rally, they shouldn't."
The governor continued by saying more than 1 million people have requested to attend Trump's rally, which is scheduled for 7 p.m. Saturday at the BOK Center. Stitt called the number of people who want to attend the campaign event "unprecedented."
"There's a lot of folks that want to be there, that want to support the president but, of course, you need to make the best decision for your family," he said.
By how many liberals I've seen online requesting tickets to "fill" the arena with empty seats (which ironically just seems to boost the numbers because there doesn't seem to be a cap on ticket requests), I don't think that there's actually going to be a million attendees. But what's worse than the potential of a million Trump supporters making the pilgrimage to Tulsa is that Stitt doesn't seem to understand how you can still become infected with COVID-19 if you stay home Saturday.
By hosting such a large IN-DOOR event without mandating masks and social distancing, thousands are not only going to be at risk for infection, but also infecting others who may not have chosen to attend. Stitt likely knows that Trump seems to think wearing masks makes you look weak. But does he understand how weak Oklahoma will be if COVID-19 spikes again? So yeah, people can choose not to go to the rally. But whether it's due to work or other essential service needs, few can choose to not go out in public for two weeks after it. But Stitt does not seem sympathetic towards that...
"We have COVID in Oklahoma, and we have to learn how we're going to deal with that," Stitt said. "So, that's washing our hands, being very safe if you're immune compromised, like I've said from the very beginning."
Oklahoma GOP officials said earlier this week that health precautions will be in place for Trump's rally. They said face masks will be handed out and temperatures will be checked at the doors.
State Republican Party officials, however, have not said if people will be required to wear those face masks.
"Oklahomans, we're going to have to learn how to deal with this and learn how to readjust how we live, but we're excited to host the president on Saturday," Stitt said.
Whether it is through his current response to COVID or past support of lax gun laws and anti-vax attitude, sacrificing the freedom and safety of many for the perceived liberties of the individual seems to be the theme of the Stitt governorship. It's wild that the warning that Oklahomans are, "going to have to learn how to deal with this and learn how to readjust how we live," was uttered by a man who refuses to follow CDC recommendations to wear a mask. I guess it's hard to kiss Trumps ass when your lips are hidden behind novelty fabric.
-
bUt My RiGhTs. Follow Hayley on twitter @squirrellygeek
In my spare time, I officiate secular weddings, read about dead people, and search for the American Dream.
Read More:
Stay in touch
Sign up for our free newsletter