Everything Else
Report: State Rep. Kevin McDugle Still a Moron
2:28 PM EDT on June 17, 2020
After Trump made his announcement that he would be holding a MAGA rally in Tulsa, the following "advertisement" calling for "MINORITY actors" to "hold signs at event in Tulsa" briefly appeared on Craigslist.
It was eventually deleted, but not before making the rounds on social media, and getting its own Snopes entry: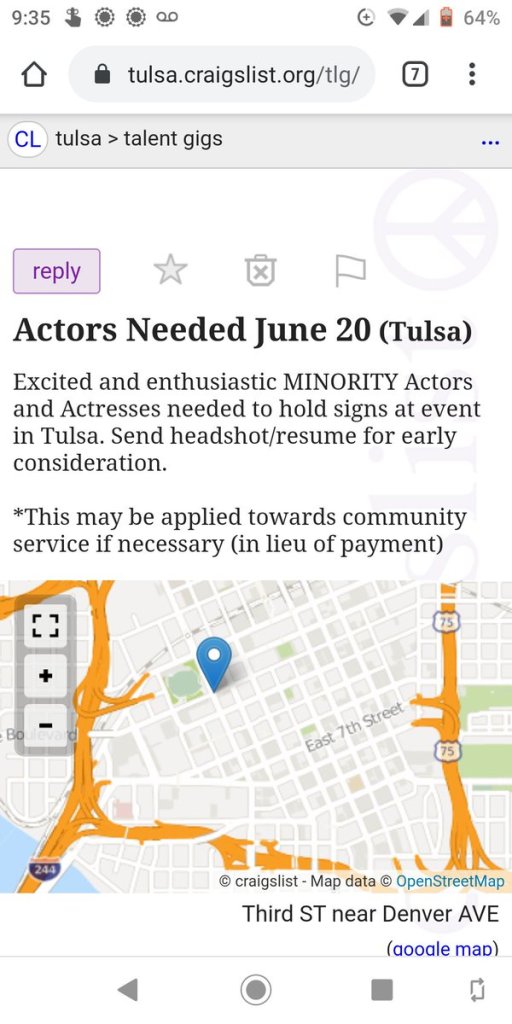 I have a pretty solid BS meter, and I'd guesstimate there's a 95% chance the ad was a hoax or prank created by some angry copy, a Trump campaign staffer, or just some other mischievous white nationalist looking to either sow doubt, or reinforce the beliefs, of easy-to-dupe tools that Black Lives Matter is a legitimate movement. The dead giveaway is the "this may be applied towards community service if necessary," implying that the MINORITY actors have probably been convicted of a committed a crime, and therefore need to perform community service. Hardee-har.
Despite the fact that the ad defies common sense and is probably a hoax and / or plant created by people who likely have bad intentions, some rubes who drink the red MAGA Kool-Aid bought it hook, line and sinker.
Naturally, one of those rubes is notorious Oklahoma State Rep. Kevin McDugle. He went to social media and used the fake Craigslist ad as an excuse to, I think, imply that Black Live Matter isn't an authentic protest movement driven by masses who are sick of systemic racism and police brutality against blacks and other people of color.
Here's his tweet:
Yep, *Remember that perception is reality!* Also, remember that reality is reality, and that Kevin McDugle is a former marine who posts videos like this on YouTube:
Also, remember that Kevin McDugle once introduced legislation that would make it harder to sue Oklahoma cops for using "excessive force."
A bill filed last week would seem to make it harder to sue law enforcement officers for using excessive force, making "excessive force" a term not subject to the policies of an individual agency.

House Bill 2328, authored by Rep. Kevin McDugle, R-Broken Arrow, and Josh West, R-Grove, would amend Oklahoma's current statute defining excessive force and removes a portion that holds peace officers subject to state law "to the same degree as any other citizen."
Also, remember that McDugle once scolded teachers for having the audacity to fight for better pay and teaching conditions in Oklahoma:
Considering McDougle thinks people only protest when they're "paid to show and do so," it's no wonder he didn't like those wealthy teachers fighting for even more money!
While we're at it, I guess you should remember that Kevin McDugle was accused by his ex-wife of anger management issues and adultery, and was technically married to two women at once. Also, remember that McDugle, along with some of his buddies in the House, were accused of sexual harassment by a female House colleague.
Rep. Chris Kannady and Rep. Kevin McDugle are the two lawmakers at the heart of the allegations. Gerhart told News 4 that the victim is still not ready to come forward but he shared recordings of the phone conversations he had with the female legislator.

"Kevin McDugle whipped out his phone, started showing me some porn videos. Kannady inappropriately touched my leg under the table," the alleged victim is heard saying.
Anyway, I guess my point is this: Although perception can become reality, the truth is that reality is reality, and Kevin McDugle is a shitty, irresponsible person who A) uses conspiratorial, obviously fake shit to make a stupid point and B) shouldn't be an Oklahoma state representative.
Stay in touch
Sign up for our free newsletter