Everything Else
The kids aren't alright: Falls Creek Summer Camp is canceled.
8:35 AM EDT on May 22, 2020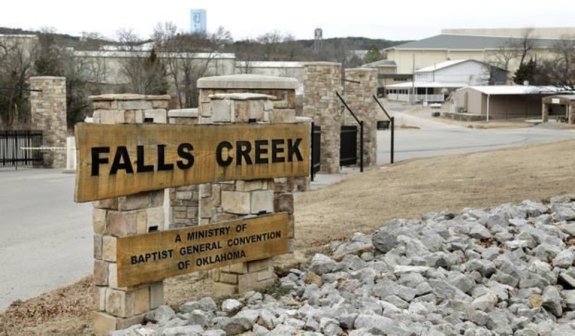 Next month will mark ten years since my last summer as a camper at Falls Creek. While I didn't identify as a Baptist when I attended the camp, there was something about the teenage hormones and lack of supervision holy spirit and fellowship that kept me coming back summer after summer. Falls Creek is such an integral, formative experience for many Oklahoma teens. But unfortunately, this generation of teenage sexual spiritual awakening will be delayed for at least another year.
Via KOCO…
DAVIS, Okla. —
For the first time since 1945, a popular Oklahoma summer camp has been canceled due to the coronavirus pandemic.
Leaders with the Oklahoma Baptists announced that Falls Creek Youth Camp and CrossTimbers Children's Mission Adventure Camp will not hold any camp sessions during the summer of 2020, due to factors related to the COVID-19 pandemic.
Officials had previously said they were planning on a delayed start and revised schedule, however, those plans have been canceled.
"With a heavy heart, and after extensive consultation with pastors, lay leaders and information from public health officials, we have made the difficult decision to cancel all Falls Creek and CrossTimbers-Davis and CrossTimbers-Grand Lake sessions for 2020," said Hance Dilbeck, executive director-treasurer with Oklahoma Baptists.
This is devastating news! God knows how much money the camp has already dropped on smoke machine fog juice and Icee corn syrup mix that will go to waste. Plus, how will the Baptist denomination ever survive without the thousands of Christians who are converted (or created, if you know what I mean) at camp every year?
Oklahoma Baptists' board of directors executive committee unanimously approved the decision to cancel the 2020 camp season, officials said. Plans for Indian Falls Creek and LifeWay Collegiate Week, which were previously scheduled for late July and early August, also were canceled.
The alternate summer outreach plans, which will be unveiled in early June, will be led by Todd Sanders, Falls Creek program director and Charlie Gatton, CrossTimbers program director.
Each summer, more than 50,000 campers and guests from across the state attend the Falls Creek summer camp, according to the organization.
While it's wonderful the organization is planning outreach opportunities, it won't give the full Falls Creek experience. I am afraid this summer Oklahoma teens are going to find themselves engaging in a slippery slope of ungodly behaviors. Because without the supervision of Falls Creek staff, these kids' summer vacations are going to be heading down a path that starts with hormone-fueled fraternizing with peers and ends with them giving up a "missionary-inspired" spiritual path for a "missionary position." It's just this year they won't have to pay $150 to have the experience.
-
Cheese and Rice. Follow Hayley on twitter @squirrellygeek
In my spare time, I officiate secular weddings, read about dead people, and search for the American Dream.
Stay in touch
Sign up for our free newsletter