coronavirus in oklahoma
Stitt Administration Ponders Ways To Kick Oklahomans Off Unemployment
11:56 AM EDT on April 29, 2020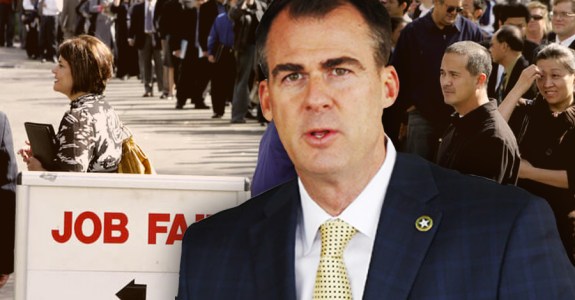 Based on the way he's bungled the native gaming dispute, dropped an egg on the state rebrand, and, in general, led from behind as a tone-deaf, semi-obstructionist when it came to dealing with the Coronavirus, it's safe to say Oklahoma Gov. Kevin Stitt has received and followed some pretty terrible advice since becoming governor.
Not surprisingly, these advisors are now pondering another bad idea – kicking Oklahomans off pandemic-related unemployment benefits.
Yep, that's right! In a meeting first reported by Dylan Goforth with The Frontier, The Governor's Council for Workforce and Economic Development recently discussed all the fun, silly ways they could prevent Oklahomans from collecting federal unemployment benefits, and force them into low-paying jobs in the private sector.
It's a short-sighted, ill-advised and generally idiotic thing to do  — and something that a "businessman" like Kevin Stitt would likely consider.
Via The Frontier:
As the state begins to open up its economy next month, it could look to cancel the federal $600 per week unemployment stimulus payments to force Oklahomans back to work.

Those payments are part of Congress' $2.2 trillion dollar CARES relief package that helps address the economic ravaging by the coronavirus pandemic. The $600 payments do not replace existing state benefits, but rather stack on top.

Discussion about asking the federal government to cancel those payments took place on Friday during the Governor's Council for Workforce and Economic Development meeting. As those in the meeting, which took place electronically on Zoom, were discussing getting people back to work in May, Don Morris, the executive director of Workforce Development, mentioned the "disincentive effect" that the $600 federal unemployment stimulus may have.
Yep, that's right! Someone in Stitt's administration talked about the "disincentive effect" of getting people back to work during the pandemic, and they weren't referring to the threat and fear of a virus that his killed more Americans than the Vietnam War. Sadly, that's not surprising at all.
Here's more:
Teresa Keller, the deputy director at the Oklahoma Employment Security Commission, said one option would be to ask the federal government to stop those payments to Oklahoma.

"We can request with 30 days notice that those be terminated for Oklahoma," she said, noting that she "didn't know" if that was a tact Oklahoma "would want to do."

Unless otherwise stopped, the $600 weekly federal unemployment payments will continue until July 31, she said.
Wow. Even by backwards, draconian, Oklahoma policy standards, that's pretty brutal. I'm sure Stitt would love making that phone call to the White House.
"Hi, Mr President. This is Kevin Stitt, Governor of the Great State of Oklahoma. I'd like to formally request that you stop issuing federal unemployment payments to Oklahomans. Sure, these payments are helping prop up our failing economy during these perilous times, but I would rather force Oklahomans back into lower paying jobs that help enrich their employers,"
"I like the way you think, Kevin! Tremendous idea. Anything else?!"
"We'd also like to order some Clorox, Fantastic and 409 to give to our Covid-19 patients and first responders in Oklahoma hospitals. The Chloroquine stuff you suggested we buy hasn't worked like it should."
Here's more from the article:
Chad Mariska, the president and CEO of APS FireCo, had asked during the meeting if there was no way to reduce the federal unemployment numbers, could Oklahoma quickly reduce its unemployment benefits in order to spur people back to work.

"It would seem like the federal (unemployment payment) is fixed, but is there a way to move the fix so it doesn't create a disincentive to work?" he asked. "It seems like we're going to have a stick here pretty soon to say you must come back to work, but it would be nice to get rid of the carrot maybe as well."
Granted, I'm not the esteemed CEO of a fire prevention company that's looking for ways to force Oklahomans back to work as a contagious virus threatens their livelihood, but I'm not sure I understand that analogy. That makes as much sense as Homeland's old "Where the Carrots Are" marketing campaign.
Keller replied that states were not allowed to reduce their unemployment benefit wage amount, but that the federal money could be halted. She also said that employers need to contact the OESC so unemployment payments can be pulled from someone who doesn't want to work because they're making more on unemployment.

"If there's a claimant who says 'You know, I can make more at home drawing this extra $600 and some other benefits,' then if the employer will contact us, that is considered a refusal of suitable work and we will cut off their benefits," Keller said.

"I know that's been a concern. When I first saw (how much unemployed Oklahomans were making) I thought jeez, some of these claimants will be making more money on unemployment than they did while they were working," Keller said. "So if you hear from any employers that 'Gee, I can't get these people to come back to work,' then they need to let us know."
I have an idea. Maybe instead of devising ways to kick people off unemployment, employers can pay a fair wage and provide an real incentive to return to work. Obviously someone spoke up in the meeting and said that, right?
"That's the best news I've heard all day," replied Sean Kouplen, Oklahoma's Secretary of Commerce and Workforce Development. "That has been super concerning to me and I'm so glad to hear that … I've got companies (saying) we're trying to hire people back and they're saying 'Nope, we're good, we're making plenty of money on the unemployment piece.'"
Okay, maybe not.
Anyway, you can read the full report over at The Frontier. Also, if you're currently on unemployment, and your employer is demanding you return to work for less than you get in federal unemployment benefits, shoot us an email. We'd love to highlight some of these pro-business, pro-people companies!
Stay in touch
Sign up for our free newsletter