Everything Else
The Netflix "Tiger King" Drinking Game
8:13 AM EDT on March 27, 2020
So far, the big streaming hit of the Coronavirus pandemic has been "Tiger King: Murder, Mayhem and Madness." It follows the rise and fall of one Oklahoma's most unusual celebrities – Joe Exotic – and the bizarro, truth-is-stranger-than-fiction reality of the big cat underworld.
For many Oklahomans, the show's been a weird watch. Joe Exotic has lived in our backyard for years, and we kind of got used to his weird antics and eccentric behavior. We started writing about him on this website in 2013, after an Ogle Mole turned me on to his bizarre website. It's when Joe was making his transition from aspiring live-performing magician to an aspiring reality star who just happens to run a tiger zoo and star in country music videos. We then proceeded to cover, document and lampoon his turbulent personal life, political career and tragic fall. And it all took place in a short span of about four years.
As longtime members of the Joe Exotic Tiger beat, Lucas and I thought it would be fun to create a drinking game to play with your friends on FaceTime while social distancing...or in a hopefully real and normal life down the road, as you get together to watch and re-watch this amazing show again.
Here are the Joe Exotic Drinking Game rules: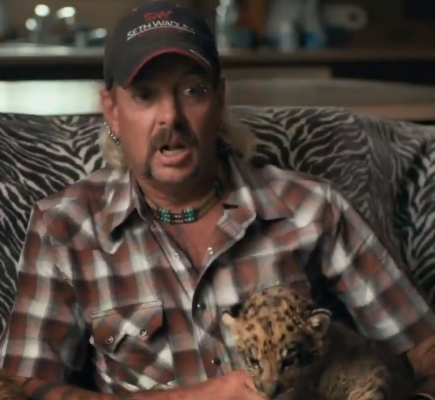 Pregame: Pick the Tiger King. 
If playing in person, draw numbers to see who starts the game as The Tiger King. This person must wear a Seth Wadley Ford hat and take a drink every time a tiger cub appears on the screen. If no one has a Seth Wadley Ford hat, a cowboy hat will suffice. This player assumes the role of Tiger King until they reach five drinks or Doc Antle appears on the screen riding an elephant. At that point, they get to pick someone new to be the Tiger King.
You can also choose a Carol Baskin. This person has to wear a leopard print shawl and chug a beer every time someone says, "That Bitch Down in Florida."
Once the Tiger King is chosen, the following rules apply to all players:
-
Everyone Take One Drink When You See:
Joe Exotic Shooting A Gun  |  A Human Missing Either Limbs Or Premolars  | A Person Or Place You Actually Know  |  Chimpanzees  |  Stonewashed Denim  |   Bullet-hole Tattoos  |  Jeff Lowe Lie  |  Condoms (New or Used)  |  A Young Tiger Jump On Someone's Lap
-
Everyone Take Two Drinks When You See:
A Tiger Attack A Zookeeper, Child Or News Reporter  |  Drone Views Of Wynnewood  |  Expired Meats  |  Liger  |  A Mug Shot |  Kelly Ogle  |  A Convicted Felon  |  Wild Birds  |  A Lawsuit Is Introduced  | A Wedding
-
The Tiger King Can Make Any Player Take A Drink When They See:
Joe Exotic Music Video Or Performance  |  Celebrity/Famous Person Petting A Cub  |  An Explosion Or Fire  |  Joe Exotic Injured  |  Netflix Asks "Are you still watching this?'
-
Everyone Must Take A Drink When They First Realize:
- Tiger Zoo owners are WAF.
- Carol Baskin probably killed her first husband.
- Joe Exotic was set-up, but still probably guilty.
-
Anyway, that's our quick and easy Tiger King Drinking Game. For the love of god, please don't drink too much.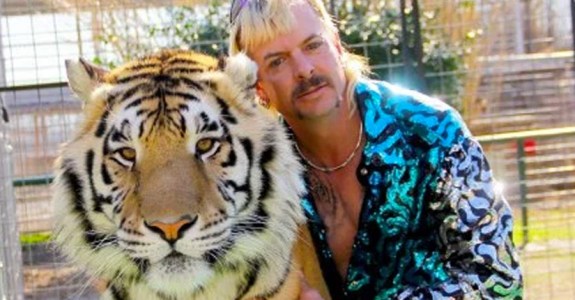 Stay in touch
Sign up for our free newsletter