ICYMI
Mike and Marla Morgan invited us to have drinks with them and Steve Lackmeyer at Junior's…
12:31 PM EDT on May 31, 2019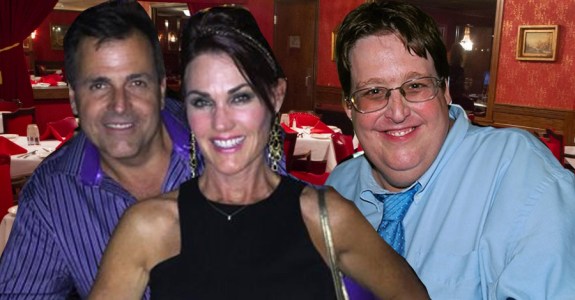 If you're anything like me – and let's hope you're not – this has been one "blah" of a week. I don't know if it's the Memorial holiday hangover, PTSD from all the severe weather drama, or if I'm simply the latest victim of the WHO's trendiest new recognized disease, but I just haven't been motivated to work this week. I guess that's one of the pros of not having boss and owning your own business.
As a result, an article Hayley and I have been working that recaps all the memorable and signature moments from the nightmarish weather hell we've been living through will have to wait until Monday. You don't expect me to waste an article that clickable and juicy on a Friday, do you?
Instead, let's focus on an item that may make that list: Mike Morgan invited me to go to dinner with him, Marla and Steve Lackmeyer at Junior's.
If that won't snap you out of a post-holiday hangover, I don't know what will.
Naturally, the whole thing played out in the OKC Twitter Echo Chamber. I guess the drama got started when Sensitive Steve blocked a Mike Morgan fan girl on Twitter. She bragged about it to Mike, and...
Who buys someone three cigars? I can see one, or if you plan on smoking with the individual, two, but who brings three unless you're going to have a...
You know what, nevermind.
Anyway, Sensitive Steve – a dramatic man who just blocked someone on Twitter – took exception to use of the word "Drama."
Wow. Mike Morgan just gave Gary England a compliment. Considering Gary and David Payne are salty with each other, this could be an "enemy of my enemy is my enemy" type of thing. Then again, Marla wants to blow bubbles in David Payne's pool so who knows...
David's now deleted reply was "I don't know about bubbles, but..." Actually, he didn't tweet that, because it would have been funny. Either way,  we know know why it looks like David is always fiddling with his keys while showrunning News 9's severe weather coverage.
Anyway, I got off track. Steve replied to Mike's reply with a long rambling Lackthread: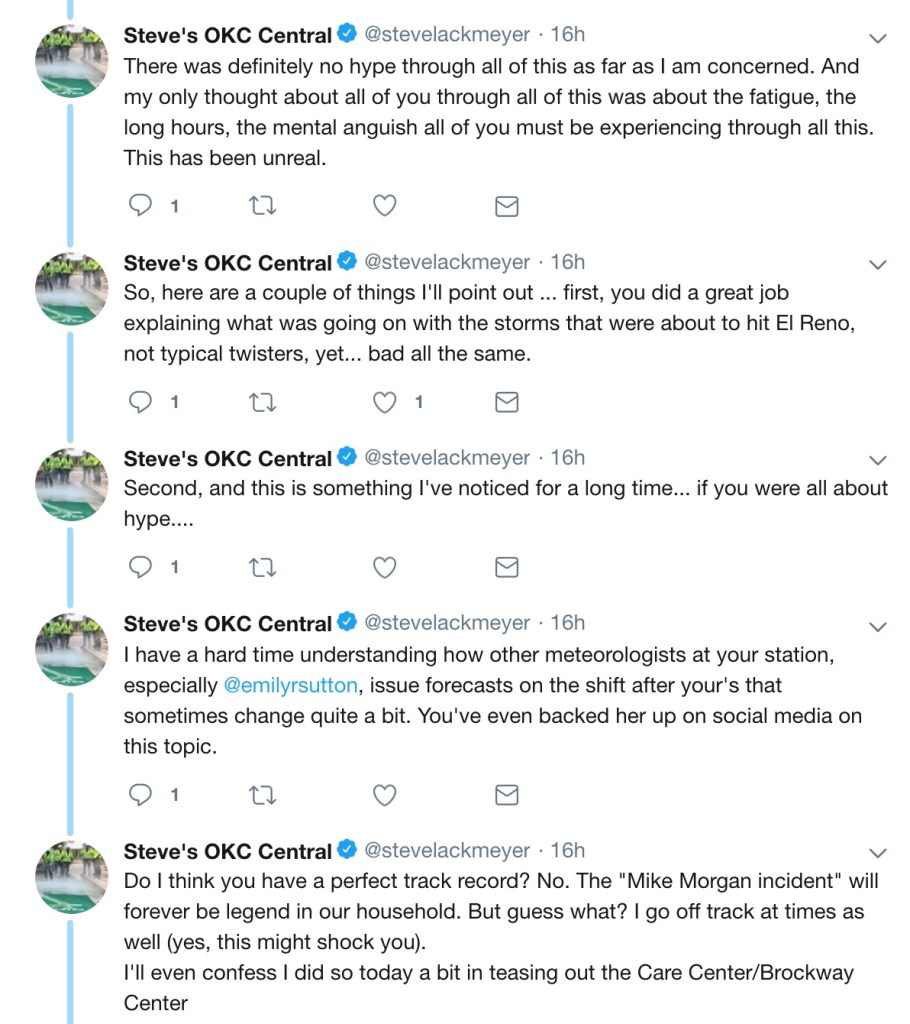 Imagine being a child in the Lackmeyer household and having to hear Steve tell the legend of the Mike Morgan incident...
"It's was a hot, humid day. As people across the metro began their rush hour commute, large powerful storms developed in Canadian County – rising high in the sky like the historic First National Center, and glistening like the shiny marble floor in its great hall. The storms then began taking a slow and steady path across Canadian County like the Streetcar on Opening Night, stopping for no one, not even Hobbie's Hoagies. Then, the storm suddenly turned south like the once thriving newspaper industry...
Okay, I better stop before I put myself to sleep.
While Steve and Mike were taking turns jerking each other off in a Twitter thread, they brought us in. It kind of felt like being the last person invited to a gang bang...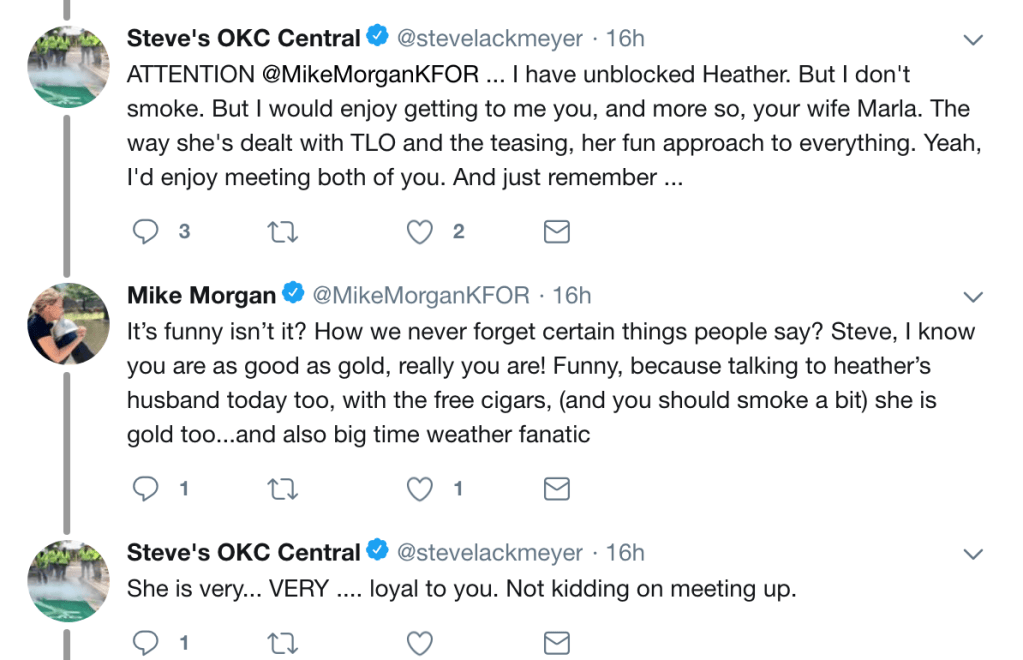 I wouldn't say we tease Marla Morgan. Hell, we didn't know who she was until Mike Morgan started emailing us pictures of her, which then morphed into Marla sending us unsolicited pics every couple of months or so.
Either way, Mike and Marla demand my presence for this awkward Lackdate.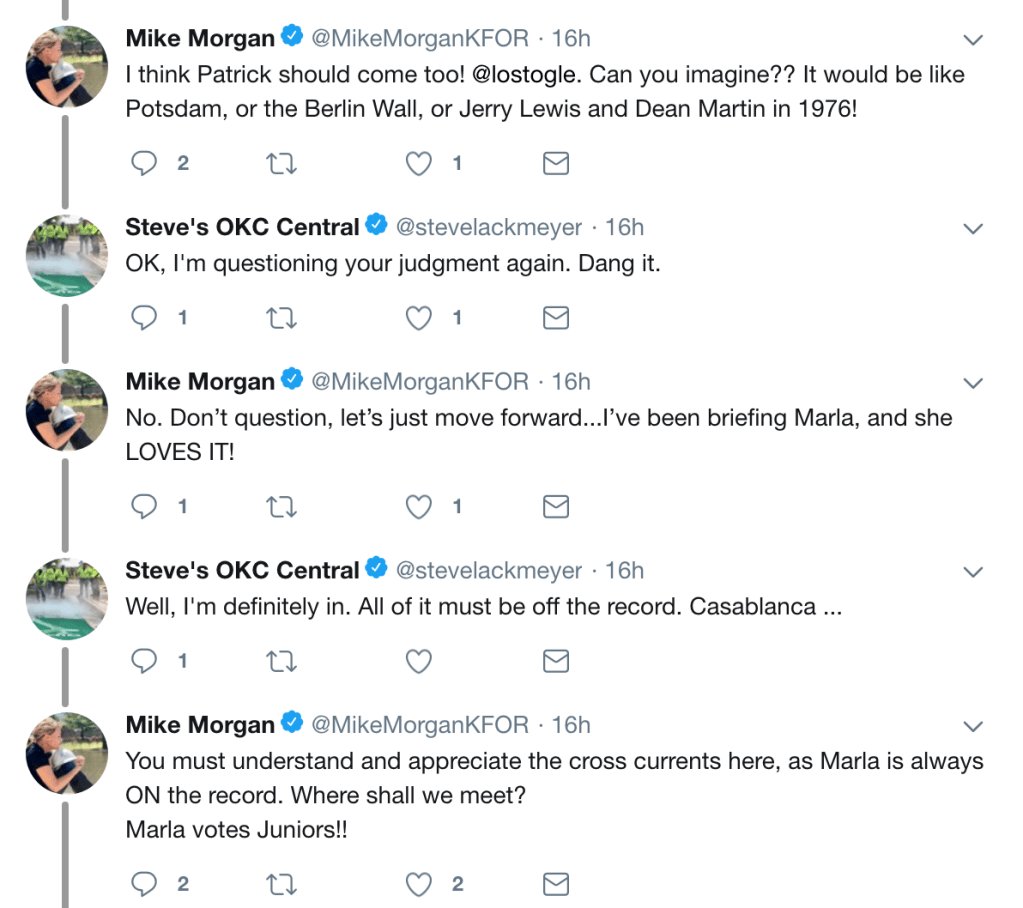 Have you ever made plans with a boring friend and then invited another friend to come along to keep things fun and lively? I think that's what Mike or Marla were doing here. Listening to Steve Lackmeyer talk about the history of the old Belle Isle Power Plant while he sips on a Shirley Temple and eats a Caesar salad sounds kind of boring.
After some loser tried to butt his way into our group date, Mike got a bit aggressive: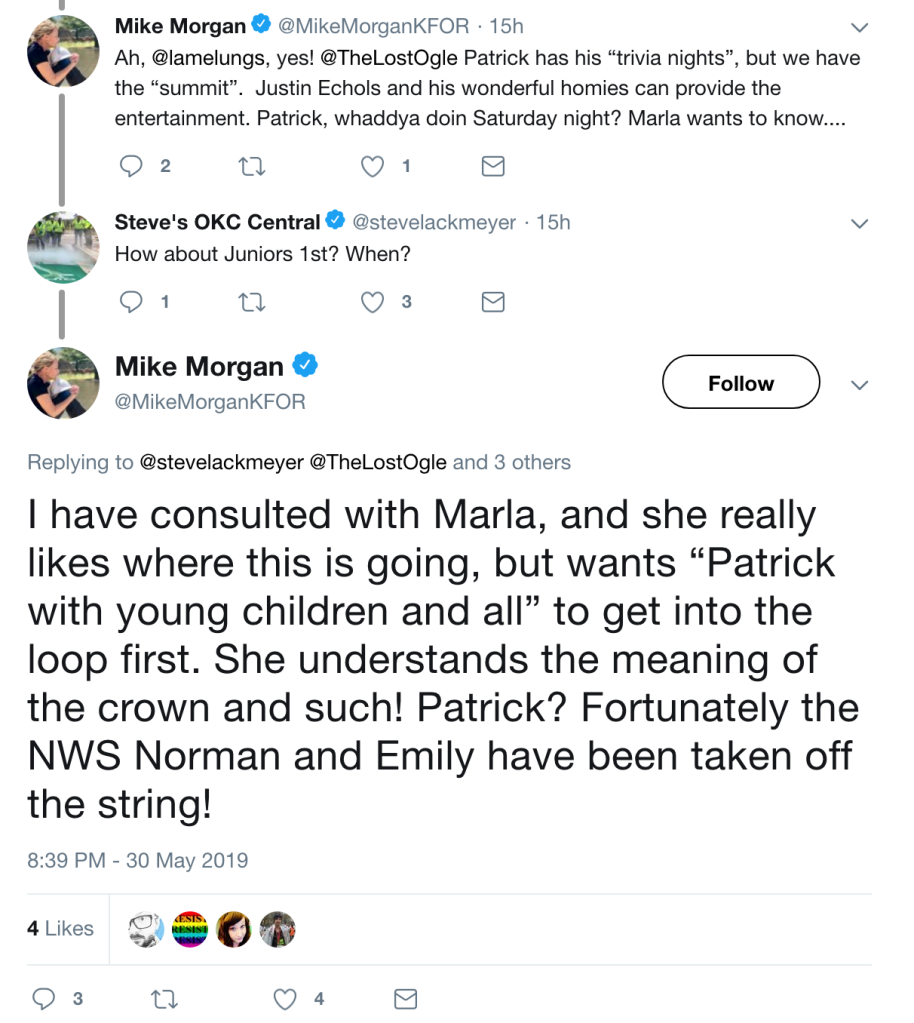 If I ever go missing, will some Mole please check in and around Mike and Marla's compound? Especially in the basement. I've heard that's where Mike keeps his special toy trains.
Seriously, though, should I be concerned? They've already tried to lure me to the Morgan compound once by sending me photos of Joleen Chaney riding through wooden fields on horseback. Now they're trying to get me to sit in a cushy red booth and drink and smoke while they talk about Billy Joel classics with Steve Lackmeyer. Do they have no clue what they're doing? They should be enticing me with better options – like eating Mexican food with Emily Sutton at San Marcos.
Stay in touch
Sign up for our free newsletter