Food
Yes, Sonic has a Pickle Juice Slush.
7:23 AM EDT on September 5, 2018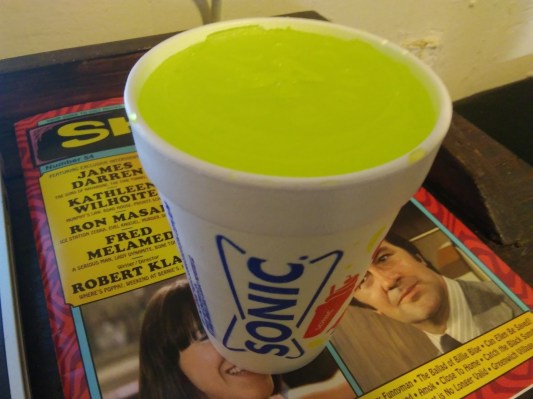 Since leaving the hospital after my big to-do, the way some people lose their sex drive, well, I've lost my food drive. Being on a liquid diet for so long, you pretty much learn to stop eating, ingesting nothing but nourishing liquids and delicious air. It's a great-ish way to live.
But, if my mother, friends and, most especially, doctors are to be believed, I have to eat again and soon, if only to receive those precious vitamins and minerals to, you know, help keep me not only strong, but alive as well. So usually, during the day I'll eat maybe a protein bar and Healthy Choice Steamer Bowl in-between doing my physical therapy and medical appointments.
Which leads me to my food reviews here on the Lost Ogle: once a week, I allow myself to actually leave the house, go to an interesting restaurant and order some food to write about and hopefully it's entertaining. I'll take a few pictures, have a few bites to get a "journalistic feel" and then, if it's edible, take the grub home. Once there, I'll eventually eat the rest of it over a two or three-day period, all the while saving me a few bucks on groceries – that precious green going to things like Shiley inner cannulas and other fraught medical necessities.
However, while I might not be all that hungry, for some odd reason I am, constantly and consistently, always thirsty. Be it water, diet soda, juice, unsweetened tea, skim milk or kombucha, you can typically catch slowly sipping something—thanks, trach!—at most times in my current life. It's how I do now and we've just got to accept it.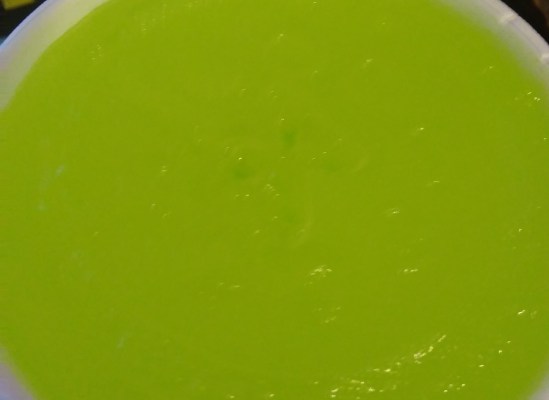 It's a refreshing topic which segues me on to talk about Oklahoma's favorite son Sonic and what that beautiful bastard came up with while I was in the hospital: the Sonic Pickle Juice Slush. Sure, I've heard rumblings of others who attempted something like this before, but have never actually seen one. But this pure dilly-dilly of a drink was touted as Sonic's go-to drank of the summer and I just had to religiously try it.
After physical therapy this past Wednesday, I stopped by the Sonic at N.W. 23rd and Penn and got a small Pickle Juice Slush, half-price because it was happy hour. Waiting until I got home to slurp that fermented cucumber extract, as I got comfortable in my refuse-rescued office chair, I slipped my straw into the lid lasciviously and took a deep swig. Without fail, I was able to swallow a little while the rest was run-off down the sides of my mouth, my loser tastebuds effectively rejecting the wonderfully putrid liquid.
A pickle is fine sometimes as a snack, but this drink is for the ultra-hardcore, uber-serious pickle lovers of the world. Not the basic serial snacker, oh no…I'm talking about those big and sexy tough Latino chicks in high school that usually drink straight from the Van Holton's Big Papa Pickle bag with a side-helping of Flaming Hot Cheet-Os for breakfast during first period. Every homeroom had one, don't pretend like you can't remember.
So for me, as far as this Sonic Pickle Juice Slush goes, even though I took a couple of sips to make sure I wasn't no punk, it's just not for me, because I am a punk. Too salty, too sour and just too darn pickled. I dumped it in the sink, allowing the small fruit-flies to feast on it for a few minutes before the scent of brine became too much, upon which I washed and scrubbed the sink thoroughly.
So unless it's some (probably) great concoction like Sonic's Candy Corn Sour Cherry Mash Autumn Slush or something along those lines, I'll just stick to my large Diet Cherry Slush, thank you very much. But, if there are any of those badass Latinas out there who are older but no less tougher, look me up and I'll buy you all the Sonic Pickle Juice Slushes you can handle. I'm a ride or die bitch.
_
Follow Louis on Twitter at @LouisFowler and Instagram at @louisfowler78.
Stay in touch
Sign up for our free newsletter