Everything Else
Local media goes gaga over Donkey Milk…
1:37 PM EDT on August 21, 2018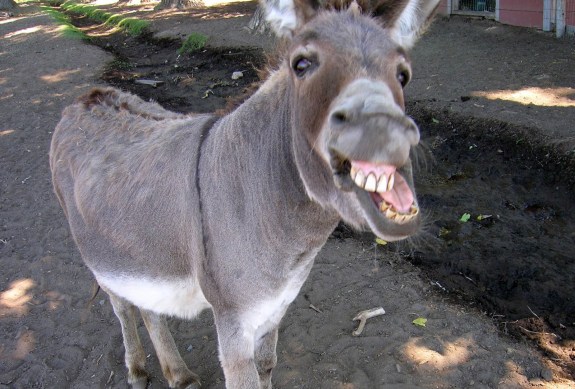 Calling all jackasses and hypochondriacs! There's a new miracle cure for whatever troublesome ailment bothers you!
Over the past few months, a lot of free media coverage has been given to Dulce de Donké. The owners – Walt and Saundra Traywick – claim donkey milk helped cure their daughter of a rare autoimmune disease. As a result, the Traywicks now own a donkey farm and sell a complete line of milks, soaps, moisturizers and creams. They even have a donkey milk relief fund, where you can donate a gallon of donkey milk to a sick child.
The Traywick's story has been covered by KJRH, News on 6, News 9 and KOKH. It has even received local newspaper press, like this story in the Guthrie News Leader.
Made in Oklahoma: Dulce de Donké offers health products through unusual commodityDonkey milk may be an uncommon drink for most people, but for Walt and Saundra Traywick, it is the answer to their prayers.In 2014, their 6-year-old daughter became sick with a common case of strep throat, which caused an autoimmune disease that attacked her brain.The doctors said the only options were hospitalization for immunoglobulin treatments via an IV or antibiotics every day for the next 12 years. Luckily, the family discovered donkey milk, which helped heal their daughter, and surprisingly, turned into a family business, Dulce de Donké.
Before we continue, I just want to clarify that I'm not questioning the Traywick's very anecdotal, uncontrolled, and isolated claims about donkey milk helping their kid. As medical marijuana has taught us, natural products can be the best cures for difficult to treat medical conditions... especially if they also get you high.
Using donkey milk for skin care is known for its anti-aging abilities and can heal eczema and psoriasis, Traywick said. Dulce de Donké offers organic donkey milk soap, all-natural and aluminum-free deodorant, moisturizer, and a leave-in organic conditioning balm.Traywick said consuming donkey milk helps kids who can't drink cow or soy milk, and it helps with other ailments like her daughter faced. It has also been prescribed to help everything from asthma to cancer, and although it is rarely used in the U.S., it is very common in other countries, she said.
That's right. Blow out the inhaler, cancel your chemo and toss that old can of Blue Stuff in the trash! Donkey milk is the all-natural, cure-call cure for whatever ails you. Get it today at your local farmers' market.
While most of the local media was out repeating unchecked PR spin and jackass marketing claims as legitimate news, The Oklahoman actually looked deeper into the milk.
Via NewsOK.com:
A taxpayer-funded program to promote Oklahoma agriculture publicized claims crediting donkey milk with nearly magical healing powers.Even stranger, the claims came through a relatively routine email promoting locally made soaps and skin-care products.The Made in Oklahoma program, under the Oklahoma Department of Agriculture, Food and Forestry, sends reporters and other interested people periodic feel-good features about agriculture businesses in the state. On Tuesday, it sent a profile of Dulce de Donke, a business that sells personal care products made with milk from a Luther couple's small donkey herd. So far, so normal.Things veered into questionable territory, however, when the profile shared Saundra Traywick's belief that donkey milk had "helped heal" her daughter from PANDAS syndrome — pediatric autoimmune neuropsychiatric disorders associated with streptococcus infections. She also said in the profile that donkey milk "has been prescribed to help everything from asthma to cancer" in other countries.No evidence exists that donkey milk can treat PANDAS, asthma, cancer, or any other condition.
Wow. The Oklahoma government is helping spread false claims that donkey milk can cure cancer??? Sadly, that seems about right. If one state is going to promote something like that, it's probably us. Hell, I'm surprised Mary Fallin hasn't already issued guidelines that all Oklahoma public school students under the age of 10 must take a dose of donkey milk each morning along with their apple cider vinegar and colloidal silver.
Here's more:
Julie Sears, the Made in Oklahoma program coordinator, said the program was only promoting a member company's soaps, deodorants, moisturizers and hair conditioners.
"The statements that were made regarding the health benefits of the consumption of donkey milk were made by Ms. Traywick, the owner of Dulce de Donke, not the OK Dept of Agriculture, Food & Forestry," she said in a written statement.

When contacted by a reporter, Traywick said she couldn't give medical advice, because she isn't a doctor, but has heard anecdotal reports from people who claim it strengthened their muscles, treated sinus infections, or saved them from mysterious illnesses.
Yep, the lady who appeared on News 9, News on 6, KOKH 25 and KJRH 2 telling people about the medical virtues of donkey milk suddenly can't give medical advice. For that, I guess you need to go to the Dulce de Donké website.
Stay in touch
Sign up for our free newsletter