Food
TLO Restaurant Review: The Miller Grill
8:50 AM EDT on April 10, 2018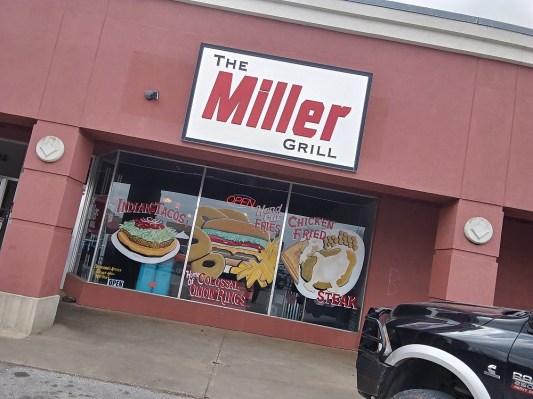 Living in a state that wears its pulse-pounding corpulence like a triple-XL badge of honor, many times it seems as though starving Okies will often end up choosing quantity over quality and, in these trying times, who can really blame them?
Like the chubbiest of cherubs sent from heaven, Yukon's Miller Grill has heard your bloated pleas and is making a name for themselves as one of the very few local places that loudly and proudly caters to the underwhelmed and overweight majority that wants their frybread and to eat it too, quite literally, by emphasizing a gourmet know-how that members of the clean-plate club rarely get to experience, let alone at a reasonable enough price.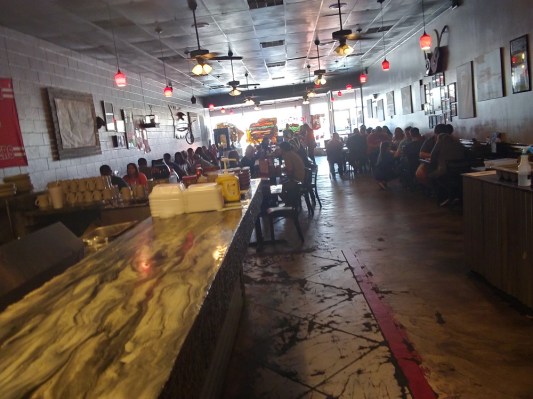 Typically packed for breakfast with orders bleeding over until lunch, it seems as though most of Yukon congregates to take advantage of the Grill's over-the-plate stacks of pancakes, the log-sized breakfast burritos or, as I would come to learn, the much-loved Chicken and Jalapeno Waffles ($8.99).
Bridging the gap between breakfast and lunch, the Millers behind the Grill wantonly and without regard deep-fry four thick-cut and freshly-battered chicken strips right in front of patrons while simultaneously prepping these Ultimate Frisbee-thick waffles that are just decadently infused with fresh jalapenos in every single bite. Once plated, a liberal amount of powdered sugar is sifted on top of the entire thing, to great effect.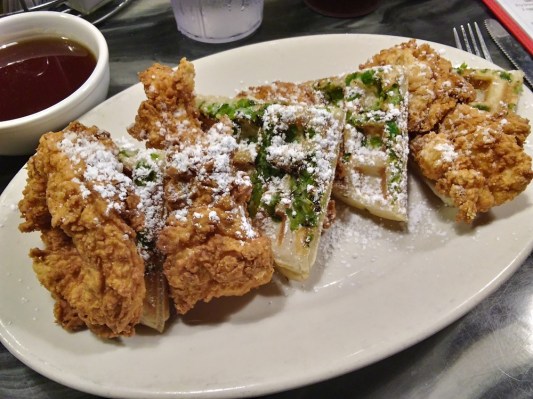 The results are confoundingly extreme, with each crunch of the plump chicken and munch of the fluffy waffles a well-seasoned and even sweetly memorable trip to grandma's kitchen, only to see that memory immolated in a ball of flame once the welcomed intensity of the fresh and locally sourced jalapenos kick in, and yes, they will kick in, ese.
It's a taste sensation that is worth the wait and, by the way, you will wait.
I think it's only fair to warn you that there is no such thing as "fast food" at the Miller Grill. If you plan on visiting, maybe think about bringing a book. Everything is made-to-order with foodstuffs that are as fresh as possible, most of which comes from right here in Oklahoma. You can sit at the bar and watch them make it all if you like, kinda like a greasy-spoon take on a Benihana, with the surrounding clutch of waitresses providing a running ribald commentary the whole time.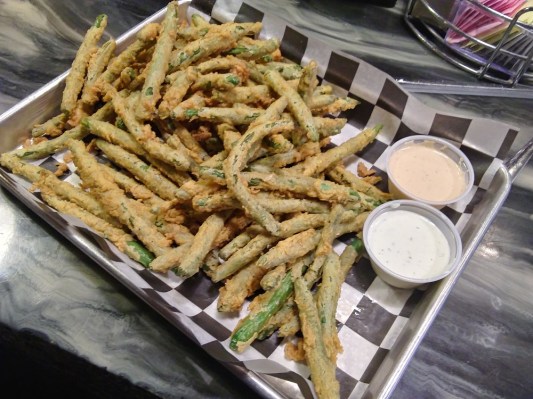 Thankfully, I had the foresight to order an appetizer to snack on during the interim between breakfast and lunch in their surprising hearty take on Fresh Fried Green Beans ($6.49), an absolute embarrassment of riches made up of hand-breaded, farm-to-table green beans, obviously deep-fried and delivered on a silver platter with two dipping sauces. Of course, ranch is one of them and, of course, it's the first to go.
Shoving those crisp green straws of nature's golden-covered goodness in my mouth thoughtfully gave me a lot of time to mentally prepare myself for the main reason why I even visited the Miller Grill to begin with: their much-ballyhooed large Indian Taco ($11.99).
As we all know (and as most of us are), I am highly critical and fiercely protective of this Indigenous artform, with a particular emphasis on the perfection of the frybread when served to the masses. Native or not, living in Oklahoma has trained many of us to just know how to tell the difference between a land-grabbing State Fair-style shameful sham and the real thing, baby.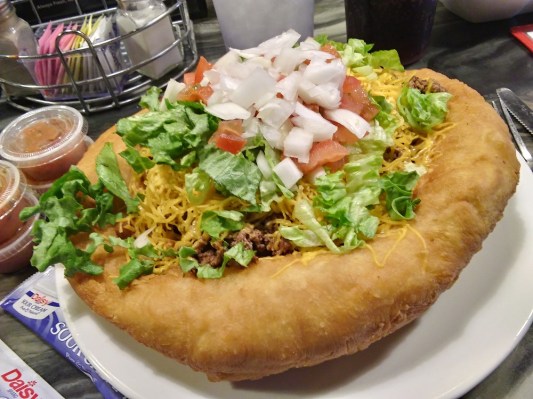 I gotta say…utilizing a strictly adhered-to family frybread recipe, the Miller Grill does our people right and then some, delivering a piece of frybread so huge and so tasty I'm willing to almost count it as reparations. Almost.
Enormous in size and even more so in its absolute deliciousness, the pillow-thick frybread manages to be studiously crispy on the outside with a beautiful golden hue, while the fluffy, rich consistency inside makes a picture-perfect bed for the spicy ground beef, ranch-style beans and a liberal dosage of toppings including lettuce, onions and tomatoes piled high like an ancient mound ready for worship.
As much as I tried, however, I could only get about one-third the way into this beast before I had to ask them to wrap it up. There's got to be at least three leftover meals here; I couldn't even begin to think about taking on their much-maligned and virtually unbeatable Indian Taco Food Challenge featuring a 13-pound monstrosity that I know, just by greedily stuffing it breathlessly in my mouth, would cause my ever watchful ancestors to cover their eyes and shake their heads in portly disapproval.
That being said though, everything else is fair game…just make sure to get there early. Cómpralo ya!
_
Follow Louis on Twitter at @LouisFowler and Instagram at @louisfowler78.
Stay in touch
Sign up for our free newsletter