Everything Else
Fast-paced world of Mini Ha Ha Bingo is nothing to laugh at…
9:15 AM EST on March 8, 2018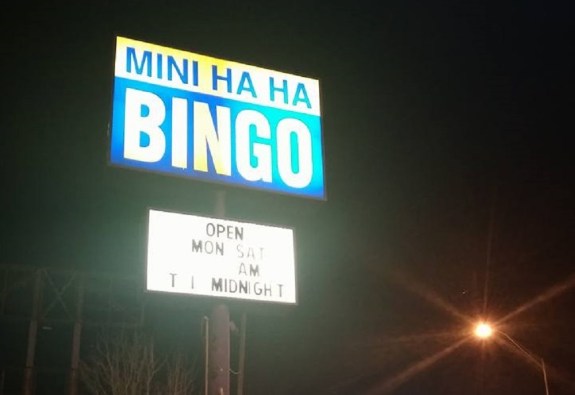 When desperate times call for desperate measures in Oklahoma, especially in today's fragile economy, you've got one of two choices to keep the lights on: crime or gambling.
Having recently lost one of my bill-paying gigs and already living under very tenuous economic circumstances, instead of reaching for that .45 like a modern-day Dillinger, I instead reached for my smokin' hot pair of pink and purple daubers and finally returned to the life I thought I had given up years ago…the life of a Saturday night bingo player.
While many young urban professionals might play a few rounds of bar trivia for a fun Monday night excursion, the God-fearing fringes of humanity that line the well-worn folding tables of every makeshift bingo hall from here to the panhandle ain't some fair-weather fans looking for mild happy hour amusements; these are highly-trained professionals who treat this game of chance with all the dignity and professionalism of a second job and you best not get in their way.
When entering the fortified steel building that is Mini Ha Ha Bingo, 5401 S. I-35 Service Rd., the welcoming impenetrable wall of cigarette smoke might turn a weaker lot away, but what my pulmonologist don't know hurt him, right? Take a step inside and breathe deep the nicotine-riddled atmosphere of tense awareness and nervous concentration as a preamble to the gamble, for these are solitary players of all races, sexes and weight classes, jumbo daubers at the ready, intent on only one thing: winning.
You're on their turf now.
Finding an empty seat at one of the tables near the announcer's podium, there's no time to figure out what is going on and no one to really ask. Keep those questions to yourself, hoss. Girls in Mini Ha Ha t-shirts walk the tables in figure-eight formations, quickly selling sheets for the next game, usually with barely a minute of breathing room in between the rapid-fire shot-calling. You need to be ready and on the draw or you may as well stay home. Get in or get out.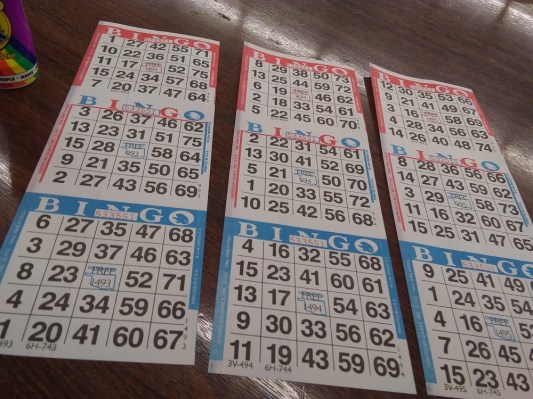 The much older woman sitting a couple of chairs down from me intensely sipped from an extra-large Red Bull and judiciously played close to 18 games of "double-layer" bingo at once, all with a speed and agility that would put even the most highly-trained Olympians to shame. As she moves with the reflexes of a hungry jaguar, there I am, huffing and puffing like a Goddamned rookie as I try to keep up with, at the most, three games.
Three. Measly. Games.
The announcer lines up those specially marked balls at a pace that is nearly impossible to keep up with. I'm rusty. Beyond rusty. I'm corroded. Everytime, just as I almost catch up, a muffled voice from the back of the hall calls out "Bingo!," winning some 900 or so dollars. But there no sighs of animosity; we're all here with the same goal.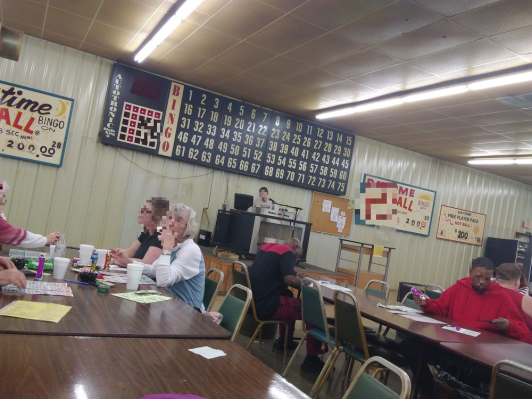 With each game, the stacks of dollar bills start to dry up and over the course of an hour, the bingo hall gets emptier. The announcer keeps reminding the staid few survivors that there's a "big money" game coming up, but I guess one can only take so much nervous adrenaline on the wallet before you have to knowingly cut yourself off, unwilling to end up in a deeper grave of debt than when you walked in.
After laying down about ten or fifteen bucks worth of games myself, I finally hit my own spending wall on the U-Pik-Ems, a deceptively hope-inducing specialty that allows you, the player, to pick your own lucky numbers and then write them in on the specially selected boxes, not unlike choosing lottery numbers but with far more instant gratification. Or decimation. Take your pick.
As he called out the numbers, I was daubing them left and right, up and down. The deceptive feeling of confidence sat in and for a moment, a very brief moment, I thought I had it. Free space marked, he called out… B-7. O-73.  I-25. C'mon G-50…I was already spending that cash in my head…
G-49! (Dammit!) G-52! (Dammit!) G…Fifty……One!
G-51. Not my number, but it was a job well done for some dude in the back. Defeated for one more night, the sounds of shuffling chairs being tepidly discarded as tonight's losers made the long trudge to the parking lot mingled with the feedback of announcers changing hands and announcing the next set of games and winnings that would take the remaining few to midnight, the abrasive fatigue barely noticed by a select group of long-timers as they lit up Carnival Lights two-by-two, dauber ready to go and to Hell with you for making them even wait that long.
I finally remembered why I quit all those years ago.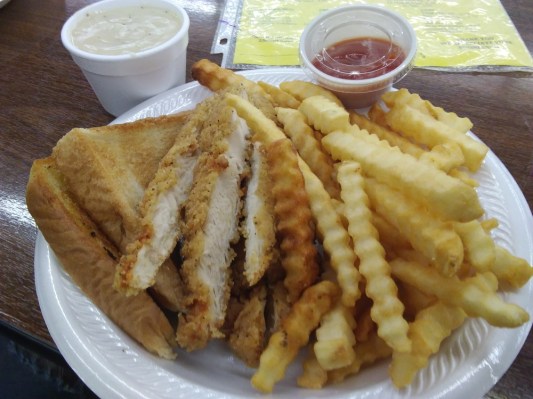 But I also knew when to stop. You have to. And even though I capped myself at a miserly twenty bucks, I wasn't ready to leave all this fun just yet. Oh no, sir. While some might drown their sorrows in a shot or two of cheap whiskey, I instead imbibed on an even cheaper chicken strip dinner ($4.00) from the Mini Ha Ha snack bar; a chicken fried chicken patty seemingly cut into strips, fully-loaded with white cream gravy, crinkle-cut fries and hot buttered toast.
With a crunchy breading and a moist musculature, when paired with the decidedly rich cream gravy, I can easily say it was the finest chicken fried chicken strips I have ever had at a bingo hall and, without any irony, I've had my fair share of them. As I sat there, taking my time, with each bite I felt more and more like a winner, if only for a few more minutes.
Emerging from the double-doors and back into the freshly chilled night air, I became instantly aware of the layer of carcinogens that had invasively covered by entire being throughout the past few hours. As the trail of second-hand smoke third-handed itself into the atmosphere as I rolled the windows down, I saw a sign that said Riverwind was offering so-and-so dollars in free play to new members.
"What could it hurt," my wallet thought as that Okie-fied neon-drenched slice of Lost Wages illuminated like a beacon to the financially desperate in the velvet distance. Free Diet Dr. Pepper, here I come. Cómpralo ya!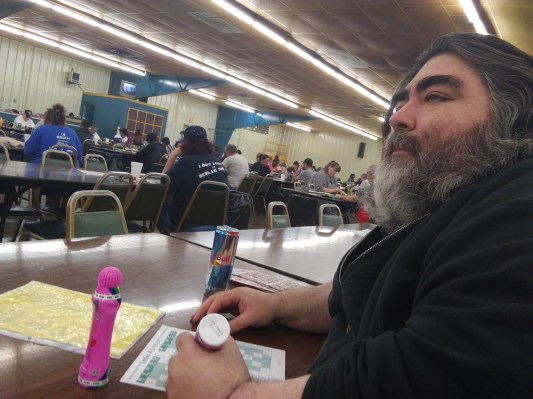 _
Long story short: I broke even. Follow Louis on Twitter at @LouisFowler.
Stay in touch
Sign up for our free newsletter