Food
TLO Restaurant Review: Cajun King
9:22 AM EST on February 20, 2018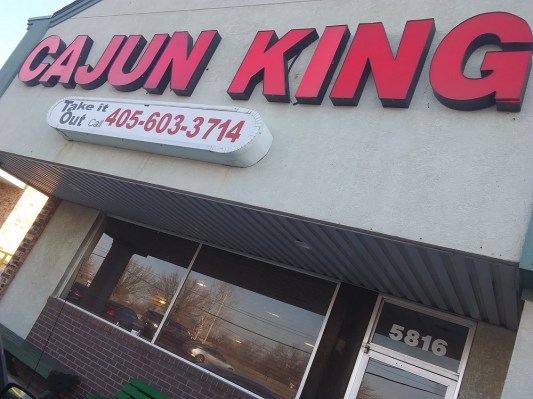 While I'm well aware that the varied many reading this here obscure local social blog are a patently irreligious and blasphemous lot, I think it's easy to assume that, conversely, there are quite a few of us out there that still do reverently fear the good Lord God Almighty and fervently respect His questionably arbitrary rules of worshipful devotion, especially with the season of Lent casting its restrictive pallor upon the diets of said flock.
Yes, for many practicing Christians, the Lenten season is a chance to reflect on our sins and stand in awe of Jesus's sacrifice, oftentimes by fasting from eating meals altogether, or, in the more popular, mostly Catholic variation, simply abstaining from meat and pounding down a couple of Filet-O-Fishes instead. You might ask how is that comparable to Christ's pain and suffering, but then I have to ask you, have you ever had the Filet-O-Fish? Ugh.
That's why when it comes to these next forty days and forty nights, from Fat Tuesday to Resurrection Sunday, it just don't get no better than the praiseworthy delectables that make up the seemingly sinful menu of Cajun King, 5816 NW 63rd St. Laissez les bon temps rouler!
A spiritually-fulfilling dining experience loaded with plenty of heaven-sent authentic Big Easy-based eats, the King's deftly inspired dishes comprise a more than acceptable fais-do-do for the appetites of any faith, but for me it's their famous all-you-can-eat gourmet fried catfish, delivered right to the table, that would make a perfect last supper for man and deity alike.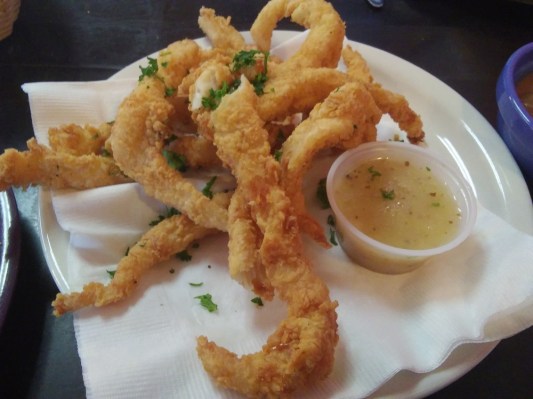 Coated in a spicy-sweet batter and golden fried, these catfish strips are blessedly tender and melt on your tongue like candy from the pocket of God himself, especially when aided with an absolvingly addictive drop or two of their special house dipping sauce, a flavorful mélange of astral tastes that you swear you can put your finger on but, to be honest, you're probably wrong. The King works in mysterious ways.
But, sadly, man cannot live on fried catfish alone and Cajun King's fully-loaded Nawlins-style buffet ($11.99) is a richly-dressed travelogue of every parish and every ward, bringing the surprisingly diverse tastes of the City of Saints to every prayerful hunger, all with a homegrown expertise and downhome respect for the handcrafted passion for seemingly each and every piece of food that goes out of the kitchen.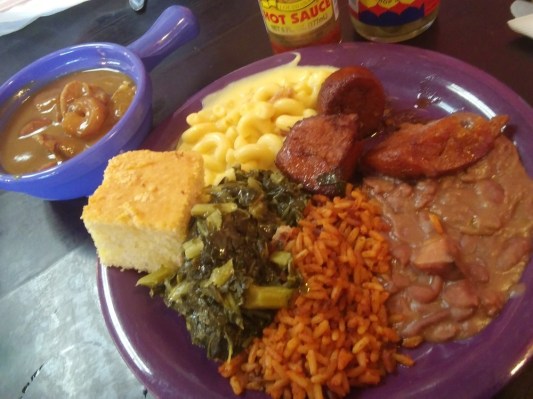 Marching in with the guaranteed goodness of traditional eats like the overflowing gumbo and stuffed etouffée, both crawfish-filled sojourns in a swamp of precisely-timed heat that might call for an extra glass of ice water, with the red beans and jambalaya not helping matters, but damned if that don't stop you from blessing them with bite after bite.
That's okay though; God's got a plan to even it out and it involves the gooey mac and cheese, tart collard greens and these carnival-sweet candied yams that are a Mardi Gras parade with a route that goes right down your gullet, tossing out metaphorical beads and catching a sweet flash or two for your welcomed troubles.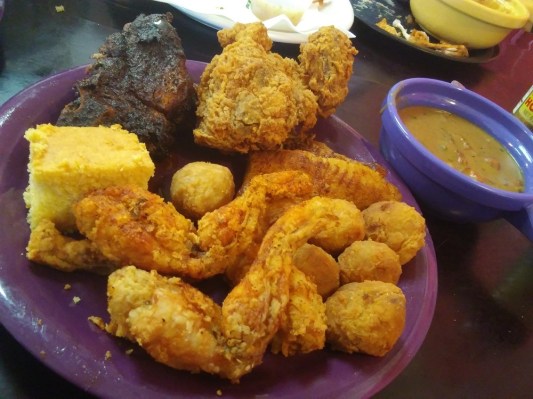 The blackened catfish is a viable alternative to the fried and, even though they're from amphibians, I think God'll forgive you if a few of them deep-fried frog-legs fall onto your plate, don't you think? Non-believers, on the other hand, will still praise the Lord with every righteous bite of those supremely charred pork-chops, Southern fried chicken and handful after handful of bite-sized boudin balls that are worth wrapping in a napkin and stuffing in your jacket to commit sins of gluttony with later.
Quicker than taking a hydrofoil to the Ponchatoula Strawberry Festival, these folks also got the desserts covered as well—the best damn desserts in Oklahoma City, that's foux shoux—betwixt the fresh-out-the-fryer beignets (small pieces of fried dough and aptly covered in a nose-candy addictive powdered sugar that's also basketed to the table) it's the utterly seraphimic bread pudding served warm and them made warmer with a liberal dose of that sickly-sweet glazing dribbled all over.
Ain't no bad juju or malevolent gris-gris here, son. No matter what edible path is chosen over these reverentially tempestuous few weeks, be it a heathen or a holy man, ask yourself why would you waste your one apostolic and holy meal on absolute garbage when you can fully adorn your plate in that of the King of Kings, both upwards and way down South. Cómpralo ya!
_
 Man, now if only I could score some nutria, 'round here. Follow Louis on Twitter at @LouisFowler.
Stay in touch
Sign up for our free newsletter