Everything Else
Good news! They're making it easier for Oklahoma Sheriffs to crack our phones!
9:16 AM EST on February 15, 2018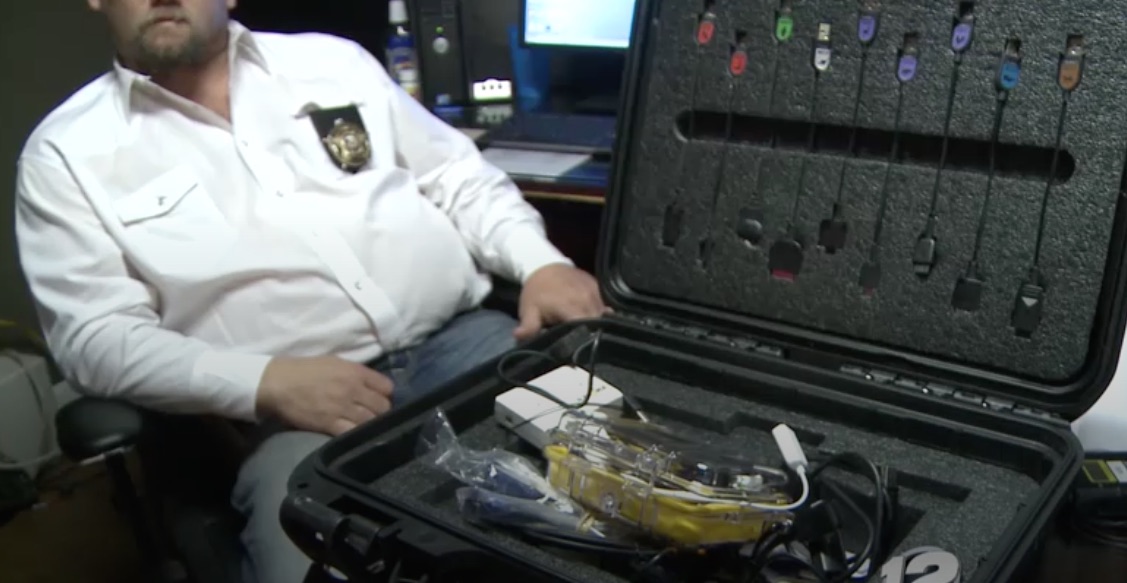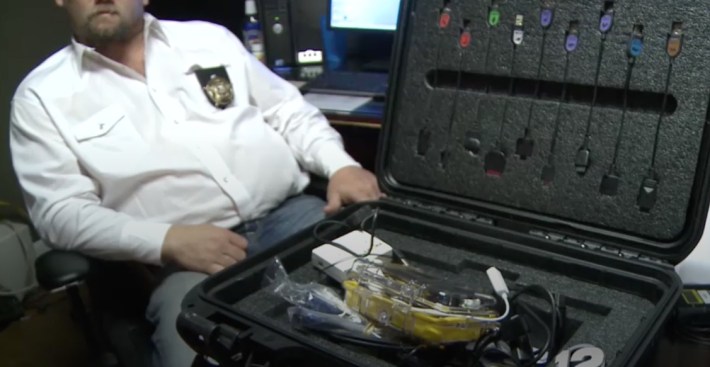 Outside of Oklahoma lawmakers, there's not a more honest, reputable and downright good-looking group of people in this state than our Oklahoma county sheriffs. The are all beacons of light shining high above the murky depths of the Oklahoma political spectrum, and therefore, we shouldn't have any issue or concern with them being able to download everything from a locked phone conveniently onto a Flash drive without even leaving the sheriff's office.
That's exactly what they can do now in Pushmataha County. Via KFOR:
Sheriff Jerry Niles and three others were charged Wednesday with felony first-degree manslaughter in the June 2016 death of Anthony Dewayne Huff, who spent more than two days in a restraint chair at Garfield County Detention Facility.

The sheriff also was charged Wednesday with two misdemeanor counts of nepotism, records show. The manslaughter charges are punishable by no less than four years in prison. Each count of nepotism is punishable by a fine of $100 to $1,000 and forfeiture of office.

District 26 District Attorney Christopher Boring, who was appointed last year to investigate Huff's death, also filed manslaughter charges against then-jail administrator Jennifer Shay Niles, jailers John Robert Markus and Shawn Caleb Galusha.
Oops! My bad. That's a story about the Garfield County Sheriff recently being charged with manslaughter and nepotism... for a second time.
Here's the story about sheriffs being able to download all you personal data while they wait for a pot of coffee to fill:
Ira Wilkins should be a free man. Wilkins has served his time in an Oklahoma prison and is clear for release. But a private court fee collections agency is keeping him behind bars.

Wilkins is the lead plaintiff in a new racketeering lawsuit against the Oklahoma Sheriffs' Association, every sheriff's department in the state, and the court fee collections firm Aberdeen Enterprizes II. When Oklahomans owe court fees, their case is assigned to Aberdeen, which charges them an additional 30 percent on top of what courts want. If they don't pay, Aberdeen requests a warrant for the debtor's arrest. It's big business for Aberdeen and the Oklahoma Sheriffs' Association, which received more than $800,000 from Aberdeen in 2015.

But while Aberdeen and the OSA strike it rich, poor Oklahomans are languishing in modern day debtors prison, the lawsuit alleges…
Damn it. I did it again. That was a snippet about a lawsuit accusing the Oklahoma Sheriffs Association of extorting  lower-income Oklahomans by adding excessive, unaffordable financing penalties and fines to court fees and then arresting the people who can't pay them.
Here's the report about the new cell phone cracking technology:
Major County Sheriff Steve Randolph said he had no comment about a jail mug shot taken by his office featuring a Ringwood man in a blond wig and glasses.

The mug shot of Brandon Trice Harmon, 34, of Ringwood, appeared in the October issue of the Jailbirds publication featuring booking photos. Harmon was arrested on a misdemeanor warrant from Major County for a single charge of domestic assault and battery in the presence of a minor.

The victim's mother said she was "appalled" when she saw Harmon's mug shot in the publication.

"It was like they made a mockery of the Domestic Abuse Awareness Month," said Ringwood resident Kathy Lambert. "They just took pictures of the deputies wearing 'We support domestic violence month' shirts, but yet they let this happen."
Sorry. Different article. It's been a while since I've done one of these juxtaposition bits. I could literally go on... and on... and on... and on.... and on... and on... and on.... with stories about our sheriffs. Get the point? Here's the real story:
Oklahoma sheriff gets software to break into locked electronic devices

An Oklahoma sheriff's office says a new piece of technology will help them dig into suspects' electronic devices, even if they're locked.

Pushmataha County Sheriff BJ Hedgecock says that in the past, he would have to mail a suspect's locked phone to the Oklahoma State Bureau of Investigation to get information from the device.

Now, that technology is right at his fingertips.

"We can download and take everything that was on that phone, that was even erased on that phone, and put it on CDs," Hedgecock told KXII.

After receiving a $10,000 grant, the sheriff's office purchased a device and software that allows them to get into most phones and tablets.

After receiving a warrant, Hedgecock says he simply has to plug in a device and the software will transfer files onto his computer in seconds. It allows him to search for keywords, view all photos, find frequent callers and information that might lead to other suspects quickly.
That's awesome! With great power comes great responsibility, and I can't think of any group more responsible than our Oklahoma sheriffs. This obviously won't lead to some shady abuse of power, conspiracy or drunken attempt by a jealous deputy to steal his wife's phone and download all her personal information onto a Flash drive. We have nothing to worry about!
Anyway, if you made it this far, you might as well watch the video via KXII. It has some unintentionally funny moments. I'm pretty sure they interviewed the sheriff from a janitorial closet.
Stay in touch
Sign up for our free newsletter