Everything Else
Report: Preston Doerflinger Involved in 2012 Domestic Disturbance
12:59 PM EST on February 13, 2018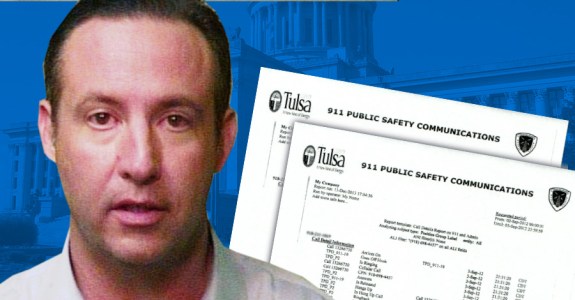 A few years ago, we received a tip via the Ogle Mole Network alerting us to a series of 911 domestic disturbance calls made from the residence of Mary Fallin's right-hand man Preston Doerflinger in 2012.
The Mole's email included a set of "911 Public Safety Communication Records" that showed the date and time of the calls, along with the phone numbers they originated from. Only one page included the reason or "issue."  Check it out:

We're not "professional journalists" at The Lost Ogle, but we pursued the story to the best of our ability. Outside of the call logs the Mole provided, we weren't able to access any police or arrest reports, 911 audio or anything else to document or back up what actually happened.
We also reached out to the alleged victim – Preston's now ex-wife. Via text message, she explained she would talk to us "off-record" and that "other people were seeking more information." She claimed she wanted everyone to have the details "in a similar time frame." Despite a couple of follow ups, we never heard from her again. She basically ghosted us.
Due to our limited resources and her reluctance to talk, we stopped pursuing the story. I forwarded the information to a trusted contact in the Tulsa media in hopes they could gather more information. Since then, I haven't heard anything about the incident.
Well, until now...
Yesterday afternoon, the Tulsa Frontier dropped a big expose on what happened that night in September of 2012. This includes disturbing details from a police report that alleges Doerflinger choked his wife after she accused him of having an affair.
Via The Frontier:
Tulsa Police officers responding to a domestic violence call at Preston Doerflinger's home in 2012 were told by his now ex-wife that Doerflinger choked her twice during an argument and abruptly ended a phone call with emergency dispatchers, according to records...

Doerflinger was not jailed or charged with domestic violence after the alleged 2012 incident, with his then-wife although he was placed in handcuffs "for detainment purposes," according to a police report. The Frontier filed an Open Records request for all reports of 911 calls from Doerflinger's address but was not provided the report in response. However, a police spokesman read the report to a reporter from The Frontier...
For those who are new, this isn't the first time Preston Doerflinger – a man who oversaw the state budget and is now in charge of saving what's left of the Oklahoma Department of Health – has made the news for the wrong reasons.
We broke the story about his DUI-related arrest in 2015. It was the result of a 911 caller reporting that a man (Doerflinger) was holding a woman against her will in a car at a 7-Eleven on NW Expressway in OKC. We've also documented his dangerous obsession with speeding, and that he was crisscrossing Oklahoma with a revoked driver's license.
Here's more about what happened the night of the incident:
Tulsa PD Spokesman Shane Tuell said the report states that when officers arrived at Doerflinger's home they were greeted by his wife, who was "crying, sweating and thanking the officer for arriving."

Tuell said the report states that Doerflinger's wife told the officer the couple had begun arguing, and that Doerflinger began to choke her. She broke away, according to Tuell's retelling of the report, and called 911, to which she stated Doerflinger took the phone and ended the call.

"He then forced her into the laundry room and choked her again," Tuell said the report states.

Tuell said the report states Doerflinger's wife filled out a victim's statement, but later asked to retract it, saying her husband "was head of (the Department of Human Services) and she did not want him to lose his job."
You can read the rest of The Frontier report here. It has a lot of information and details that you think would warrant Doerflinger's immediate resignation or termination. It also touches on efforts by the always reputable Tulsa PD to try and block public access to the 911 recordings.
The only thing The Frontier's report seems to be missing is a statement or comment from the victim – Preston's ex-wife. I still had her phone number from when we looked into this stuff back in 2015, so I sent her a text. Before I could even tell her my name or who I was with, she fired off this pointed response: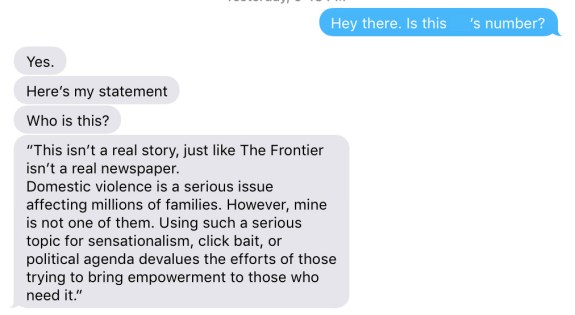 In all fairness, The Frontier literally isn't a "real newspaper." It's an obscure local investigative news website. That being said, this still feels like a real story. Although I understand why a victim may not want to pursue charges, Doerflinger is a public figure with a checkered past who holds a powerful position in the public trust. He needs to be held accountable, work on his life, and get the hell out of Oklahoma government. According to this tweet by Dylan Goforth, that may be happening soon:
=
UPDATE #1: Preston Doerflinger has resigned! We'll have a full report soon.
UPDATE #2. The victim in this case, his ex wife, sent us the following statement: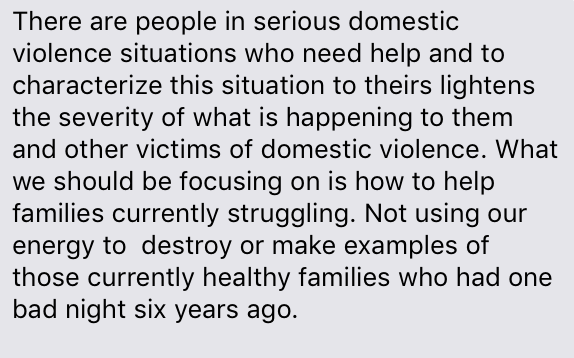 Stay in touch
Sign up for our free newsletter