Everything Else
Two Oklahoma Politicians Were Charged With Sex Crimes Yesterday
5:11 AM EDT on September 7, 2017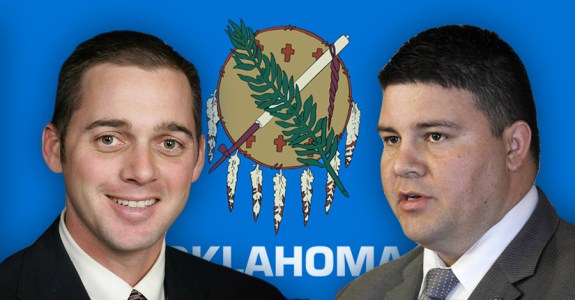 Remember the good old days when Oklahoma politicians were indicted for simple things like embezzlement, bribery, fraud, fundraising violations, tax evasion or even a traditional D.U.I.? How do we go back to them?
In what will go down as one of the saddest and most embarrassing days in Oklahoma politics, TWO Oklahoma lawmakers were charged with sex crimes on Wednesday.
Bryce Marlatt, the guy who enjoys what you would call a bourbon and Coke or 10, got things started when OKC police charged him with sexual battery following that incident with an Uber driver from a couple of months ago.
Via a Nolan What You Would Call A Clay article on NewsOK.com:
State Sen. Bryce Marlatt was charged Wednesday with sexual battery after Oklahoma City police completed an investigation into an Uber driver's complaint.

Marlatt, R-Woodward, was charged in Oklahoma County District Court with the felony offense. His defense attorney declined to comment Wednesday evening.

The Uber driver told police Marlatt, 40, "made advances on her during transit," according to a police report. She specifically complained he grabbed her forcefully and kissed her on the neck while she was driving in Oklahoma City late June 26...

She told the detective that Marlatt said, "Hey, you got nice t - - -," when she first picked him up at a restaurant, according to a court affidavit. She said she had observed him "stumbling to her car."

She also said he talked about being employed "in the oil field" and "made a comment that if she worked for him then he would 'feel' her up," according to the affidavit.

She said he asked her to go to his hotel for a drink with him but she declined. She said he told her to change his destination to The Pump Bar after making a phone call.

She said he first grabbed her, after moving behind her seat, in an attempt to kiss her, according to the affidavit. She said he then kissed her on the right side of her neck down to her shoulder.

She said Marlatt began kicking the back door after she told him to sit down and not touch her or she was calling the police, according to the affidavit.
Friendly reminder – Uber drivers should carry mace, a gun or magic spells with them at all times. You just never know when you're going to pick up some small town, boozin', good ole' boy Oklahoma lawmaker who wants to "feel you up" in the oil field.
Sadly, a State Senator complementing an Uber driver's tits and then trying to force himself upon her isn't the most disturbing local political story from yesterday. Ralph Shortey – a.k.a. the former State Senator who was caught with an underage male prostitute in a Southside hotel room – was charged with four federal counts of child sex crimes, including distribution of child pornography.
Via NewsOK.com:
Former state Sen. Ralph Shortey wept in court Wednesday after being charged with four federal child sex crimes that will require him to spend at least 15 years in prison if convicted.

A federal grand jury meeting in Oklahoma City returned a four-count indictment Tuesday charging Shortey, 35, with child sex trafficking and child pornography offenses.

Shortey, R-Oklahoma City, pleaded not guilty Wednesday afternoon after being brought to a federal courtroom in handcuffs. He wiped away tears with a tissue.
What a sick asshole. Thank God he's in jail awaiting trial so he can't harm or abuse more innocent kids.
He was released after agreeing to a series of stringent conditions including wearing an ankle monitor and having his computer use monitored. He must avoid intentional contact with any child other than his own and must stay away from any form of pornography.
What the f*ck?! They released this asshole?! I don't care what "stringent conditions" he's living under – or that Dog the Bounty Hunter probably knows where to find Ralph if he makes a run for it – that's ridiculous. Hopefully the cops were smart and sniffed out Shortey's gun arsenal before sending him back to the comfort of his home: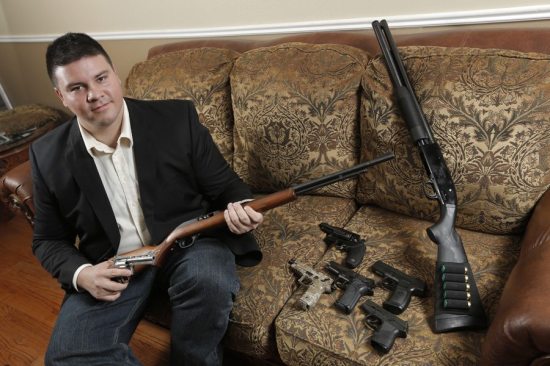 Can you imagine the authorities letting your run-of-the-mill drug dealer out on house arrest if he or she had photos floating around like the one above? Probably not.
That being said, you do have to appreciate the irony that Ralph Shortey – the tough on crime nutjob who led the fight against drug sentencing reform laws passed by the Oklahoma people – is now benefiting from what appears to be pretty lax sentencing while awaiting trial.
Anyway, you can read the rest of The Oklahoman story about Ralph Shortey here. It's sick, and he needs to go to jail sooner rather than later, or at least before the next Oklahoma politician is charged with sex crimes. We don't want another scandal to distract attention away from Shortey's or Marlatt's sentencing.
Stay in touch
Sign up for our free newsletter