Everything Else
Local artist accuses Wayne Coyne of stealing breast painting art technique…
9:12 AM EDT on August 30, 2017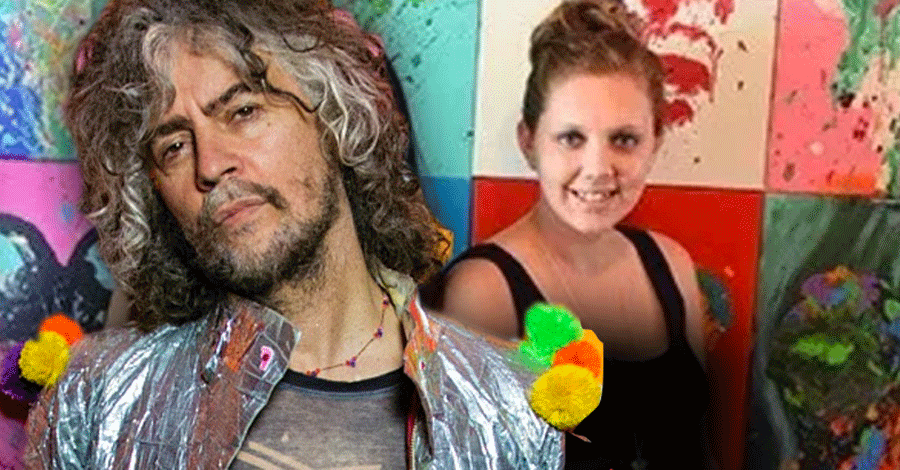 The woman pictured to the right in the photo that we sinisterly stole and doctored without permission from The Oklahoma Gazette's website is local artist Kelly Brinkmeyer.
Kelly's made name for herself over the last couple of years through her "breast paintings" – a Dean Blevins approved painting method that replaces paintbrushes with boobs. She practices the style because it's weird and different, and to help raise money and awareness for breast cancer research.
Here's how Kelly came up with the concept via The Gazette:
Brinkmeyer said she experienced her artistic awakening at the 2007 Bonnaroo Music Festival in Manchester, Tennessee. She traveled to the event, which she called an "adolescent hipster's paradise," and was mesmerized by women who wore psychedelic paint instead of clothing.

Flash forward to her pregnancy. She wanted to document the event but didn't want to use traditional photography. That's when she flashed back to Bonnaroo.

She removed her clothes, covered her chest in paint and then did push-ups onto a canvas, leaving prints of her torso and chest. Her unique art form was born. That year, she launched Pineapple Rag Multimedia Artwork.
That's cool. I wonder what we have to do to get a Pineapple Rag breast painting wine and palette night at Night Trips? I'm sure the paintings will look extra cool with all the added glitter. I'll have my people talk to her people.
According to a Facebook post from last week, Kelly is accusing New Wayne Coyne of ripping off her breast painting technique after he called for his schweddy fwends to help him make some butt prints at The Womb over the weekend.
Kelly claims Wayne did this despite regularly turning down her requests to display breast paintings at The Womb – the art gallery with a colorful vagina painted on the front door – because they were too "kitschy."
Here's Wayne's instagram post about it:
Uhm, are we really so sure that Wayne stole Kelly's idea? If you ask me, this just looks like another desperate attempt by Wayne to get Miley Cyrus to come back to OKC so he can kiss her ass. Haha. Zing! That's funny because he's been riding Miley's coattails for several years now.
This was Kelly's response: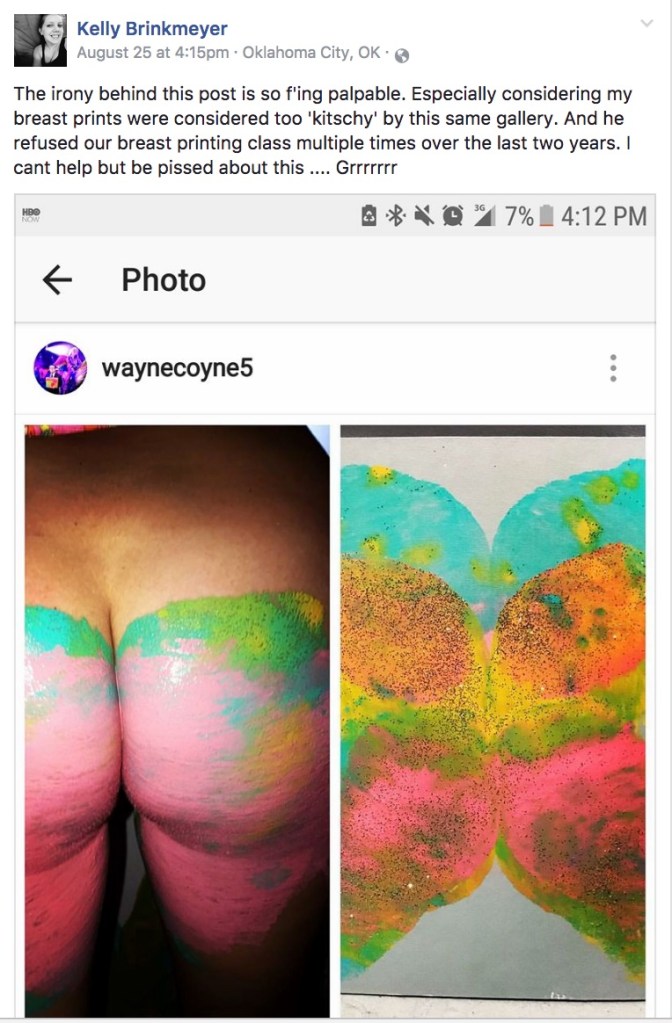 In all seriousness, you guys know I'm not a big fan of New Wayne Coyne. He's the perverted old man who took control of Old Wayne Coyne's mind, drive and creativity after entering a secret portal on the 7 1/2 floor of the First National Building in about 2009 or so, but is it really fair to say he stole the concept?
I don't know.
I'm sure it is massively frustrating to see somebody with fame and notoriety rip off your style, but isn't all art influenced by something else? Just look at Desmond Mason. He regularly mimics Basquiat, and he was recently named "Best Visual Artist in OKC" by Gazette readers because he played pro basketball.
Also, it's not like Kelly was the first person to notice that boobs make great paint brushes. This lady from California has been doing it for a while. We should also point out that Wayne was creating butterfly butt prints. Kelly specialized in boob prints. Boobs and butts are both great, but they're totally different body parts.
That being said, it is a dick move by Wayne to not give credit where credit is due. (Editor's Note: I hope that doesn't give Wayne the idea to start making dick print paintinsg.) I guess that's just regular behavior now for New Wayne Coyne. He's been doing this for years, and until we kick him out of that portal, I doubt he's going to stop anytime soon.
Stay in touch
Sign up for our free newsletter