Everything Else
10 Oklahoma Heroes You Should Admire
10:20 AM EDT on August 22, 2017
Some days it is hard to get out of bed. The weather is too hot. The day is too long. Mary Fallin is still governor. So to make your work week a little more hopeful, I have compiled a list of inspirational figures whose plights have paved the way for generations of Oklahomans to come. If they made it in life, you can make it to work on time. Or at least make it to work with a clean shirt. Here are 10 Oklahoma Heroes you should be looking up to.
Linda Cavanaugh
Linda Cavanaugh is the first female co-anchor of KFOR's evening news and has won many journalism awards, including one for diplomatic reporting in the USSR. She is often found seated next to one of the found Ogles. She is an Oklahoma Hero because she was the first female to prove she is as capable as a man when it comes to presenting nightly on who was found dead in Walmart and whatever antics our esteemed governor is up to.
-
Jim Inhofe
Jim Inhofe, a senator who represents our great state, is known for single-handedly disproving the findings of thousands of research articles on global warming by carrying a snowball. He currently serves on multiple subcommittees of the US Senate Committee on Commerce, Science, and Transportation. Inhofe is a hero to Oklahoma children because he proves anyone can grow up to be a respected senator who makes decisions on behalf of a nation for the continuation of scientific inquiry. And that you don't even have to understand science to do so.
-
Ed Harris's Brother
Ed Harris is known for his roles in Apollo 13, The Truman Show, and Westworld. His brother lives in the metro and is friends with my classmate's girlfriend's dad. Therefore, Ed Harris's brother Paul is an Oklahoma Hero because he is the closest thing most Oklahomans will get to Hollywood.
-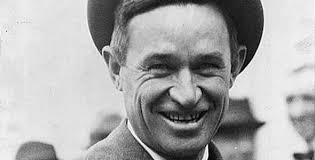 Will Rogers
Will Rogers was a vaudeville performer, political humorist, and one of two people I know of in Oklahoma history who have died in an airplane crash and had an airport named after them. His Daily Telegrams in the New York Times throughout the 20s and 30s provided humorous critiques of American politics in a way that informed the public. He even ran a mock presidential campaign to show the general public how ridiculous our electoral system was (and still is). He is an Oklahoma Hero because he is the most famous smart ass to come from this state.
-
Liquor Store Ladies
The ladies at my favorite liquor store in Edmond are Oklahoma Heroes not only because they always have Dogfish Head beer in stock. But also because they are all metro school teachers who care so much about their students that they choose to supplement their income by selling me discount wine on Wednesdays. They have to work this second job in order to keep educating our students and afford to live. Then again, maybe if they would've read my previous piece on 10 jobs that pay more than teaching in Oklahoma, they wouldn't be in this situation.
-
Brad Pitt
Brad Pitt was born in Shawnee, Oklahoma, which lets us claim him whether he likes it or not. He is known for roles in films such as Moneyball, World War Z, and the greatest goddang movie of all time, Fight Club. He has also used his fame for humanitarian purposes, such as for the benefit of Doctors without Borders and equal marriage rights. However, none of these accomplishments stand a chance against what makes him an Oklahoma hero. In 2009 he played in the film Inglourious Basterds as First Lieutenant Aldo Raine, whose only purpose in life was killing Nazis. It is for this inspirational role that Pitt is considered an Oklahoma Hero.
-
Mike Gundy's Mullet
Mike Gundy is the head coach of Oklahoma State's football team and once had a Justin Bieber song as a ringtone. Despite his sports talents, music tastes, or being a man aged forty, Mike Gundy is not an Oklahoma Hero. However, Mike Gundy's hair is considered to be an Oklahoma Hero because it proves there is hope for every other middle-aged man with a mullet in our great state that they too can one day marry a real-life woman.
-
Jesus H. Christ
Jesus H. Christ is a man whose dad sent him to live on earth for a few years to do deeds and spread the good news. It is like how Nichol's Hills parents send their kids to Haiti, but instead of trying to beef up an Oklahoma Christian University scholarship application Jesus was actually trying to do good in the world. Which is why he is an Oklahoma Hero. Now, I know he wasn't technically born in the state. But there are enough crappy oil paintings of his Caucasian doppelganger around our lawmakers' offices, it is hard to ignore his presence.
-
Ada Lois Sipuel Fisher
Ada Lois Sipuel Fisher was the first African American woman to be allowed to attend law school at the University of Oklahoma. What the school does not tell you is that during lectures and in the cafeteria, Ms. Fisher was required to sit in a chair labeled "colored" and faced other harsh forms of discrimination by the school. But they're cool now. Since then OU has dedicated a garden on campus to honor her fight for equality in education. Odd, we didn't hear anything about the whole racist chair thing when we saw the garden on the campus tour… But still, Ms. Fisher is an Oklahoma Hero because she teaches us something. If you try hard and succeed, those in power will recognize and honor your efforts. But only in a way that is convenient for them.
-
Justin Nimmo
Justin Nimmo is an Oklahoma native who has played roles in television and film, including Pleasantville, Saved By the Bell, and Power Rangers in Space. Apparently, he has hung up his intergalactic gun and stripper boots and is now living low-key selling furniture just outside of the metro. So why is Nimmo an Oklahoma Hero? Because he is proof to the Oklahoma youth that yes, you sure the hell can grow up to be a Power Ranger. Or a rent-to-own salesman. Dream big, kids.
-
I still don't update this like I should. Direct all questions, concerns, and whatever emoji-filled millennial stuff you feel the need to share to @squirrellygeek on twitter.
In my spare time, I officiate secular weddings, read about dead people, and search for the American Dream.
Read More:
Stay in touch
Sign up for our free newsletter