Everything Else
Ten Years Of TLO: Cardboard Jim Traber
10:00 AM EDT on April 19, 2017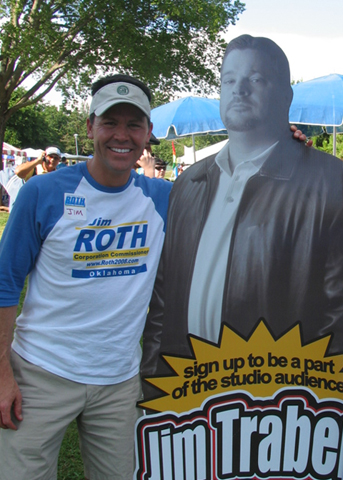 One of the most popular recurring features of TLO's early days was the occasionally appearance of Cardboard Jim Traber, the cardboard cutout version of the obnoxious and thin-skinned sports talk host.
Way back when, I had a friend that worked for Totally Wireless (remember them?), and as part of their advertisements for Regular Jim's tv show, "Loud Dude Yelling And Grunting," each store had a cardboard cutout of Jim. One day after hours, being young and dumb, my buddy and I smuggled Cardboard Jim Traber out of the store. I wasn't sure what exactly what I'd do with him, I sent to Patrick and Clark Matthews asking for ideas: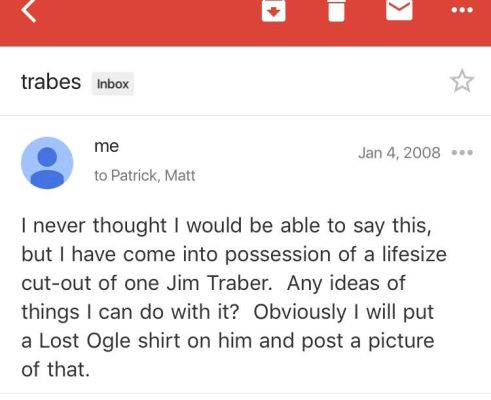 We didn't come up with any concrete plans, but we did meet up at Louie's Lakeside so that I could give him to Patrick. I mention that detail because it allows me to tell the following story...
As I said last week, at the time, we had basically no readers. It was friends and family. One of those people was a friend of mine who worked in marketing. I casually mentioned to Patrick that she liked the site, and he – who also worked in marketing – perked up and said "a woman in marketing who likes our dumb site? Can I get her email so that I can thank her?"
A few days later I get a message from her that said something like this: "Tony, I love Cardboard Jim Traber! Hilarious!!" But it didn't make sense. I hadn't told her about Cardboard Jim. That's when she tells me she had been "over at Patrick's" and ran into Cardboard Jim in the hall late one night. What could I do but laugh? That's right: not only does Cardboard Jim get people laid, the friendships of all the people involved aren't destroyed when Cardboard Jim is involved. He really is powerful!
Here's a look at some of the places Cardboard Jim has been over the years:
The Travels of Cardboard Jim Traber: Patrick's Party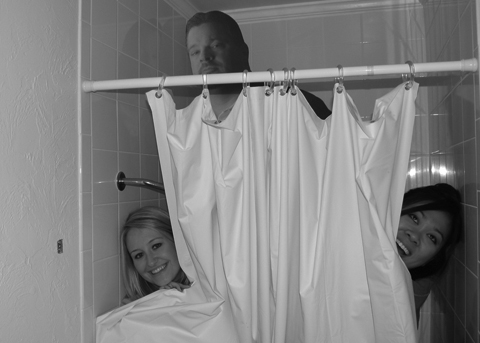 Cardboard Jim's first ever appearance on the blog was at a party Patrick hosted at his house. Regular Jim Traber was horrified at the moral degradation that took place.
-
The Travels of Cardboard Jim Traber: The Norman Music Festival
Cardboard Jim's first venture out in public was also the first Norman Music Festival. He met lots of fun people, danced to the Polyphonic Spree, and spent way too much time wearing a Wimgo shirt, which is a thing that once existed.
-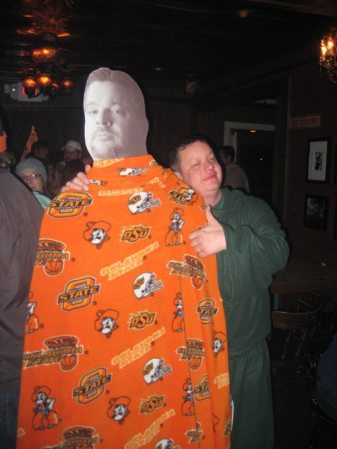 The Travels of Cardboard Jim Traber: Snuggie Pub Crawl
The first successful event in TLO history was our Snuggie Pub Crawl that took place in Classen Circle in 2009. This is before places like Plaza District, Midtown, Up Town, Film Row, Farmer's Market, etc. were popular districts.
At the end of the event, Cardboard Jim put on his OSU snuggie and entertained the masses. Sadly, he didn't make Channel 9:
-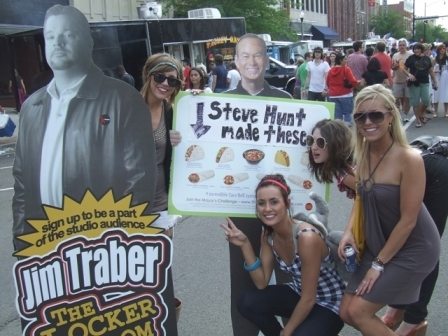 The Travels of Cardboard Jim Traber: 2009 Norman Music Festival w/ Cardboard Cornett
Cardboard Jim came back to the NMF the next year with a friend, Cardboard Mick Cornett. Cardboard Cornett was holding a sign with tacos on it that said "Steve Hunt Made These," which was a very specific and kind of mean joke that no one will get anymore. But it made sense at the time. Regular Joe Dorman makes an appearance with Cardboard Jim here.
-
-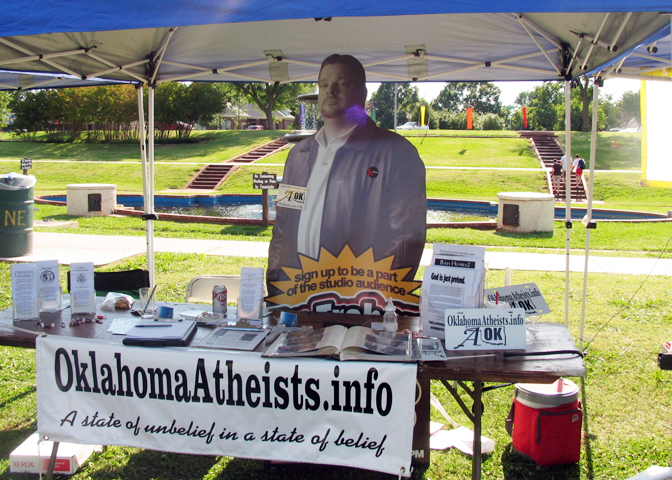 The Travels of Cardboard Jim Traber: The Oklahoma City Pride Festival
While it is very true that Regular Jim Traber is a cruel, immoral bully, Cardboard Jim loves all people. He showed that by seeing all his friends at the Pride Parade.
This appearance got Cardboard Jim some internet notoriety. The day after it was posted, it was linked on Fark.com with this classic caption:
Harsh but fair.
-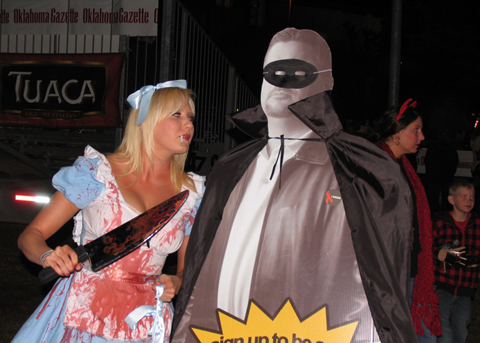 The Travels of Cardboard Jim Traber: 2008 Ghouls Gone Wild Parade
Back before he was taking grenades onto planes, Wayne Coyne was the special attraction at the Bricktown Ghouls Gone Wild Parade. Cardboard Jim had fun there, wishes it was still around, and thinks Wayne is acting like a real yardbird these days.
-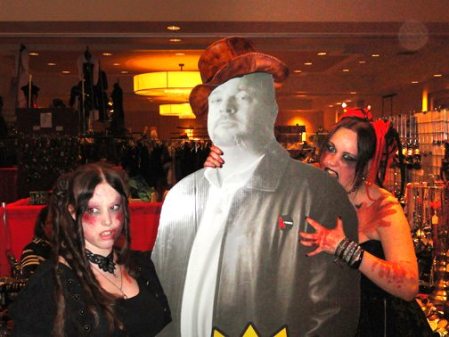 The Travels of Cardboard Jim Traber: SoonerCon 20
There's nothing Regular Jim Traber loves more than erotic comic books and cosplay, so Clark Matthews and Patrick took him to SoonerCon 20.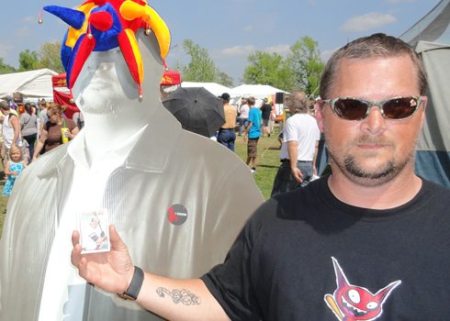 The Travels of Cardboard Jim Traber: The Medieval Fair of Norman
The universe nearly collapsed upon itself twice back in 2012 when Patrick and Spencer took CJ to the Medieval Fair of Norman. First the stumbled across a guy who had a Regular Jim Traber baseball card in his wallet. Then they ran into Regular Jim while walking the fair...
Just a few minutes after we arrived at the Medieval Fair, and before we could even eat a Turkey leg, drink some Sarsaparilla or even buy Cardboard Jim his jester hat, we spotted a hefty figuring trudging through the food court. He was about 5′ 10," hefty, and had a greased-down, Barry Melrose-style hair cut. He was being followed by an entourage of woman ranging between the ages of 18 – 50. It was really him. It was Regular Jim Traber.

Without hesitation, we walked towards The Man, The Myth, The Ego and asked if he would like to take a photograph with Cardboard Jim. Perhaps fearing that this may cause the universe to collapse into itself, Regular Jim smiled, slightly raised and waved his left hand like he was telling a waitress he didn't need any more coffee, and said something to the effect of "No thanks, fellas." He then continued his march through the food court like nothing happened. Meanwhile, everyone in his family, including the lovely Jules, tried to pick up their jaws from the ground.
-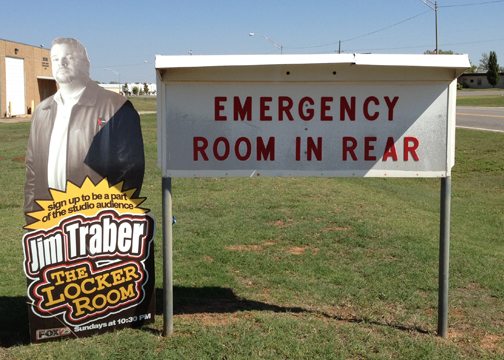 The Travels of Cardboard Jim Traber: Gary England Day Pilgrimage
Of all the TLO posts that have ever been written, this one is maybe my favorite. On October 3rd, 2012, Cardboard Jim, Patrick and I made our annual pilgrimage to Seiling, Oklahoma on the holiest of all days, Gary England's birthday. Cardboard Jim saw all of the town's landmarks, offered gifts to the land that birthed Lord England, and even discovered one of Lord England's earliest five-day forecasts buried in the ground.
---
Cardboard Jim hasn't been seen for awhile, but hopefully he'll make another appearance soon. I'll be back with another look at a decade of TLO next week.
Stay in touch
Sign up for our free newsletter