Everything Else
TLO Restaurant Review: Fat Dog Kitchen and Bar
4:33 AM EST on January 31, 2017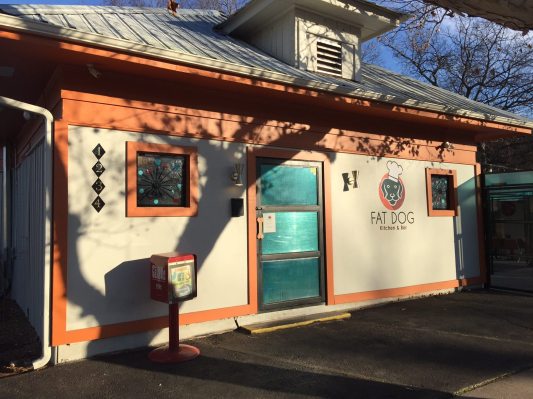 One of the things I truly miss about Fort Collins, Colorado, where I spent a good part of the aughts before moving back here, was how absolutely dog-friendly every place was. From the sheer abundance of dog-parks to the way every eatery in Old Town and beyond was accommodating with waterbowls and leash hooks galore, it was a daily occurrence to get out and spend money at local small businesses with your canine companion in tow.
So it was kind of a rude re-awakening to come back home—a newfound "dog person"—and have to leave the pups at home when I went to the store or, really, anywhere, as there was now no place for them. I felt so sorry for them about this disruptive change in their routine; they were so used to going everywhere that, as I was pulling away, I could see their heartbroken little faces, confused and bewildered as to why they couldn't come, whimpering as if they did something wrong. Poor doggies.
It was during a conversation about this very subject that a friend handed me a Christmas present—a $25 gift certificate to a new joint down on Western called Fat Dog Kitchen and Bar—a place that, he thought but wasn't sure, allowed dogs in the patio area. If this was true, I thought to myself, my black lab Hoogie and I might just have a place to hang out at when the weather gets warmer.
(Too bad my little one, Harry, didn't live to see it. Way to go, OKC.)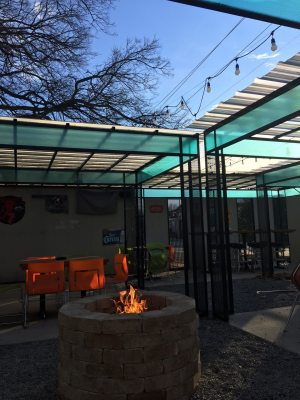 Eager to investigate this place, my dining compatriot and I settled on an early dinner before a movie screening at Harkins. Located at 1234 N. Western—apparently now being called the West End District, slight nod to Neil and Chris—Fat Dog is situated in one of those buildings down that strip of hard road that has been about fifty other things in the past. Cleaned up nicely with a gorgeous gravel-ensconced patio, we sat outside and even though there was a nip in the air, the roaring fire near us did a good job of keeping things toasty enough.
Fat Dog's menu is a nice compact affair, with stylized variations of bar-food that seem more ingenious than pretentious, always a fine line. Their appetizers seemed particularly tempting, especially the Grilled Pig Wings ($10.00)—slow-smoked pork shanks with BBQ or wing sauce, caramelized on the grill—but, sadly, they were all out, however our sassy waitress assured us that we couldn't go wrong with the Fat Dog Nachos ($9.00)...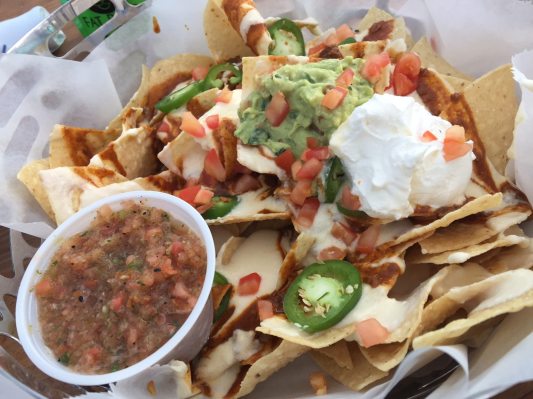 Boy howdy, was she right. These weren't your basic pub chips and cheese by any means; the airy tortilla chips were smothered in a house specialty cheese queso that tasted "pure" and uncanned, dancing a drunken waltz of subtle cool with the fresh guacamole and welcomed heat from the just-made salsa, plus a dollop of sour cream, tomatoes and jalapenos to taste. The Fat Dog Nachos are enough to keep any plump puppy satisfied and yes, if my dog was there, I totally would have shared.
And, if that weren't enough, our said waitress found one lone remaining Grilled Pig Wing left in the back—and just so we could try it, she grilled that tender cut of pork like nobody's business and frankly, Mr. Shankly, I could've made a whole meal out of these things—I can see why they are constantly sold out. The beautifully BBQ glazed outside give way to a bawdy bone-in pork chunk that should rightfully replace chicken wings if we truly lived in a perfectly just world that was run by canine overlords. Next visit, I'm putting in two orders.
The main menu has a small selection of sandwiches running the gamut from the Fat Dog Burger to the Red Rocket hot link meal, but there was no way I was going to turn down that simply gorgeous looking Chicken Fried Steak Sandwich ($10.00)—the size of this thing in the picture truly rivaled the advertising art from a Del Rancho placemat with the meat actually hanging over the bun—while my pal judicially ordered the half-pound all-beef Fat Dog ($10.00), a juicy-enough looking gourmet wiener that was studiously topped with chili, cheese and braised onions.
Because I have absolutely no self-control, I went ahead and tested the suicide terms in my life insurance policy to have a sunny-side up fried egg plopped right on top of my chicken fried steak—if you've never tried it that way before, it is so choice. If you have the means, I highly recommended it.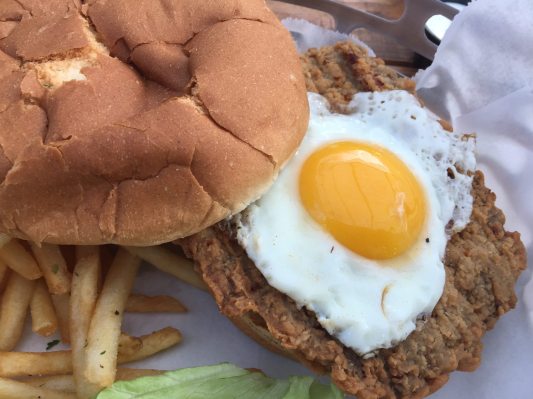 And I highly recommend this sandwich—a nice tender, thick plate-sized cut of pounded beefsteak liberally coated in a flavorful Southern-style breading and secured with the obvious lettuce, tomato and mayo—this thing really does rival some of the more steadfast CFS sandwich places in OKC and it's only a few blocks up the road—all served with some pretty decent seasoned crispy fries.
But, as good as that was, neither I or my dining companion were in any way prepared, mentally or physically, for the Fat Dog. While I had seen plenty of foot-long frankfurters in my life, I had never seen one like this, one that was so…girthy. Thick and bulging out of the bun, this half-pound pornographic monster was an absolute taste sensation was practically impossible to finish in one setting.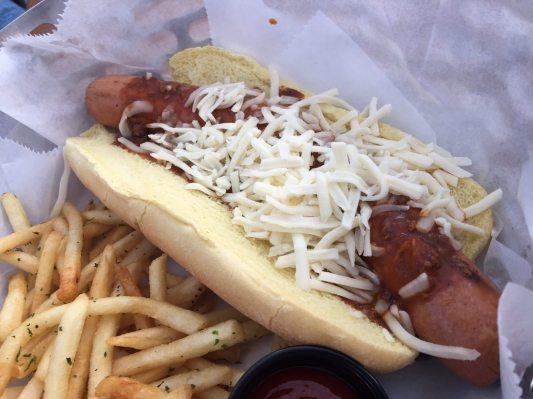 Forget Earl Campbell—this thing should be endorsed by Lexington Steele!
With other menu offerings such as salads, tacos, mac and cheese and fish and chips, as well as a nice selection of wine, beer and dog-themed cocktails, summer can't get here soon enough so Hoogie and I can waste the afternoon away, munching on fries and foot-longs while complacently staring off into the distance, silently nodding-off into a grease-soaked oblivion like a portly Thomas Jerome Newton. Feel free to grab a puppy and join me. ¡Cómpralo Ya!
_
 Louis Fowler hopes that this is the start of a dog-friendlier OKC. Follow him on Twitter at @LouisFowler.
Stay in touch
Sign up for our free newsletter