Everything Else
Mary Fallin sucks so bad Trump may keep her in Oklahoma…
11:59 AM EST on December 8, 2016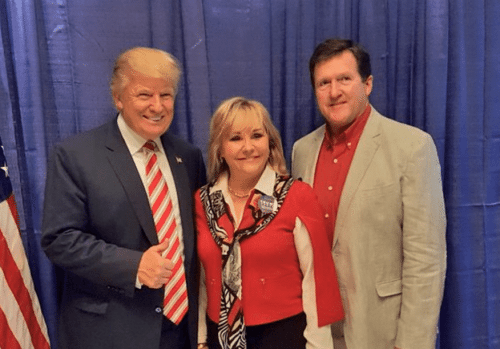 Although it kind of sucked for America and the future of civilized society, one cool thing about Trump winning the presidency is that it meant Mary Fallin would likely step down as Governor to accept a high-ranking position in Trump's cabinet, which would finally put Oklahoma back on the long path to being OK again.
In fact, Mary Fallin making Trump's cabinet seemed like such a foregone conclusion that I listed it as the number one thing we learned on election night in Oklahoma...
1. Mary Fallin is probably moving to Washington DC…

"Like most people, Donald Trump likes to help his friends and punish his enemies. Considering that Mary Fallin was one of the first governors to publicly support him, has DC experience, is a rare female Trump supporter, and is extremely disliked in her own state, I wouldn't be surprised if Trump named her to a high-profile cabinet position."
Only a few days after Trump was elected, multiple reports suggested Mary Fallin was on the short-list for the Secretary of Interior, and on November 21st, Mary took a taxpayer-funded trip to Trump Tower to talk about the position.
Gov. Mary Fallin met with President-elect Donald Trump in New York City on Monday morning and said afterward that she was not offered a job in his administration.

"It was just an initial meeting to discuss a wide range of topics,'' she told reporters gathered in Trump Tower.

She said, "We discussed a wide range of issues and his plan and agenda for America and how I might be able to help. It was a wonderful discussion, really enjoyed it, very excited about the administration and all of the wonderful things that will be done for America."
I remember reading that blurb at the time and thinking to myself, "That can't be good." You can give Mary Fallin credit for many things – loyalty, ass-kissing, marrying well – but I don't think anyone has accused her of being articulate, sharp, or all that great at communication. I imagine the interview in Trump Tower went something like this:
"Mary. Thank you for coming here today to interview for the Secretary of Interior cabinet position. You've done a terrific job as Governor. Very loyal to me and my campaign. Tell me, how can you help me make America great again?"
"Thank you, Mr. Trump. I'm very proud of what I've accomplished in Oklahoma as Governor of Oklahoma for our state and US Americans and such as with natural gas exploration and lower taxes and freedom. Oklahomans have the spirit, the Oklahoma spirit, that you can see in every face and every smile. As the Bill of Rights says in the Declaration of the Independence of our Constitution, we value freedom, libertines and the pursuit of happiness. The as the great Oklahoma founding-father Wilbert Rogers once said, "A Penny Saved Is A Penny Earned," and as Secretary of Interiors, I'll take on Washington and fight wasteful government spending and DC bureaucrats guarantee and all government buildings are clean and polished."
"Thanks Mary. Omarosa, same question..."
Seriously, has Mary Fallin ever had to interview for a job? Probably not. As a result, I guess we shouldn't be surprised that Trump wasn't all that impressed with our Governor.
Check out this now deleted blurb from a Politico article about Pruitt being named as the new director of the EPA: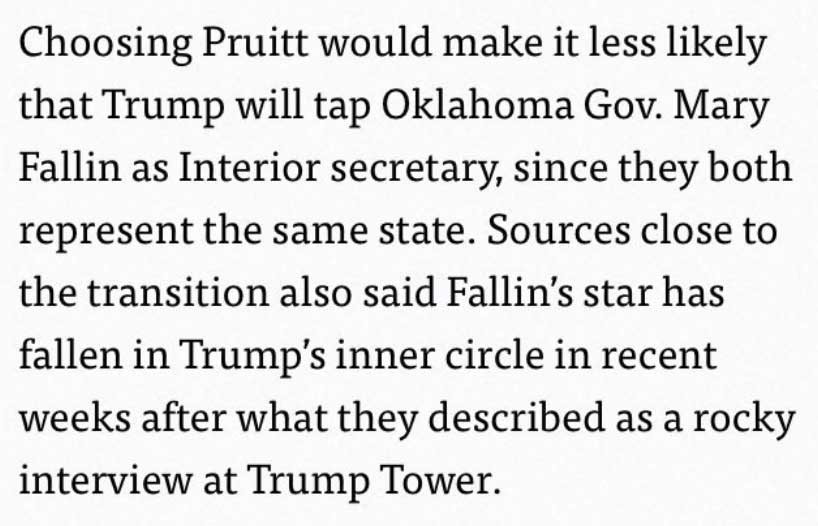 As I mentioned, that blurb has mysteriously disappeared from Politico. I have no clue why, but it seemed to corroborate this report from the Wall Street Journal:
Oklahoma Gov. Mary Fallin was considered a top choice to head the Interior Department until she sat across from Mr. Trump inside Trump Tower last month. Pressed on details of selling off public lands, she struggled to offer the specific answers Mr. Trump wanted, people familiar with the matter said. She is still in contention, but after she left Mr. Trump asked his team whether he should expand the search. A spokesman for Ms. Fallin declined to comment.
Well, that's weird. As this article clearly shows, Mary Fallin is great at selling off public lands. You would think she would have hit that question out of the park. Then again, we know what happens when Mary Fallin is asked questions.
Anyway, I guess there's still a chance that Mary Fallin can land the Interior gig, or some other high-level agency position in Trump's cabinet. You can check out the other options here. Knowing our luck, though, I bet Trump just keeps her here in Oklahoma. Sadly, it's the place she probably belongs.
Stay in touch
Sign up for our free newsletter