Everything Else
TLO Restaurant Review: Furr's Fresh Thanksgiving Buffet
4:24 AM EST on November 29, 2016
I think that the main reason I like Thanksgiving is because I can eat a big turkey dinner at 11 am on a Thursday and no one blames it on a depression-based eating disorder.
Apparently, most of Moore must have had the same thought processes, I said to no one in particular, as I patiently stood in a line that wrapped itself clear around the edifice that is Furr's Fresh Buffet (the new incarnation of Furr's Cafeteria) at 1201 South Interstate Drive.
Waiting for a few immediate family members to arrive, I replayed over and over in my head how my original plan for the holiday was to have us all meet at my house where I would have half-catered, half-homemade food waiting, but somehow along the way I lost control of the narrative and it got changed to meeting at Furr's. Our first family Thanksgiving (moderately) together in almost 20 years and it's at a Furr's.
"It could be worse," I thought. "Golden Corral is also open."
Normally I'm not hungry until about 3 or 4 pm in the afternoon, but I planted a stake in line at about 11am. Let me tell you, there's something about a 45-minute wait in the moderately chilled air being tempted by the smells of turkey and other assorted meats wafting from the building's oven vents that causes the mouth to water and stomach to burn like hot gravy in anticipation.
The inside of the Furr's was a comical madhouse, one where the madcap music of the Benny Goodman Orchestra should have been blasting over the sound system as small children and large adults were balancing multiple overloaded plates as kitchen staff were zigging and zagging through the teeming masses with hot steam-pans full of bubbling macaroni and cheese or scalloped potatoes, waitstaff eagerly clearing stacks of used dishes as huffy new customers stomped their feets, demanding to be seated.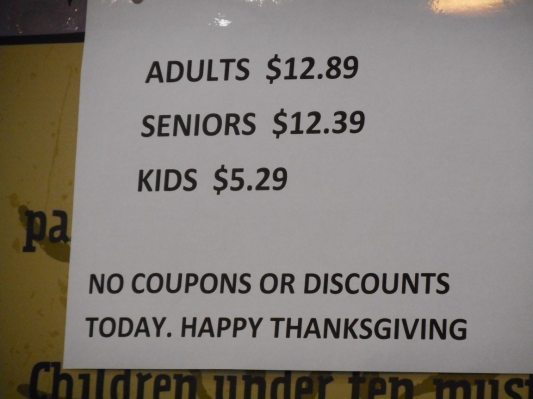 Having paid the standard holiday price of $12.89—no discounts, sorry veterans!—per person, we navigated our way to our table, settled ourselves and eagerly went to the buffet only to find…they were presently out of all Thanksgiving items. Oh, they were making more as fast as they could, but currently, you were gonna have to make do with the popcorn shrimp and enchiladas, honey.
Mind you this Furr's had only been opened about an hour.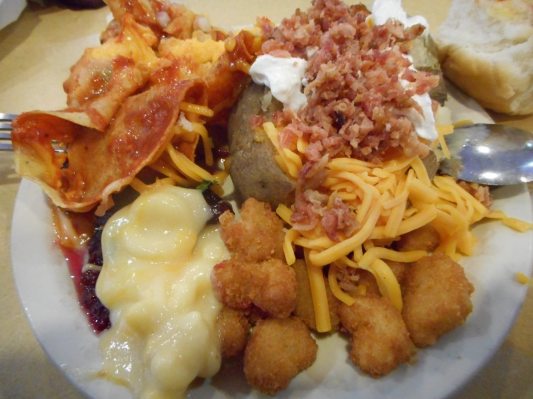 The aforementioned enchiladas, dripping in red sauce managed to be both dry and wet at the same time, while the mac and cheese was deliciously gooey. The popcorn shrimp was definitely a crowd-pleaser, but the only Thanksgiving dish I was able to score, a few scrapings of cranberry sauce, only added deliciously tangy insult to holiday-based injury. I also made myself a baked potato but, sadly, I never got a chance to dive into it as our wonderfully overzealous waiter mistook my plate as pushed aside remnants when I took my nephew to get ice cream.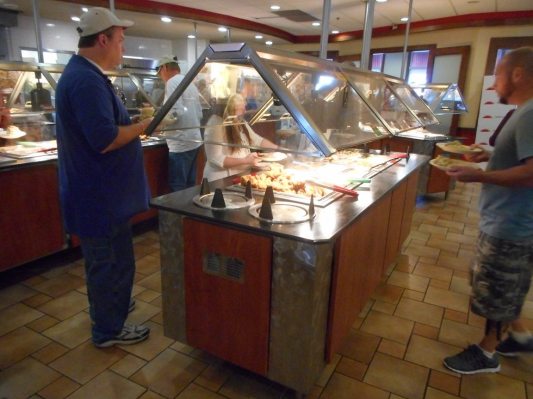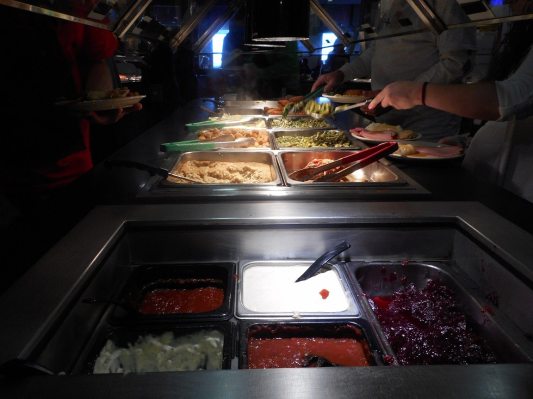 I will say that, while I'm sure the average yokel didn't even notice, I appreciated the artistic time that the Furr's crew took to make their buffet presentations appealing to the hungry eye, even as sloppy patrons made messes everywhere they dared to ladle. Gravy splashes, fish fillets fallen into the meatloaf pan and frustrated dessert eaters using their hands to separate slices of pie wasn't out of the ordinary in what I was fearing would become the tastiest adaptation of Lord of the Flies to date, and thankfully, for once, I wouldn't be Piggy.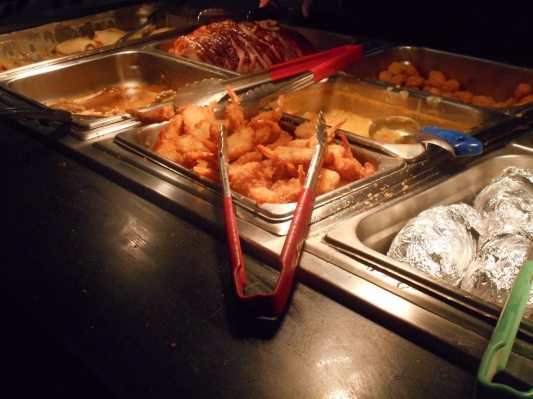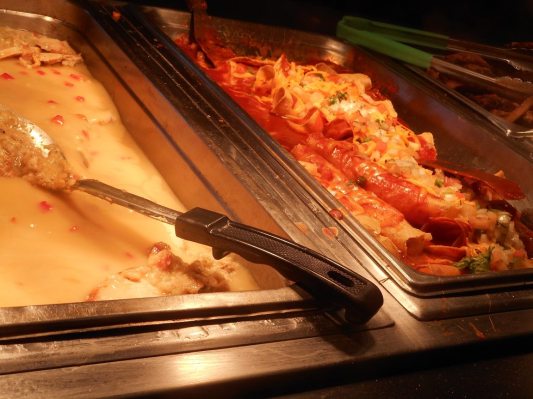 Eventually, after about a 30-minute wait, word traveled through the scores of human refuse that most of the Thanksgiving staples had been finally replenished. As if it were being doled out by Immortan Joe himself, a wave of not-yet-filled bellies made their way to the turkey carving station, plates outstretched and just begging for even just a few slices of that expertly cooked and carved bird to baptize their plate and thus start the true holiday portion of their already misbegotten meal.
So there I was, able to scores a couple of chunks of white turkey meat, a scoopful of cornbread dressing, an even bigger scoopful of mashed potatoes and one downpour of giblet gravy to rule them all. In a cruel twist of irony, the pan of cranberry sauce had disappeared, so I had to substitute that with the second best thing, butterfly shrimp.
Gotta love them scrimps!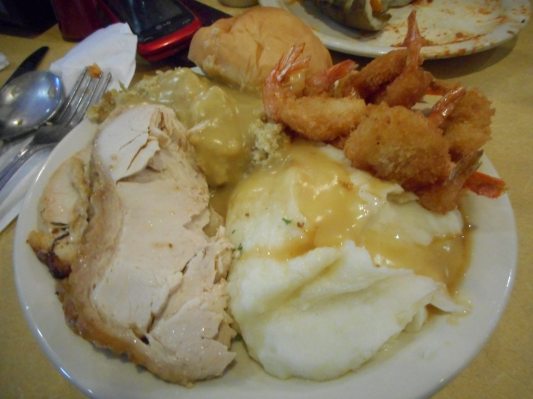 The turkey was actually very pleasant, a little salty but still juicy enough. Both the potatoes and stuffing were a little too wet for my tastes and, obviously adding gravy only made the proceedings even wetter. Luckily, the butterfly shrimps absorbed all the excess liquid and made for a delightfully unthankful capper to an otherwise traditional-esque meal.
As my family ate their pie and cakes, I sat there, downing my glass of water, wanting a moment's peace to digest my food but started noticing that more and more people around us were becoming agitated at the waitstaff for lack of spaces to sit. The place was at damn near capacity, our sign that it was probably best to mosey along now. That's the holiday spirit, Moore!
Furr's Fresh Buffet, like the previously reviewed Luby's Cafeteria, had been on my request list for a while to visit, an elderly staple of Oklahoma dining for many years—I used to love eating at the one over in the late, lamented French Market Mall—but, with their recent cool, hip reintroduction to the public from a cafeteria to a buffet, they've pretty much, sadly, become just another Golden Corral with about 1/3rd the variety of eats.
With Christmas coming up, I really want to go back to my original plan of hosting dinner at my house and whoever wants to show up will have a plate waiting for them, but chances are I'll probably get brow-beaten into meeting everyone at Golden Corral.
Oh well, I guess it could be worse. It could be Furr's again.
¡Cómpralo Ya!
–
Follow Louis on Twitter at @LouisFowler.
Stay in touch
Sign up for our free newsletter