Everything Else
TLO Restaurant Review: The 9th Annual Turkey Tango
5:00 AM EST on November 23, 2016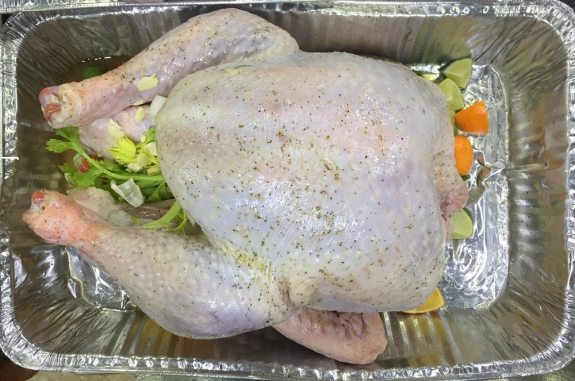 This Thursday, shelters, churches and charities alike will do their absolute best to feed Oklahoma City's impoverished, homeless and working poor. Hungry folks in need of nourishment, both physical and spiritual, will like up to enjoy a plate of traditional Thanksgiving eats, made by many hard-working volunteers who blessedly gave up their own wants to help those who don't have what they need.
One such volunteer is Heather Popowsky. She's working overtime at the Culinary Kitchen, 7222 n. Western Ave., cooking up about 150—maybe more—premium turkeys for the Homeless Alliance and Turning the Table on Hunger's annual Turkey Tango event the next couple of days. To hear Popowsky describe it, she's truly a woman after my own heart (and stomach).
"The Turkey Tango was birthed out of the thought that we should provide fresh food, like most families have, to the homeless every Thanksgiving," Popowsky said. "The idea of the Turkey Tango is that we should all get together and spend two or three days cooking, like your grandmother does, providing a fresh meal to everyone."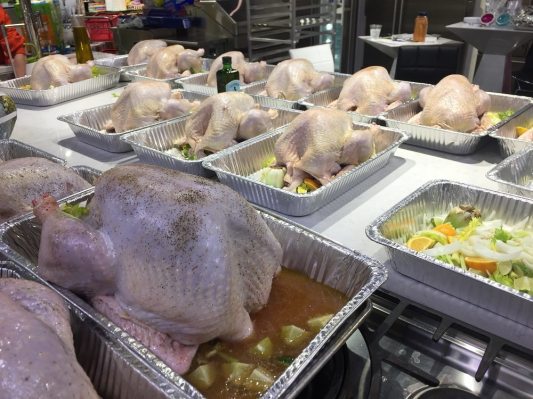 Many shelters, God bless 'em, are so inundated with trying to feed so many people—combined with a lack of time, money and kitchen resources—they are forced by necessity to plan their meals weeks in advance, cooking turkeys and side dishes and freezing them until the big day. As someone who has eaten at many a shelter around the holidays, while everyone there is extremely grateful, it does lead to much of the food, especially the turkeys, to have a certain...ahem…dried-out quality to them that, let's face it, if you were cooking at home, you yourself wouldn't serve to friends and family.
Popowsky and her crew have made a pledge to cook as many turkeys as possible—using Culinary Kitchen's high-quality equipment, natch—to perfectly cook turkeys that are "moist and juicy just like or even better than what your family serves on Thanksgiving day." With top-notch sides donated from the likes of Rococo, RJ Supper Club, Vast and Guernsey Park, just to name a few, these delectable meals will end up at the WestTown Day Shelter (1724 NW 4 St.) on the 23rd and Food and Shelter for Friends (104 W. Comanche St. in Norman) on Thanksgiving Day.
"I believe the homeless are treated like second and third class citizens and unfortunately, this is a daily thing they live through and the holidays bring out some of those feelings even more," Popowsky said. "Many people don't have families to go to and a lot of people just can't afford to buy a turkey and dressing and the side items that go with it. To be able to provide them with something that is just like what I am going to eat with my children at home not only provides a level playing field, but it brings the holidays to a mutual level of true thanksgiving."
When I heard about what the gang at the Turkey Tango were up to last night, like an overeager kid picking at the skin when mom has her back turned, I just had to sneak a peek into their kitchen and see if these turkeys were as good as Popowsky said they are, a fun, familial atmosphere surrounding the volunteers hard at work stuffing and baking these fine lot of birds.
I was sliced off not only a fantastic breast that was the embodiment of white meat, but I was also carved a hefty turkey leg, absolutely emblazoned in my favorite, dark meat. A clichéd word like succulent doesn't even begin to describe this turkey, the natural juices running down the sides like small waterfalls with every slice, the knife getting harder to handle with every flash of the blade, the cutting board doing its best to hold this turkey tight to its surface.
The aroma of the turkeys cooking en masse filled the air in a way that most foods just can't accomplish; like a hungry wolf in a Warner Bros. cartoon, it lifts you up and wafts you towards the plate, the carved meat glistening and ready to be devoured with ritualistic aplomb. Starting with the ample breast, the nicely seasoned crispy skin mixed wonderfully with the slight citrusy moistness that managed to carry itself throughout the whole cut. Each sliver of muscle just peeled apart, full flavor running through every bite. I'm normally not a fan of white meat, but this here cut changed all that. Bring on the seconds!
As for the vaunted and valued drumstick, the crispy caramel-colored skin was a surefire crowd-pleaser—the kind that you just can't help but eat first and hope that your neighbor doesn't like his so you can have his as well, moderated politeness be damned—but what truly made it was the juicy, fatty dark meat. There never seems to be enough of it, does there? Going fast, all that was left was a bone that you whittled dry, munching on even the joints and cartilage, wanting to fully devour every Eucharistic inch of this perfectly cooked goodness.
Add the aforementioned sides to this equation and you've got a meal fit for a king, or, at the very least, one that will make its eater feel like one for, at the very least, an hour or two. It's hard not to fall in love with Popowsky and her crew, as their passion for providing the less fortunate with the highest quality holiday meal is a brave, outspoken and fully contagious act that leaves everyone who comes in contact with them just as full of heartfelt gratitude as they are of this turkey.
"It provides for people something that is from the heart of our volunteers and it's just honest to goodness good food," Popowsky added. "These turkeys are bought from the same grocery store that I buy my own turkey at. We use the same ingredients that I use on my own turkeys. It's a high-end quality level of food that can be provided in a short period of time. Just because people are homeless doesn't mean they should feel like they're eating leftovers."
¡Cómpralo Ya!
-
Please invite Louis Fowler into your heart this Thanksgiving. Follow him on Twitter at @LouisFowler.
Stay in touch
Sign up for our free newsletter