Everything Else
5 Bands Louis Wants To See Play The Criterion
6:26 AM EDT on November 3, 2016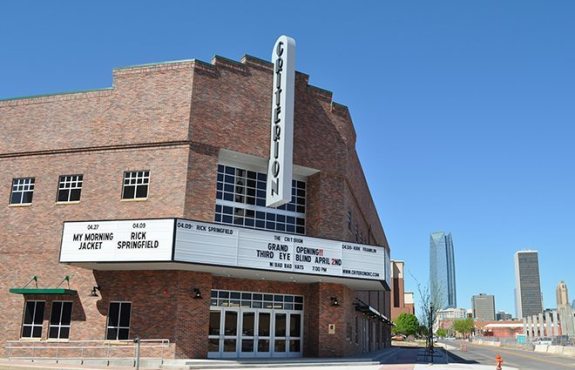 I know that were all supposed to be all "Yay! Rah-rah! Go OKC development!" all the damned time, but I have a confession that might draw the ire of the collective Stepford-like mentality of local concert-goers and building worshippers alike: the shows that have come to the Criterion so far have not been very good. I'm not telling tales out of school when I say they are going for a certain market and that market needs to be stuffed in a locker in-between classes.
For example, who the Hell is this fragile Troye Sivan dork? Who are these Great Value-brand indie gueys Parachute and Need to Breathe? And the Deftones? Are we still doing that? Is that still a thing? And exactly how does the Oklahoman's li'l Nathan Poppe and his Grandma's gardening hat tie into all this?
Don't get me wrong, I really do like the Criterion. It's a great venue. And you have had some cool people play like Kirk Franklin—that was a fantastic, inspirational show—and um….Elvis Costello? He played there, right? Well, either way, more shows like Kirk Franklin, please!
Still, out of all the venues in Oklahoma City, I really do think that the Criterion has the most promise to be something bigger and better than it is becoming and, if I may, I'd like to offer a few suggestions for completely doable, absolutely diverse, affordably mid-level singers/bands that are touring and absolutely never play Oklahoma City. Don't hold it against them that most of them are Mexican, however…
-
The Texas Tornados
Sure, Doug Sahm and Freddy Fender might be kicking back cervezas in the sky, but original members Augie Meyers, Flaco Jimenez and scion Shawn Sahm are still playing all over Tejas, their rollicking brand of rock y roll Tejano still going strong, playing the legendary Gruene Hall in New Braunfels on a regular basis. Sadly they've never played OKC and with both Meyers and Jimenez a few years shy of 80, they've only got so much left in them.
-
Morrissey
As both a lovelorn Latino and a former cutter, few musicians' words have ever truly spoken to me like that of Manchester's Steven Patrick Morrissey. Whether you adored his tenure as frontman of the Smiths or found belated relevance in his solo career, Moz always plays his best shows in intimate venues like the Criterion. Maybe if we provide him with a top-notch vegetarian chicken-fried steak from Picasso Café and a basket of pre-show adoptable puppies he'll deem us Okies worthy of his presence. For once in my life, please please please, let me, let me, get what I want this time.
-
Los Tigres del Norte
Any time I can check out a Conjunto, Narco or Tejano band, I'm there in the front row, Michelada with chile limon y extra shrimp in hand, ever-wavering machismo in full-effect. The only problem with this, however, is that the only places these beloved Mexican bandas seem to play are in the bandstands of makeshift rodeo arenas at the end of hidden dirt roads off Highway 9 in ominous places named Slaughterville. The Beatles of these bands, the hard-driving Norteño powerhouse Los Tigres del Norte, finally accessible to their legion of Metro fans in a venue like the Criterion, would pull in gangbusters business and finally help the joint score that lucrative deal with the good people at Clamato.
-
Gloria Trevi
 The ever controversial Madonna of Mexico, Gloria Trevi never reached the crossover heights of, say, Selena, mostly due to being sent to prison in both Brazil and Mexico for allegedly procuring teenage girls for her manager's sex cult (it's a long story) in the early aughts, but the biggest Mexican star of the 90s did her time and has been forgiven, reclaiming her throne as La Reina of Mexican Pop. And while she frequently performs in Texas, once, just once, can we get her to bring her stunningly melodramatic, beautifully over-the-top vocal histrionics to Oklahoma City? If only for me and our underappreciated Latina drag-queen underground, for reals.
-
Dwight Twilley
Right down the road in Tulsa lives one of the absolute kings of power-pop, a Maestro of melody and Lothario of lyricism, Mr. Dwight Twilley. Coming of age in the 70s with tunes like "Lookin' for the Magic" and "I'm on Fire" to catchy 80s ditties like "Why You Wanna Break My Heart?" and  "Girls," despite being an Okie himself, he has never gotten the Oklahoma City welcome that he truly deserves. His last show here was an absolutely packed in-store acoustic set at Guestroom. And as amazing as that was, the man deserves bigger and better. This isn't how we treat our homegrown legends, is it?
-
Don't even get me started on the Tower. Follow Louis on Twitter at @LouisFowler.
Stay in touch
Sign up for our free newsletter