Everything Else
Man Who Helped Ruin Oklahoma Is Retiring From OCPA…
10:17 AM EDT on October 24, 2016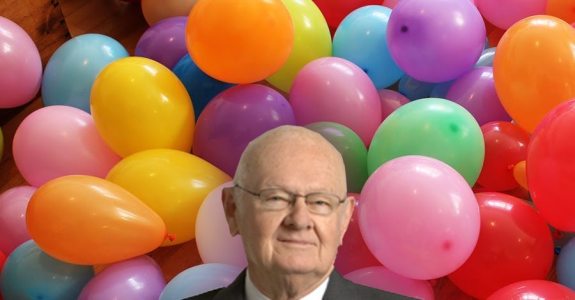 The Werther's Original salesman pictured above is Dr. David Brown M.D. He's an Oklahoma resident, wealthy businessman physician, and board member for the Heritage Foundation (a.k.a. the group responsible for the Obamacare model). He's also the co-founder and board chairman of the Oklahoma Council for Public Affairs – an influential local conservative "think tank" that's developed, designed and promoted a lot of the bad legislation that's helped turn Oklahoma into the sad, depressing, nobody wants to live here state it is today.
Anyway, we have some good news to report about Dr. Brown. He's retiring as Board Chairman before he can do any more damage!
After 23 years of providing leadership and vision for the Oklahoma Council of Public Affairs (OCPA), Dr. David Brown announced at today's board meeting his retirement as chairman and as a member of the board of trustees, effective immediately.

The board has unanimously elected Larry Parman to succeed Dr. Brown as chairman.

"Dr. Brown is the heart and soul of this organization," OCPA President Jonathan Small said. "More than 20 years ago, he envisioned an organization that was capable of pointing Oklahoma on a prosperous and free path. His passion for individual empowerment and free markets, along with his unwavering leadership, has been the key to OCPA's success."
That's great! When I think of Oklahoma, the first two words that immediately come to mind are "Prosperous" and "Free." I'm sure the single mom who works 70 hours a week at two jobs just to get by thinks the exact same thing when school closes on a Friday because the district can't afford to pay teachers. You can't get on a more "prosperous and free path" than that.
Here's some more alternate reality propaganda about Dr. Brown and his reign at OCPA...
In 1993, the founders, led by Dr. Brown, started OCPA with the vision of affecting Oklahoma's public policy in ways similar to think tanks at the national level. This vision has helped lead to multiple income tax cuts, public employee pension reform, workers' compensation reform, and making Oklahoma a right-to-work state.
Wow. What a nice list of accomplishments! I know when I think about all the great things that have happened in Oklahoma over the past 20 years, multiple unnecessary income tax cuts for wealthy doctors like Dr. Brown definitely tops the list. I can't wait for that money to trickle down to the rest of us! And even though 38 provisions have been found unconstitutional, invalid or inoperable, worker's comp reform has been a big hit for businesses and lawyers. I'm also sure the changes made to the public employee pension reform were amazing, great, and will definitely help all the employees who haven't had raises in a decade.
"When OCPA was founded, we hoped to create an organization that could successfully promote ideas with meaningful positive impacts on the lives of Oklahomans," Dr. Brown said. "I am proud to say that OCPA has remained true to this mission and stayed steadfast in its principles. Today, I am looking to the next generation of leaders to carry on the work."
I'll give OCPA credit on one thing. Regardless of how backwards, ineffective, regressive and bad their policies have been for Oklahoma, OCPA remained loyal and true to their anti-government, pro-rich people principles.
Anyway, it looks like OCPA is already hard at work to find "the next generation of leaders" to carry on Dr. Brown's mission. Last week, they named an up and coming Oklahoma business leader to the organization's board. His name is Larry Nichols...
The Oklahoma Council of Public Affairs (OCPA) announced today the appointment of J. Larry Nichols to its Board of Trustees.

Nichols is the co-founder of Devon Energy Corporation and since 1971 has served the company in various roles, including director, executive chairman, and chief executive officer.

"If we want Oklahoma to continue to be a place where people want to live and businesses want to invest, we must build a sustainable culture that embraces the principles OCPA promotes," Nichols said. "I am honored to join this board as it continues to advance freedom in our state and inspire others to engage in public policy."
That's a great appointment! As Chairman at Devon, Larry Nichols regularly championed public policy that is good for his net worth and not so good for the Oklahoma people. He'll fit in well with OCPA.
Stay in touch
Sign up for our free newsletter