Everything Else
Lacey Swope Injured In Hog Hunting Accident!!!
1:39 PM EDT on October 4, 2016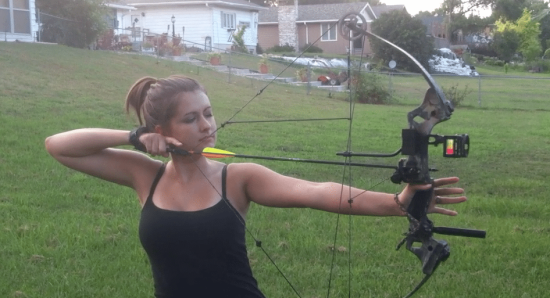 It was a pretty rough weekend for Lacey Swope.
Instead of staying in town and going to OKCtoberfest like a normal person, Emily Sutton's chief rival and nemesis went hog hunting in BFE Oklahoma. As a result, this happened: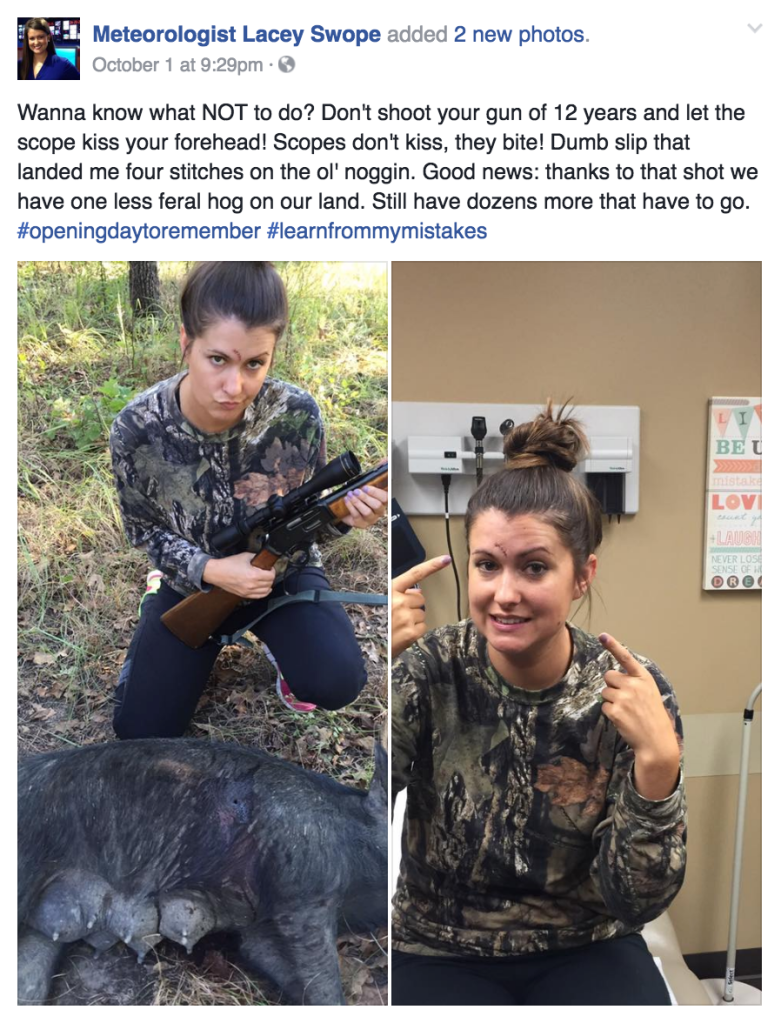 Ouch. That has to be embarrassing for Lacey. Emily Sutton spends every other weekend in the mountains hunting rainbows, butterflies and cotton candy by hand and always returns without a scratch. Meanwhile, Lacey can't shoot a pig with a gun from 50 yards away and avoid injury. Advantage Sutton.
If you ask me, the big question here is why Lacey is hunting pigs in the first place. Does she not realize she works at News 9?! That's a colossal slap in the face to Lord Gary England, and his late beloved pot belly pig, Spike. Pigs are Gary England's favorite animal and the sigil of his house! According to the Gospel of Sam in The New York Times, Lord England even dreamed of being a pig farmer before the prophecy of the Severe Weather Scrolls was realized:
Gary England's ancestors came to the state, in search of cheap farmland, before it was even a state. They settled out West, in the desolate area where Oklahoma shades into North Texas, and struggled to raise livestock between droughts and blizzards and dust storms and flash floods. England was born in 1939 in a country house with no electricity, by the light of a kerosene lamp; family lore has it that his parents paid the doctor in chickens. In high school, before England became fully fixated on the weather, he dreamed of being a pig farmer.
I'm not a huge believer in the supernatural, but you should probably expect something weird to happen when you kill the favorite animal of the Severe Weather Savior. Next time, Lacey should stick with hunting goblins and orcs in the Riverlands with Abigail Ogle. Yeah, they're like pigs, too, but they're also evil.
Anyway, I guess the people of News 9 have been alerted to this sacrilege, and are now trying to portray Lacey as some sort of pig lover. Check out this article that came out today.
Copy-Kiss The Pig Contest Raises Money For Food For Kids

Thanks to all your help at the State Fair this year, News 9 raised more than $13,000 for the Regional Food Bank!

Fairgoers were encouraged to donate to the cause by picking which News 9 personality they would most like to see kiss a pig.

In the end, Meteorologist Lacey Swope pulled in more than $2,000. She visited Bad Boy Genetics in Cashion to find the perfect pig. Then, she puckered up and planted a sweet smooch on a sow named Illinois.
Yep, Lacey's gone from killing pigs to kissing them. I'm not sure if that will earn back Lord England's trust and favor, but it's a good place to start.
Stay in touch
Sign up for our free newsletter