Everything Else
OKC City Council blows another opportunity to create Indigenous People's Day
4:38 PM EDT on September 29, 2016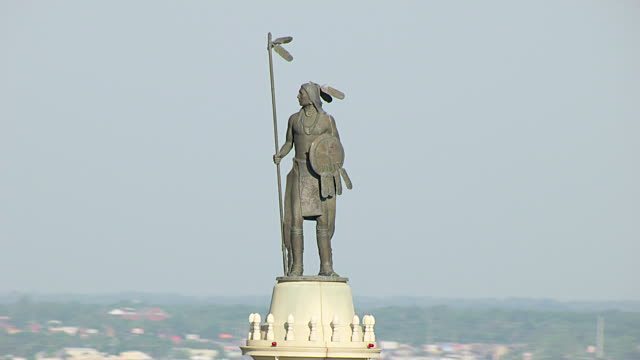 If you had to pick one city in America to have an "Indigenous Peoples Day," Oklahoma City seems like it would be a solid choice.
Not only does "Oklahoma" mean "Red People" in Choctaw, but thanks to the brutal forced removal of American Indian tribes to what is now Oklahoma in the 1800s, our state and city has a close association with Native American tribes, their people, their culture, and perhaps most importantly, their casinos. In fact, Oklahoma has the second-largest Native American population in the country, comprising about 8% of our state's population.
Knowing those basic facts that I remember from Oklahoma History class, you would think that coming up with a day for Oklahoma City, the capital of Oklahoma, to symbolically honor the history and contributions that native peoples have made to our culture and society both before and after it was colonized by blood-thirsty Europeans would be a pretty easy task.
Sadly, Oklahoma is the place where "pretty easy tasks" go to die. Yesterday, The OKC City Council voted twice on whether or not to add an "Indigenous Peoples" day to the calendar. It was voted down both times, because council members couldn't agree on when to have it.
Seriously.
Via NewsOK.com:
Mayor Mick Cornett has declared today "Russell Westbrook Day" for the city, after the Oklahoma City Thunder star signed a contract extension to stay with the team.

In a proclamation for the city, Cornett referenced Westbrook's positive impact on the community through his Why Not? foundation, and his excellence on the basketball as reasons for the dedication.

Westbrook's decision to stay with the Thunder comes exactly one month after Kevin Durant told the team of his intention to sign with the Golden State Warriors.
Oops. I hate it when I do that. That's an article about Mayor Mick proclaiming August 4th as "Russell Westbrook Day." I guess you can't blame him. It's a lot easier to find a day to honor a wealthy athlete who chooses to play basketball in Oklahoma City because it makes financial sense for him to play here than it is to pay respects to the people who have helped define this state and its culture over the past, oh, 10,000 years or so.
Let's get back to the article about the council's vote:
Oklahoma City Mayor Mick Cornett declared today "Wanda Jackson Day" in Oklahoma City this morning at the city council meeting...

Jackson, a Maud native who lives in Oklahoma City, will be inducted into the Rock and Roll Hall of Fame on April 4 in Cleveland, Ohio. The Queen of Rockabilly and First Lady of Rock 'n' Roll is quite deserving of the long-overdue recognition.
Crap. I did it again. That's a 2010 article about Mayor Mick declaring Wanda Jackson Day. I don't have a problem with that. She's a great lady and true ambassador of rock and roll. I just question why it's okay for Wanda to have her day, but setting aside an afternoon to honor indigenous peoples and their descendants is against the rules. Is there an old statute in our city's founding documents that prohibits honoring indigenous people and their descendants? It wouldn't surprise me. Maybe this NewsOK.com article will explain...
Mayor Mick Cornett will declare Jan. 13 "Sam Bradford Day" in Oklahoma City at the city council chambers at 8:30 a.m. today.

The proclamation is to recognize the Oklahoma quarterback's winning of the Heisman Trophy. Bradford is a 2006 graduate of Putnam City North High School.
Hey, look at that! Sam Bradford got his own day. He's Native American and he plays sports. Is that good enough for you, Indigenous People supporters?! - signed Angry Uncle who is voting for Trump.
Without further ado, let's get to the NewsOK.com thing. I swear on my Gideon bible it's the correct one.
The Oklahoma City Council considered two proposals Tuesday to establish an official Indigenous Peoples Day observance and rejected both.

Each measure failed 6-3, with different council members comprising the majority on each vote.

Based on last year's results, when a proposal for an Indigenous Peoples Day observance failed 5-4, there were enough votes to establish an official observance this year.

The measures failed over differences regarding what day of the year would be appropriate to observe the role of indigenous people in Oklahoma City's cultural and civic life.
The proposals didn't pass because they couldn't agree on a day? Uhm, this isn't a fantasy football draft! Who cares what day it's on?! Just pick one and move on!
Ward 1 Councilman James Greiner and Ward 8 Councilman Mark Stonecipher proposed setting the observance for Aug. 9, a date objected to by advocates for observing Indigenous Peoples Day.

The date is derived from a United Nations observance of indigenous cultures worldwide.

Greiner, Stonecipher and Mayor Mick Cornett voted for that proposal.
Yeah, Greiner, Stonecipher and Cornett want Oklahoma City to do something that goes along with the United Nations. That has to be a first for Oklahoma politics. Obviously, that means they're involved in Agenda 21 and conspiring with the government on Jade Helm.
Ward 2 Councilman Ed Shadid proposed setting the observance for the second Monday in October, the date favored by advocates.

That date coincides with the federal Christopher Columbus Day holiday.

Shadid, Ward 4 Councilman Pete White and Ward 7 Councilman John Pettis voted for that resolution.

Fifteen speakers addressed the council during a nearly hourlong discussion of the competing proposals.

All 15 said they favored setting an official observance for the second Monday in October.
I'm Team Second Monday in October on this one. Even though Oklahoma City doesn't celebrate Columbus Day, it's still a federal holiday and still a slap in the face to just about every decent American – especially for those whose ancestors were here first.
Anyway, although it didn't pass this time, I think Indigenous Peoples Day in Oklahoma City will happen eventually. Next year, supporters should simply tie the proposal to a Downtown hotel deal and ask for generous tax subsidies. They council will let them pick whatever day they want.
Stay in touch
Sign up for our free newsletter